Department of Art, Design, and Art History
Conley Art Gallery - Past exhibitions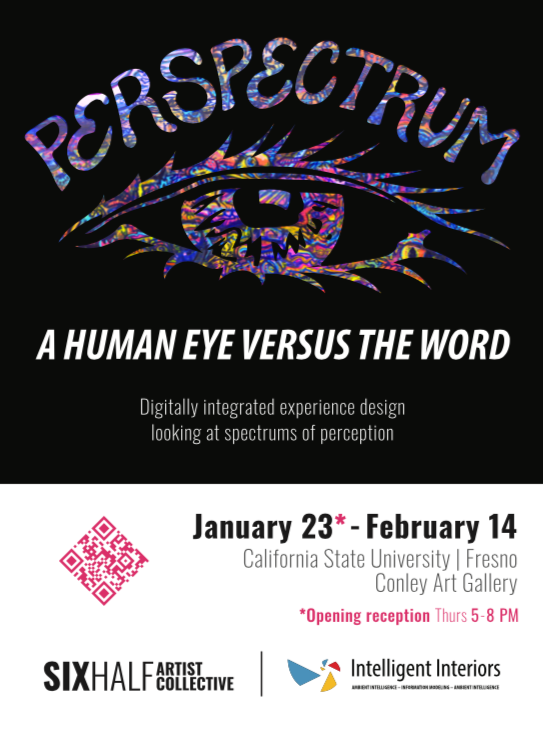 December 5 to December 13, 2019
Gallery Reception 5 p.m. December 10th
Awards presentation at 5:45 p.m.
You are invited to the reception and unveiling of the new Department of Art and Design mural by artists Danny Meza and Recquelle Justo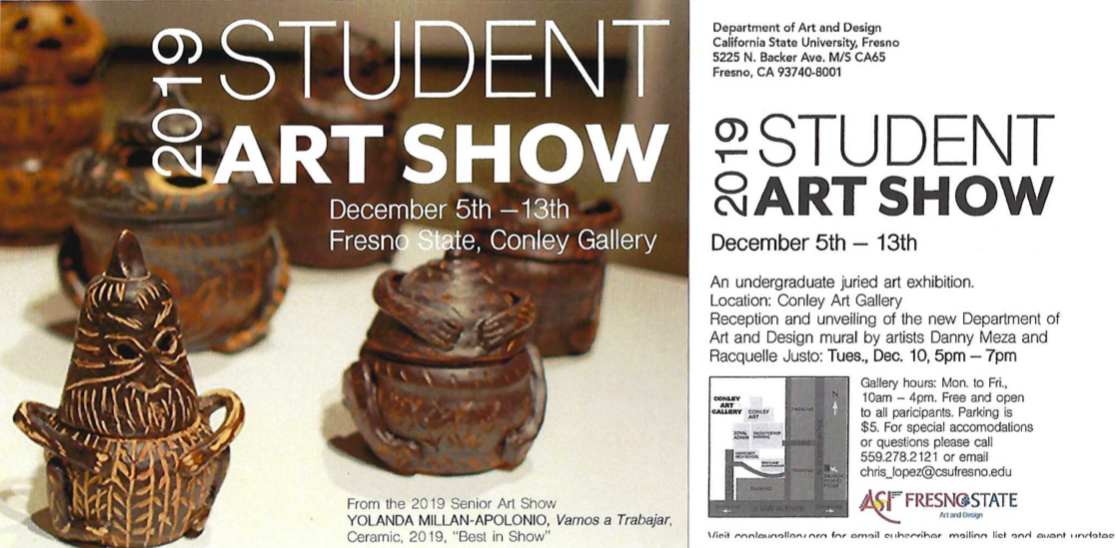 ____________________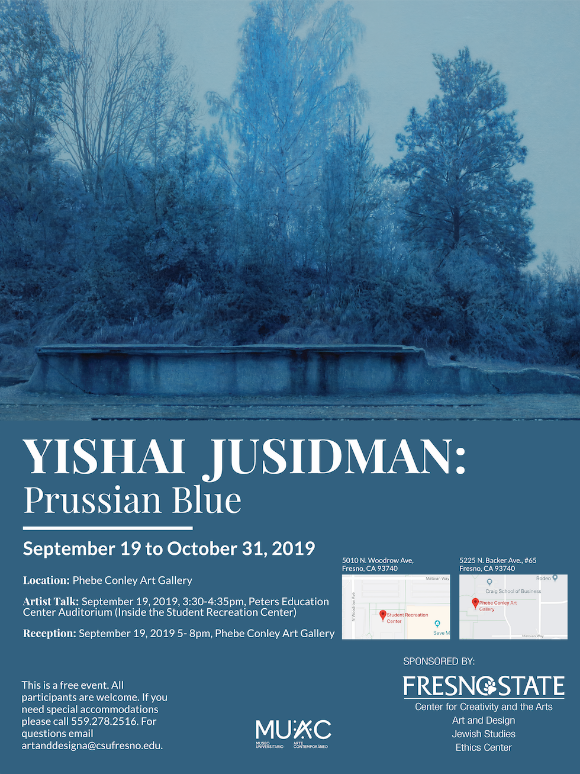 rior Shows.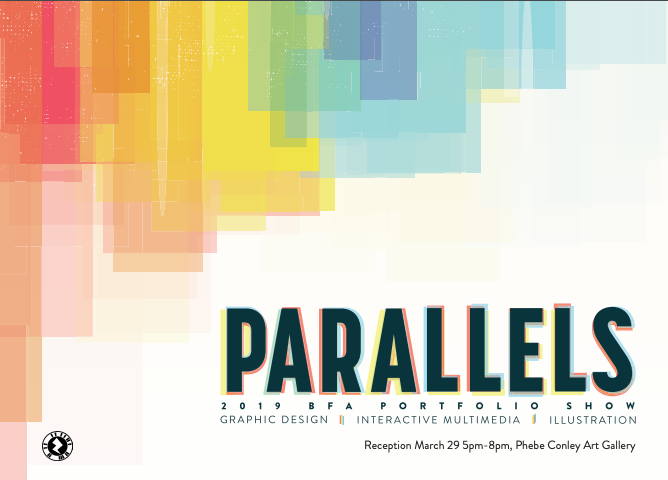 January 31 - March 1st, 2019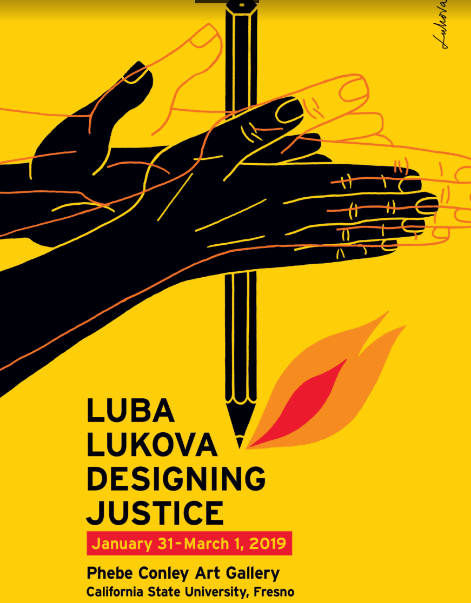 Tomiko Jones: HATSUBON
September 20 - October 12, 2018
Conley Art Gallery
Opening Reception from 5 - 7 p.m. on September 20, 2018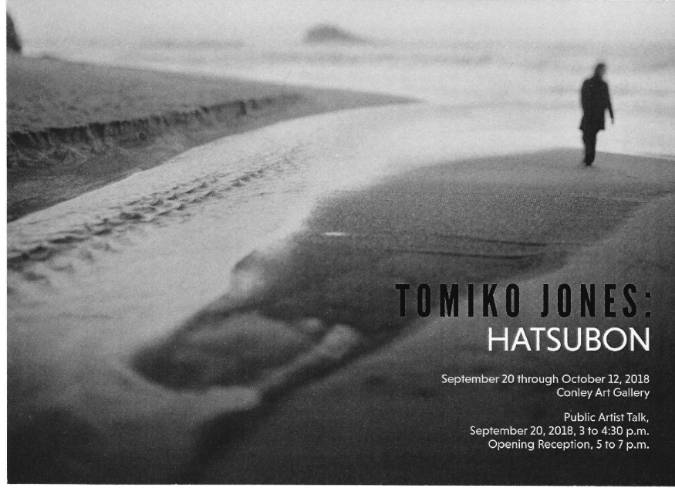 October 25, 2018 - November 16, 2018
Conley Art Gallery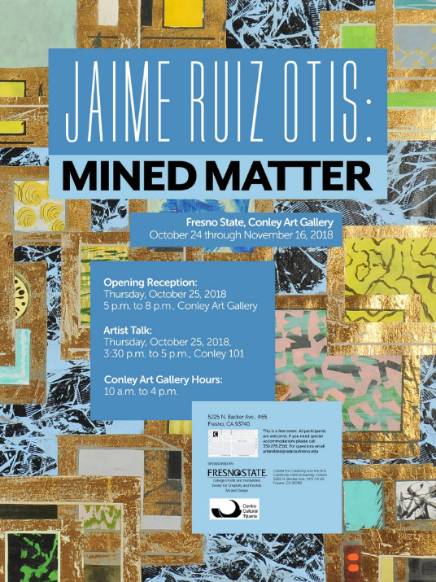 2018 Faculty Art Show
Conley Art Gallery
August 27 - September 13
Reception: Thursday, August 30 from 5 - 8 p.m.

~~~~~~~~~~~~~~~~~~~~~~~~~~~~~~~~~~~~~~~~~~~~~~~~~~~~~~~~~
2018 BFA Portfolio Show
May 4th Through May 11th
Reception: May 4th at 5-8 p.m.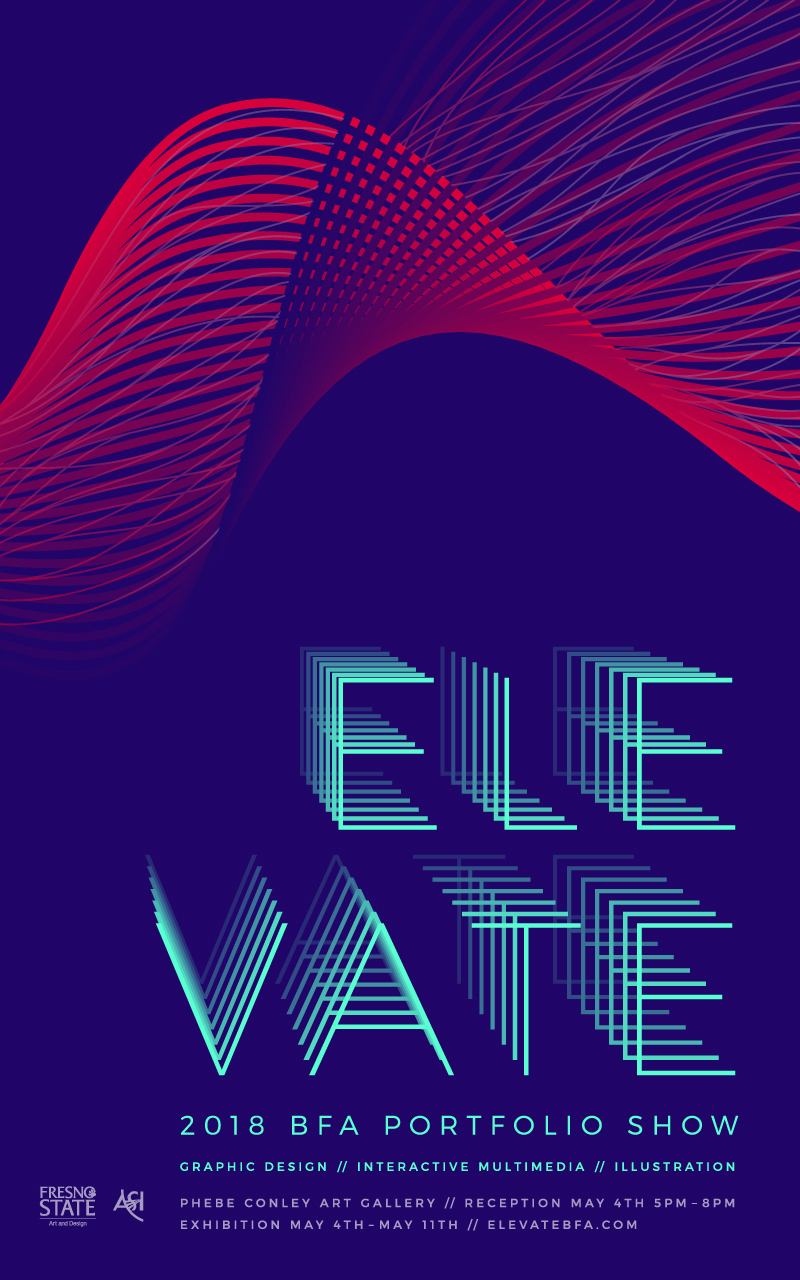 *****************************************************************
From April 20th through April 27th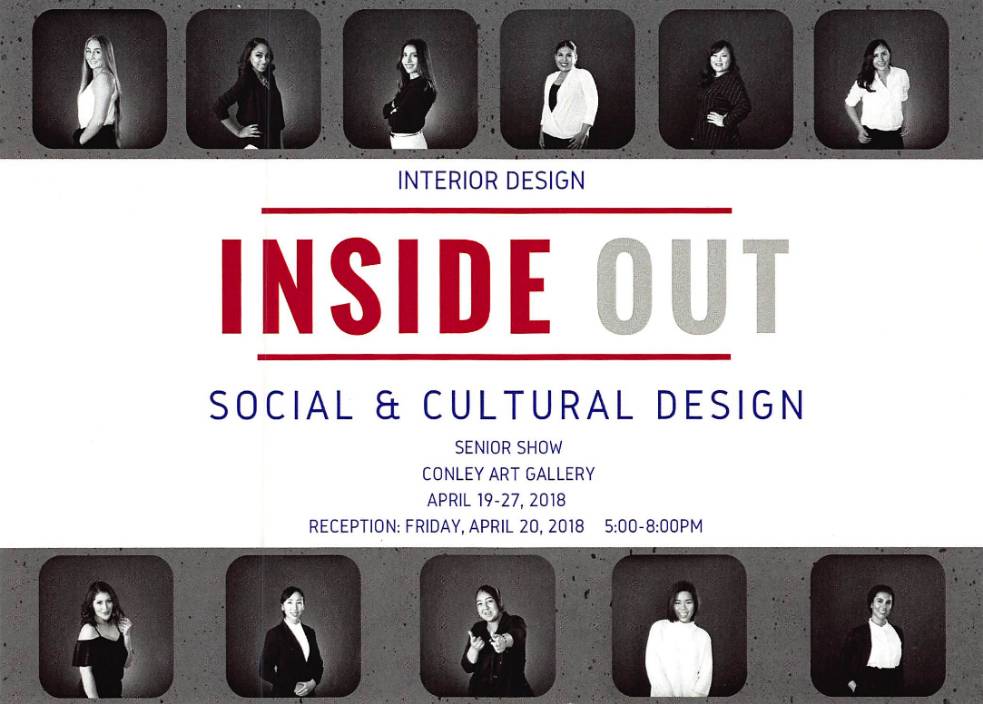 ---------------------------------- -------------------------- ------------------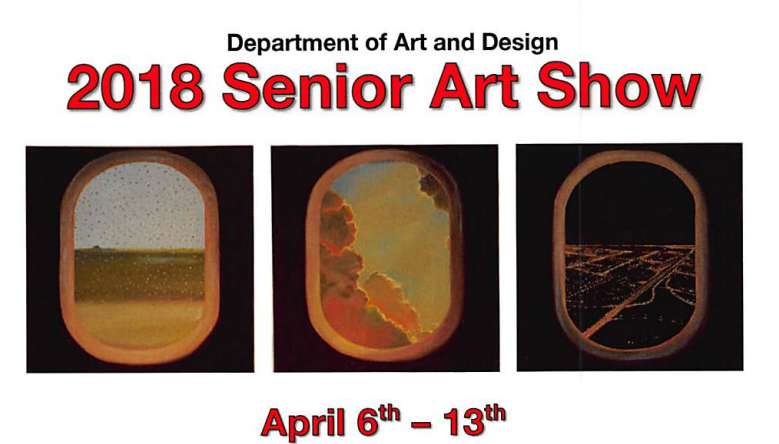 From January 25, 2018 to February 22, 2018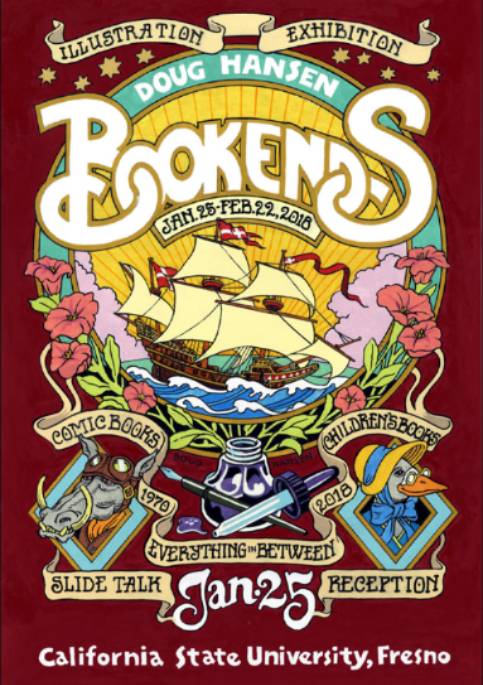 The Department of Art and Design at Fresno State will present works from Doug Hansen's 45-year career as an illustrator at the Conley Gallery in an exhibition titled "Bookends."
Hansen's career as an illustrator began when he was a student in the Art Department at Fresno State in the early '70s. His cartoons and comics for the Daily Collegian campus newspaper earned attention and recognition for Hansen and helped launch his career.

After working for over two decades as a newsroom artist at The Fresno Bee Hansen returned to Fresno State and the Department of Art and Design in 2002, this time as full-time faculty and eventually a professor of illustration. During his 15-year tenure, Hansen illustrated 6 books, three of them his own children's books. Hansen titled his exhibition "Bookends" for the way Fresno State and the department of Art and Design have provided the 'bookends' for his illustration career.
Hansen states that the exhibition includes works "From comic books to children's books and everything in between." Hansen self-published three comic books including Frezno Funnies and contributed to dozens more 'underground comix', what today might be called 'indie' or 'alternative' titles, and most examples of that early work have never been exhibited before.
Hansen's illustrations from his years at the Fresno Bee are rendered in a multitude of media and include pen-and-ink drawings from his 'Fresno Sketchbook' series. Today's consumers of news will be reminded of the memorable part illustrations played at the paper during the 1980s
and '90s. These artworks are also being exhibited for the first time.
Hansen's watercolor illustrations for David 'Mas' Masumoto's books Letters to the Valley and Heirlooms are included in the show as well as pieces from all three of Hansen's children's books: Mother Goose in California, Aesop in California, and California, the Magic Island. Originals illustrating Karen Moore's Pen the Tale, Oogie are the most recent works included. Illustration can be described as "art put to work" says Hansen. He hopes viewers will gain an appreciation and understanding of the illustrator's craft by seeing how the works on display demonstrate his creative and technical process and by seeing how memorably words and images can work together.

Doug Hansen was born in Fresno, California and is the eldest of six children in an artistic family. Hansen collaborated with his mother, Janice, and brothers Craig and Keith to create the river mural installed at the Woodward Park Regional Library. Hansen received both his BA and MA in Art from California State University, Fresno. He was awarded the graduate Dean's Medal in 2001 and is a professor emeritus in the Graphic Design area in the Department of Art and Design.
Gallery hours are 10am - 4pm, Monday to Friday
Artist's talk
3:30 – 4:30 p.m. Thursday Jan. 25th
Fresno State's Conley Art Lecture Hall (Conley Art 101)
Gallery reception
5:00 – 8:00 p.m. Thursday, Jan. 25th
Fresno State's Phebe Conley Gallery
Free. The public is welcome.
Enter Parking Code 262829 at kiosks.
If you need special accommodations for this event please call 559 278-8466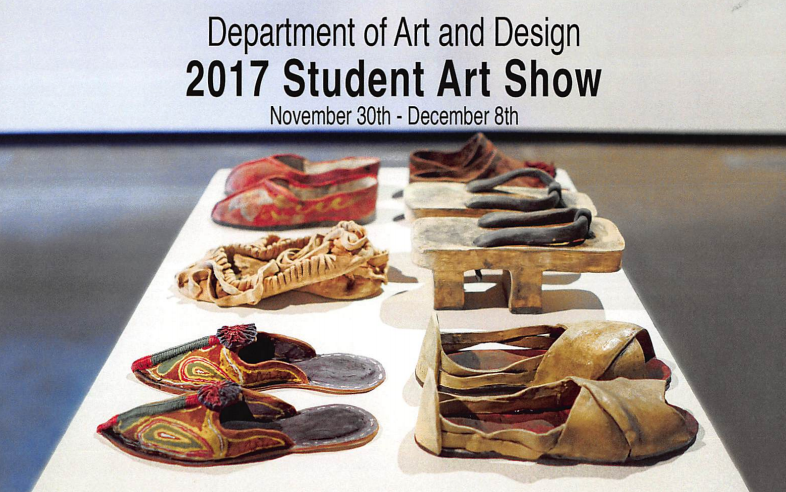 Phebe Conley Gallery
November 30th - December 8th, 2017
Reception: Thursday, November 30th 5 p.m. - 8 p.m.
Jurors: Susana Sosa & Daniel James Keys
Gallery Hours: Monday - Friday 10 a.m. to 4 p.m.
Master of Arts Graduate Exhibition
ANIMA MIKWA
Pamela Flores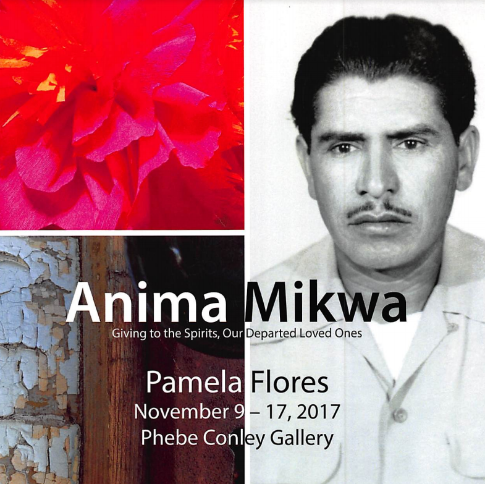 Phebe Conley Gallery
November 9th - 17th, 2017
*Opening Reception: Nov 9th @ 5 p.m.
Gallery Hours: Monday - Friday, 10 a.m. - 4 p.m.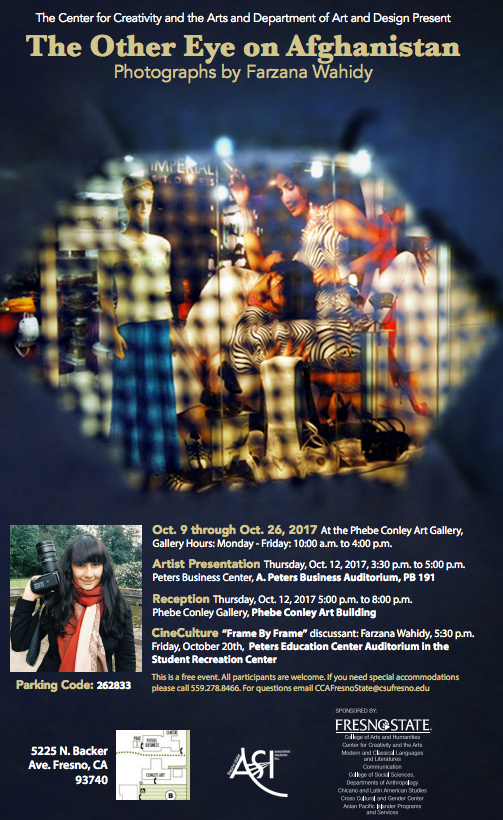 This show opens on Thursday, October 12th. Please see the poster above for talks and reception info.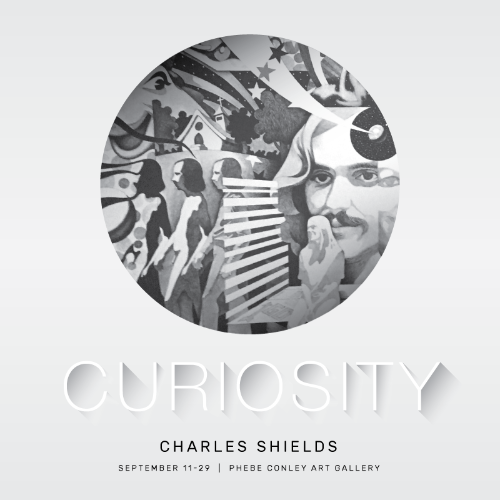 PHEBE CONLEY ART GALLERY | SEPTEMBER 11-29
CHAT WITH CHARLES @ 4:30PM ON THURSDAY, SEPTEMBER 14
RECEPTION 5pm - 8pm | Thursday, September 14
GALLERY HOURS 10am - 4pm | Monday - Friday
The Department of Art and Design at Fresno State is deeply honored to present the work of recently retired faculty member, Charles Shields.
Curiosity is the title of his retrospective currently on display at the Phebe Conley Art Gallery consisting of works beginning from Shields's student work in the 1960's and spanning across his professional career up until the 1990's. The majority of the gallery space is filled with his 1970's pieces but one of the highlights in the exhibit is his display of logos he designed, which includes that of the Chaffee Zoo. Stephanie Wong, Jennifer Runyon and Duran Hernandez, who were hired by Shields, collaborated in the selection and curation of the artwork. In addition, they decided to include a "Message Wall" where visitors are encouraged to write a short message to Charles where they can then be hung on this wall for everyone to view.
Charles will be available in the gallery to speak with visitors during the reception beginning at 4:30 p.m. until 8 p.m. on Thursday, September 14th. The work will continue to be on display until September 29th.
Regular Phebe Conley Galler hours are 10 am to 4 pm, Monday through Friday (Closed weekends and holidays.)
Dust to Dust by Cecilie Carnes
The show will be in the Conley Art Gallery from March 16th until March 25th. The Gallery hours are 10 a.m. - 4 pm
The Reception will be March 16th from 5 - 8 pm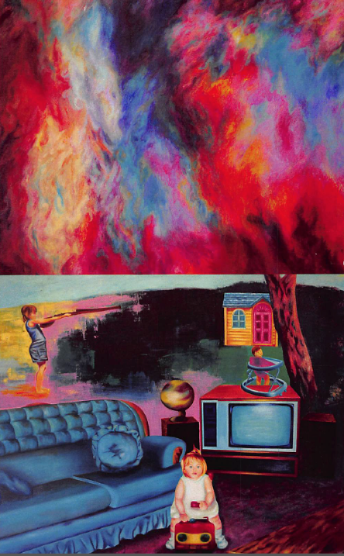 This is a Creation Story
Merritt Johnson and The Unnamed Collective
January 17th - January 24th. - Reception is January 24th from 5-7 p.m.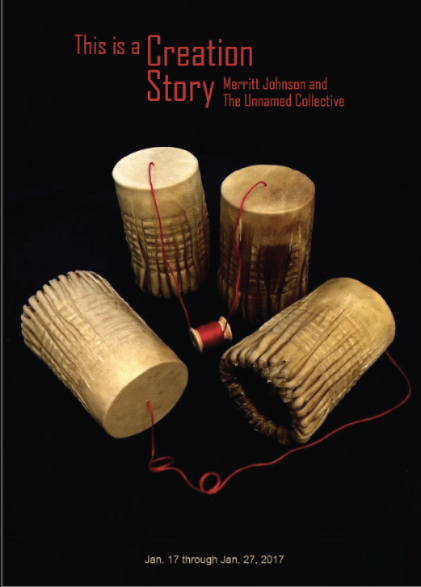 Parking Code for the Reception is 262735. Use this code at any of the parking kiosks for the day of the event Jan 24 for free parking.
2016 Student Art Show
November 30 - December 9th
Come see the 2016 Student Art Show. The reception for the show begins on November 30th at 5 p.m. The show was Juried by Caleb Duarte and Leslie Batty. Come see the amazing art of our students!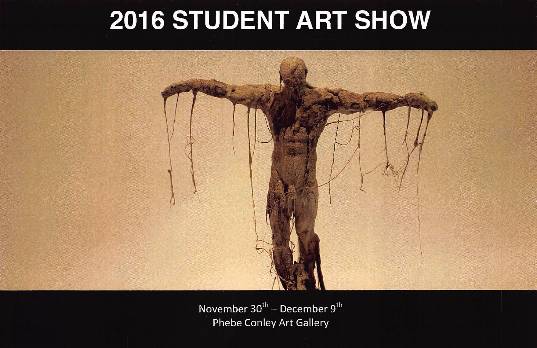 Graphic Design Portfolio Exhibition
29 Apr - 5 May
Reception: Thursday, 29 April from 5 - 8 pm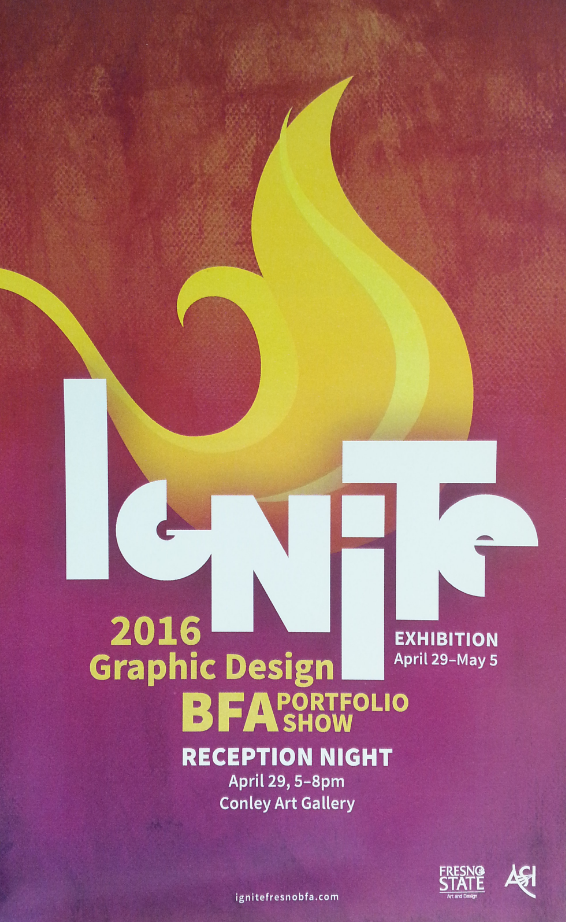 Department of Art and Design
2016 SENIOR ART SHOW
April 11 - April 21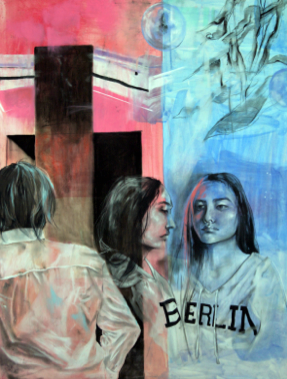 Reception: Tuesday, April 12th, 5 - 8 p.m.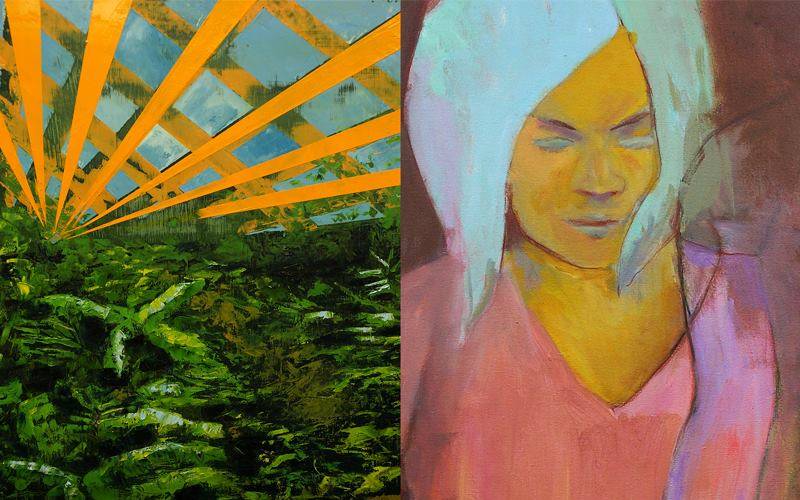 Simulation Perplexia
Daniel Johnson
Go in Shadows
Emily Schellenberg
March 14 - April 1st at the Conley Gallery
The Reception will be 5 p.m. - 9 p.m. on Thursday, March 17th.
A dual graduate thesis exhibition will be taking place at the Conley Gallery, Department of Art and Design at California State University, Fresno from March 14th through April 1st.
Daniel Johnson's artwork uses science fiction to explore the relationship between what is real and what is artificial. Science fiction is a complex vehicle that can be used to explore the genre of reality. By using the possibilities of parallel worlds and the unknown, the artwork is able to break down constructed ideas of what is considered real and analyze the authenticity of reality.
Emily Schellenberg explores through fractured figuration how young women may struggle to create an identity independently of their origin. These portraits are depicted expressively, transparent and overlapped, using an unnatural palette to depict a psychological plane. Overlapped figures are constantly changing and moving within a slow moving and fragmented psychological metamorphosis of selfhood.
--------------------------
"Bearing Fruit" Jannai Pero Graduate Exhibition
29 February – 10 March
Reception: Monday, 29 Feb from 5 - 8 pm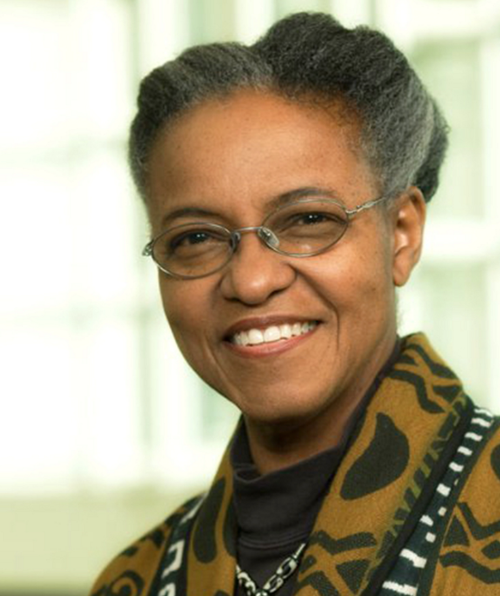 Jannai Pero: My personal journey of faith expressed through Sculpture, based on Psalm 1:2 & 3 and Galatians 5:22 & 23.
Reception Mon. Feb. 29th - 5 to 8 pm - Show continues Monday through Thursday, 10am - 4pm, through March 10th
For FREE parking at the reception, use code 262613 at any campus parking kiosk. $3 parking on other days at any parking kiosk.
There will be light refreshments.
The Power of Art, The Strength of Community

REMEMBERING DR. PAULETTE FLEMING
February 1st to February 19th at the Conley Art Gallery
Reception, 5 - 8 p.m. on Friday February 5th
Conley Art Gallery
Saturday, October 10, 2015
Edward Lund, III
Memorial Service
Saturday, October 10, 2015- October 23
1:00pm – 3:00pm
John Wright Theatre / Theatre Arts Department / Speech Arts Building
Follow by Celebration of Edward Lund's artwork, bicycles, etc…
Conley Art Gallery / Conley Art Building
Still Life in Ceramics
FIVE BAY AREA CONTEMPORARY ARTISTS
Claudia Tarantino
Nancy Selvin
Richard Shaw
Monica Van den Dool
Stan Welsh
The show began on August 28th and ended September 17th at the Conley Gallery.
2015 Artist Invitational, Water in Crisis
(Click on names for Bios)
January 29 - February 27th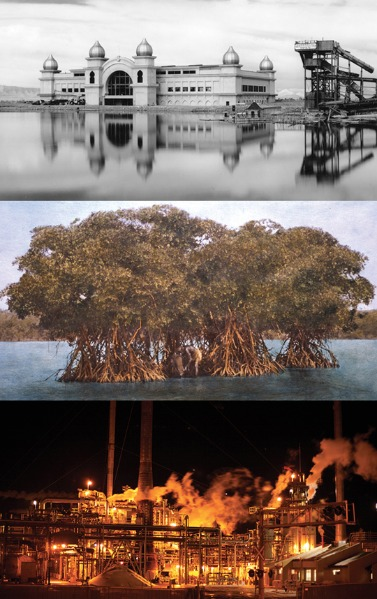 Reception 5 - 8 p.m. on January 29th
Artist Lectures 6 - 8 p.m. January 28th and from 3 - 5 p.m. on January 29th
In Conley Arts 101
The 2015 Artist Invitational Exhibition, Water in Crisis, presents the works of four major artists, Robert Dawson, Newton and Helen Harrison, and Isabelle Hayeur, who offer unique visual strategies for engagement with issues of water in our times. These artists approach water from a wide range of perspectives, including aesthetic, cultural, economic, and environmental.
The artists in this exhibition exemplify some of the newer forms of artistic research and artistic practice. They employ a broad range of methodologies, from intensive field research to the development of engaging texts and experimentation with emerging visual technologies. Their work is related to their communities, beginning with dialogue with experts in the fields they are researching. The works they create are not only visual representations, but opportunities for viewers to become part of a community of inquiry on significant issues.
Robert Dawson's work explores the range of humanity's relationship to water, from sustenance to recreation, from crises of floods to crises of droughts. Newton and Helen Harrison have devoted a long and distinguished career to conducting research on the broad ecological context of water in the West and globally, from the snowpack of the Sierras to the changing tidal wetlands and estuaries of the San Francisco Bay and Delta. Isabelle Hayeur has looked intensively at the aftermath of Hurricane Katrina, and at issues of toxicity in the waterways of the Eastern United States and Canada.
Visual art has the unique ability to give a direct, sensual evocation of the subjects it treats. Each of these installation artists, photographers and video artists invents means to convey the physicality of water and its surrounding landscape. They evoke the relationship of water to the ecosystem and to human cultures and societies. They engage us with the physical traces of the crises that people face in relation to water, crises that are urgently omnipresent in our times. In November, 2014, the drought in California was in its third year. The water table was dropping, and many wells were being lowered. Four hundred homes in Porterville were without water. News reports documented the land dropping near Los Banos. The median level of lakes and reservoirs in the central valley and surrounding Sierra region was 12%. Snowpacks had been decreasing for several years, the elevation of the snowpack had been rising, and with it numerous plant and animal species were threatened. Water left in rivers to restore ecosystems continued to be a center of debate between farmers, fisherman, and scientists.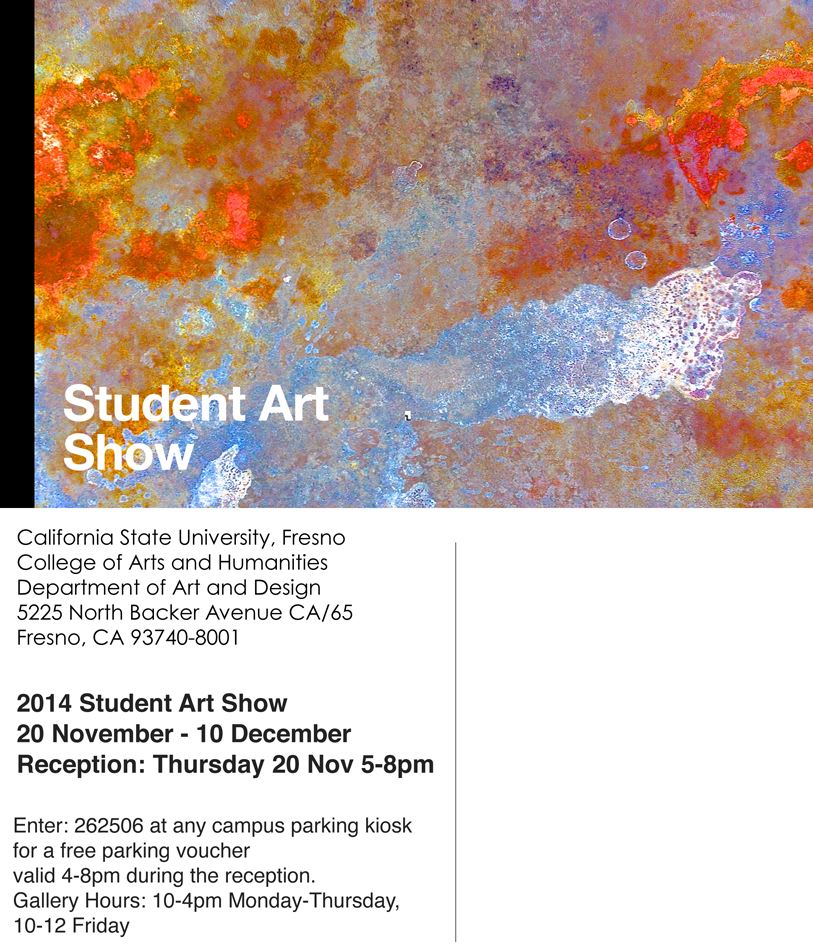 2014 Faculty Show
August 28 – September 26, 2014
Reception: Thursday August 28th, 5-8pm
Ben White and Greg Curtis
October 6–24, 2014
Reception: Thursday October 9th, 5-8pm
Murleen Ray– Master of Arts Exhibition
October 30- November 7, 2014
Reception: Thursday October 30th, 5-8pm
Annual Student Art Show
November 20- December 5, 2014
Reception: Thursday November 20th, 5-8pm
2012 Artist Invitational
January 17 – February 10, 2012

KETAB: Scroll Series by Hadieh Shafie
Four artists' exhibit works that imply an obsessive or repetitive process at the Conley Art Gallery in the Department of Art and Design at California State University, Fresno. The artists represented in the exhibition work in the mediums of digital media and photography (Kirkman Amyx), painting (Richard Bruland), ceramics (Roger Lee) and scrolled paper (Hadieh Shafie).
Art Professor Nick Potter, who helped organize the exhibition, said that "we were interested in bringing together a diverse group of artists who spend hours and hours working in a repetitive manner to create astoundingly interesting work." Potter continues "a thread that combines the works of all these artists is the interweaving of concepts of time, repetition and obsessive art practices into the finished works.
Photographer Kirkman Amyx is a digital media artist based in San Francisco. His recent work explores the use of photography as a data visualization tool which can allow for the seeing of patterns, structure, and meaning through image repetition. Through the use of image repetition, "Basic Cable" is a visualization that explores media over-saturation and the abundance of specialty programming. By capturing nearly 500,000 images, 7200 images per week and per channel, a unique visual representation is created of all 69 channels found on Comcast's Basic Cable broadcasting.
Painter Richard Bruland has set himself the task of using only traditional methods and materials to produce paintings that - even in this modern world of sensory overload, can hold their own and draw people in. His work looks laborious and yet the forms he creates have an abstract quality. Born in Peru and now living in Los Angeles, Bruland is interested in making paintings that refer to landscape in a non-specific way. They are not about 'that' mountain or 'this' tree – instead they suggest the effects of nature and the real world.
Los Angeles situated ceramic artist Roger Lee explores the sensual relationship between the object and the body. He investigates forms that address the intimacy of form, scale, surface, gesture, and the human interaction. Through the repetition of folds and bulbous objects, Lee builds a relationship between the viewer and his or her body.
In creating her time-consuming paper scroll 'paintings', the Iranian born artist Hadieh Shafie marks the significance of process, repetition and time. In her KETAB: Scroll Series individual strips of paper have been marked with hand-written and printed Farsi (Persian language) text. Each strip is then tightly rolled to create a core, around which successive strips are added. During the repetitive process of adding paper strips to create individual rolls, text and symbols are sometimes revealed and often hidden within the concentric rings of the finished object. The time it takes to make each work can vary and the time spent in writing and rolling the strips of paper is an important part of the artistic process and a performative aspect of the making of this work.
FALL 2011
Consuelo Jimenez Underwood
9th September - 30th September 2011
Contemporary fiber artist and weaver Consuelo Jiménez Underwood exhibits "Undocumented Borderlands" - an art exhibition that links physical and cultural borders and the condition of the natural environment around those national borders - at the Conley Art Gallery in the Department of Art and Design at California State University, Fresno.

Created specifically for the Conley Art Gallery the installation 'Undocumented Border Flowers', is a representation of the ten pairs of sister cities of the U.S./Mexican border and the environmental and political struggle along the border. By using textiles, paint, barbed-wires and nails Jiménez Underwood captures the tension and the beauty of the land between these two states. "My art is a combination of land, spirit and struggle" says Jiménez Underwood "and by weaving historical, social and personal references into my artwork I am representing cultural resistance and spirituality."

Frequently using the tortilla as a symbol, Jiménez Underwood uses fibers, wire, corn husks and other materials to visually represent the beauty and the political and cultural struggle of the Mexican border. Melding weaving and fiber techniques, Jiménez Underwood encourages viewers to consider borders as cultural constructs. Writing of her work, Dr. Clara Román-Odio of Kenyon College says: "the artist presents us with multiple iterations of the simple tortilla, as a symbol of the pervasiveness of indigenous cultures, and of the immemorial eating habits they shared. Masterfully she also employs the tortilla as a platform to engage the viewer in political commentary about national territories, while addressing spirituality as a form of cultural resistance."

Born in Sacramento in 1949, Consuelo Jiménez Underwood is the daughter of migrant agricultural workers —a Chicana mother and an undocumented father of Huichol Indian descent. Her work is in the collections of the Oakland Art Museum, CA; the American Art Museum of the Smithsonian Institute, Washington DC; and the Museum of Art and Design in New York City among others. She has degrees in religious studies and art, and is an Emeritus Professor at San Jose State University, California.
SPRING 2011
January - February 4, 2011
Artist Invitational: Diran Lyons, Terrance Reimer, Jen Sachs, Monica Van den Dool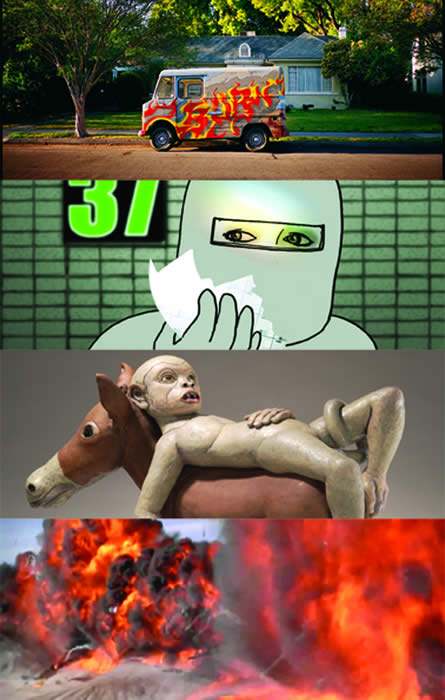 February 10 - 16 - Azusa Ozoe and Ali
February 22 - 28 - David Brooks
March 3 - 9 - Edgar Saldivar
March 14 - 18 - Yalle Ondarza
March 28 - April 1 - Senior Art Exhibit
April 11 - 15 - Graphic Design Portfolio
May 2 - 6 - Interior Design Portfolio
Gallery Technician
Chris Lopez
Chris_Lopez@csufresno.edu
Phone: (559) 278-2121
Location:
Phebe Conley Gallery
Conley Art Building
Room 105
West Wing, Music Building
Lobby by Room 186
Campus Links