Department of Art, Design, and Art History
Internships
The Andrew and Dorothea Perenchio Museum Studies Interns Program in the Department of Art and Design at California State University, Fresno Offers paid opportunities for graduate and undergraduate majors in the Art and Design Department. The primary focus is for students to gain valuable practical experience working within museums and art institutions in the region and community.
Complete info on the Perenchio Internships
INTERNSHIPS WITH LOCAL AND REGIONAL ART ORGANIZATIONS AVAILABLE:
FAM Fresno Art Museum * Info *
Museum Studies Interns - Arte Americas * Info *
---
Internship Application Forms:
Click the link to go to the required form. Remember this is a process and has to go to many stops before completed.
---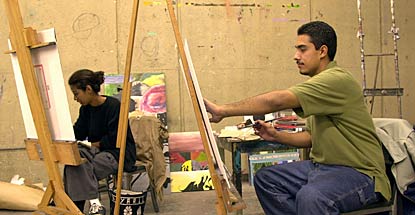 The area of Studio Art encourages students to explore a wide area of aesthetic and cultural experience.