Media, Communications and Journalism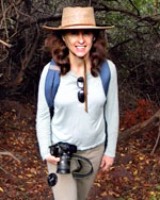 Alice Daniel, M.S.
Lecturer
Education
M.S,.Columbia University Graduate School of Journalism.
B.S., University of Tennessee.
Teaching areas
Media Writing, Reporting, Media Ethics
Research/Creative/Professional project interests
Writer, editor, radio reporter. Has written and reported for a variety of publications and organizations including HGTV, The History Channel, The San Francisco Chronicle, People, National Parks, Yoga Journal, Backpacker, Prism, and Southern Living. Has had radio stories aired nationally on Latino USA and World Vision Radio. Author, Asheville Cooks, profiles and recipes from restaurants in Asheville, NC.