Media, Communications and Journalism
Scholarships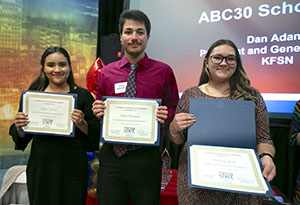 MCJ Annual Scholarship Awards
Each year, Fresno State and the Fresno State Alumni Association, through the Department of Media, Communications and Journalism, award more than $20,000 in scholarships and grants from endowments given to the University to aid students majoring in MCJ. Awards range from $300 to $3,300.
For a list of the 2021-2022 recipients, click here.
For more information about MCJ scholarships, contact Prof. Faith Sidlow, MCJ Scholarship Committee Chair, at fmsidlow@csufresno.edu.
Become a Scholarship Donor
MCJ students excel in their academic work and consistently achieve high accolades. The education they receive today will help them to make a difference in our world tomorrow. Your generous donations to scholarships and the MCJ department help our students achieve their goals. We greatly appreciate the gifts of our donors.
If you would like to contribute to an existing scholarship or establish one of your own, please contact Prof. Betsy Hays, MCJ Department Chair, at 559.278.6154 or email bhays@csufresno.edu.
Apply for Scholarships
The scholarship application period for Fresno State starts October 1, 2021, and ends on March 2, 2022. This application period is for current year scholarship opportunities that may become available during the 2022/2023 academic year as well as for future scholarship opportunities for the 2023/2024 academic year.
Please note there are different deadline dates for the various scholarship opportunities offered at Fresno State. Because these deadline dates can change without notice, please do not procrastinate on finishing the application process. If you are enrolled at Fresno State, submit your scholarship application as soon as possible. This will allow you to be considered for current year opportunities that may become available.
The following is a list of scholarships available to our MCJ students. If you'd like to apply for a scholarship, please fill out the general Fresno State scholarship form.
The ABC30 Journalism Scholarship was created in January 2010. Eligible students must be studying in the field of broadcast journalism and/or multimedia. Students must have and maintain a 3.0 GPA or above. Preference is given to students who demonstrate knowledge and/or interest in emerging cultures of the Central Valley, such as Hispanic, African-American or Southeast Asian. A personal statement addressing financial need and pursuit of journalism and/or multimedia is required for the application. Students awarded this scholarship are encouraged to apply for an internship at the station.
The late Dr. Arthur Margosian was a member of the Department of Journalism for approximately 30 years before his retirement in the 1980s. He worked in journalism and public relations, and he headed the Public Relations program after Dr. Bernard Shepard retired.
This scholarship was established through donations received from the community and is awarded to a junior or senior majoring in public relations.
The late Anthony Marquez served as Los Angeles bureau chief for The Associated Press from 2003 to 2017. Marquez felt that his core ideologies and skills in journalism were formed during his time as managing editor of The Collegian, Fresno State's student-run newspaper. In 1985, Marquez graduated from Fresno State with a degree in News-Editorial from Mass Communication and Journalism. After earning his Master's degree, Marquez set out on a three-decade-long professional career.
The Anthony Marquez Memorial Journalism Award is an annual award for the managing editor of The Collegian. A special thanks to his wife of 29 years, Maureen Marquez, also a 1985 Fresno State graduate.
Family & friends of Ernie and June Benck have established an endowment fund, which provides scholarships to Fresno State students. These scholarships are awarded in even-numbered years to a journalism major and in odd-numbered years to a creative poetry writing major enrolled in the master of fine arts program.
Dr. "Bernie" Shepard was a member of the Fresno State Department of Journalism for close to 30 years. He established and built the Public Relations Program in the Department and died in the late 1980s.
This scholarship is funded by Dr. Shepard's former student Gary Simpson with the stipulation that during most years, half of each year's available money goes to a journalism student and half to a public relations student. Bernie was a strong advocate of both fields, and Simpson wants people to know of Bernie's belief that a firm grounding in journalism is essential for success in PR.
The scholarship is awarded to students who show excellent promise in their field of study and a demonstrated financial need.
The late "Charlie" Palmer was a former newspaperman who later went into public relations. He was a PR practitioner for Pacific Gas & Electric for several years before his death in the 1960s.
This grant was established through donations from his wife, friends and colleagues. Preference is given to students on the basis of financial need, educational promise, and interest in Journalism as a career.
Each year since Darrell Copeland III passed away at age 25 in 2011, his parents Darrell and Diana have organized large softball tournaments and craft boutiques to raise money to establish a scholarship endowment in their son's name.
DC3 (as he was affectionately known) was a standout MCJ graduate who served as sports editor at The Collegian and was kick-starting his career in PR/marketing. But he's most known for his lifelong passion for Fresno State sports, sharing his community pride with others and his booming voice as he cheered for the 'Dogs from the stands. Darrell was an idea man, full of creative thoughts and humor with an appreciation for tradition.
Friends agree that Darrell wasn't just a "glass-half-full" type of guy; his glass was always overflowing. One of his biggest goals was to leave a lasting impact on his alma mater Fresno State, and this endowment ensures that.
The scholarship is awarded to MCJ majors who have a minimum GPA of 3.0 and an interest in pursuing sports journalism.
Dayle H. Molen was a member of the faculty of the Fresno State Department of Journalism from the mid-1960s until his retirement in the mid-1980s.
Before becoming a professor, he was a newspaper reporter and editor for more than 20 years. This scholarship is funded by contributions from his colleagues and students and is awarded to students majoring in print journalism of sophomore or higher class standing.
The late Eli Setencich was a longtime Fresno Bee columnist, spending more than 40 years at the newspaper. His work showcased his love of language and appreciation for all things humorous. He is much admired for the contributions he made to the paper, as well as the field of journalism.
This scholarship was created in the mid-1970s. It is generously funded by The Fresno Bee.
Generously funded by alumnus Jim Melikian in honor of his company, The Popcorn Man, this scholarship will be awarded annually to a junior or senior MCJ student who has displayed a tremendous passion for public relations and a healthy dose of good old-fashioned creativity. Students compete for this scholarship by developing and presenting a mock public relations campaign.
James R. Wilson worked and taught for nearly 50 years in radio and TV broadcast until his retirement from Fresno State in December 2009. A Turlock native, Wilson enrolled at Fresno State College out of high school and received his bachelor's degree in Radio and TV Broadcast with a minor in Journalism in 1961. After his army service, Jim returned to Fresno and began working for local radio station KMJ. He stayed with the station for ten years, working his way up to station manager. After transitioning back into the field of teaching, he was encouraged by his mentor, Merlyn Burriss, to pursue a career as a professor at Fresno State. He began his teaching career in 1983.
The James R. Wilson Scholarship Endowment was established to benefit Media, Communications and Journalism students with an interest in broadcast journalism, specifically in the field of radio or television.
Jim Zaillian was a Fresno State Alumnus who became one of the most prominent radio journalists in California. He eventually became the news director at KNX News Radio in Los Angeles.
This scholarship was established by his friends and colleagues and is awarded to upper-division students planning a career in broadcast journalism.
John Kelly was a cinematographer who died in 2009. John was known for mentoring and promoting local filmmakers. The purpose of this scholarship is to support students who are interested in filmmaking. Recipients must have enrolled in at least one course of film instruction within the MCJ Department at Fresno State at the time of receiving this scholarship. Preference will be given to beginning filmmakers with an expressed interest in narrative film projects as determined by MCJ film faculty.
John Zelezny served as senior vice president for Communications at Community Hospitals of Central California for 20 years. From 1987 to 1998, he was a journalism professor at Fresno State and served as chair of the Department of Mass Communication and Journalism for two years. Community Medical Centers established this scholarship to support students and to honor John's work and service in the community. Preference will be given to students with an option in Public Relations at the time of receiving this scholarship. The MCJ Department will encourage recipients to apply for paid internships at Community Medical Centers, though it is not a required condition of receiving a scholarship award.
This scholarship is funded by a grant from the late Hubert "Rick" Richert, who was editor of The Collegian from 1936-37.
Richert established the scholarship in honor of his friend and fellow student from that period, Roger Tatarian, who went on to become editor and vice president of United Press International.
Josie Burriss, wife of the late Prof. Merlyn Burriss, created this scholarship in his honor shortly after his death in 2001. A World War II veteran, Burriss was a professor of Radio-Television Production for 37 years at Fresno State.
The late Dr. Paul Sheehan was the founder of the Fresno State Department of Journalism, which later became the Department of Mass Communication & Journalism.
Dr. Sheehan took a small journalism program that offered only a few courses and helped establish it as a full department. He also helped establish the mass communication and journalism graduate program.
This scholarship is funded by donations received from the community and awarded to a student majoring in journalism with an interest in journalism as a career. This scholarship is awarded on the basis of financial need and educational promise to an upper-division or graduate student.
This grant is funded by a donation from Hubert "Rick" Richert in honor of Roger Tatarian. Richert and Tatarian were classmates at Fresno State in the late 1930s.
Richert became a prominent businessman in the date industry in the Indio area. Tatarian rose to the top of United Press International and later spent 15 years as a member of the Fresno State journalism faculty.
This scholarship has expanded with gifts from scores of Professor Tatarian's friends and former students. It is awarded to an entering freshman, transfer or enrolled student demonstrating an interest in journalism. Preference is given to minority students.
The late Sid Hosking was a World War II veteran and Fresno State journalism graduate who spent his entire career at the Visalia Times-Delta. He eventually became a copy desk chief and is credited with helping hundreds of young journalists launch their careers.
He died in the mid-1980s. This scholarship was established by his colleagues and friends and is awarded to a journalism major.
Stanley Stemmer Beaubaire was the publisher of The Hanford Sentinel. He was killed in an airplane crash on his way to a business meeting in Los Angeles in the late 1940s.
The Beaubaire grants were established in his memory by his parents, Mr. and Mrs. Samuel M. Beaubaire. The grants are awarded annually to entering or enrolled MCJ students. Preference is given to students exhibiting financial need from Kings County, Calif.
The Dr. Roberta Asahina Advertising Scholarship was established in Fall 2009 at Dr. Asahina's induction ceremony into the Media, Communications and Journalism Alumni and Friends Hall of Fame.
Dr. Asahina has led the Advertising option in the Department of Media, Communications and Journalism for close to three decades. The scholarship was started by Mike Insalaco, Dr. Asahina's former student, and endowed by her friends and family.
It is the only scholarship offered at Fresno State that is specifically for advertising students. Criteria include self-drive, a thirst for learning, strong leadership, and exceptional professionalism. The Roberta Asahina Scholar reflects the best of the advertising students' strong scholarship, character, and promise.
The Nathan Hathaway Collegian Scholarship was established this spring in honor and memory of former Collegian editor-in-chief Nathan Hathaway. Nathan was passionate about journalism and headed for an extraordinary career.
When Nathan approached graduation in fall 2005, he had held editor positions at The Collegian for more than three years and also completed five internships at major U.S. newspapers during the summers. He maintained a near four-point GPA. Nathan planned to become a sports writer and eventually an editor, but near the end of his final semester, he suffered a cerebral aneurysm on campus and died a few days later at 26.
The Nathan Hathaway Collegian Scholarship will be awarded annually to a qualifying Collegian editor or sub-editor. Recipients must be planning a career in print journalism and have a cumulative GPA of 3.0 or higher.
Future Scholarships:
Michael Lamar Williams Endowed Scholarship
MCJ alum Michael Lamar Williams (Class of 2009 -- MCJAdvertising) launched this scholarship to support students majoring in MCJ with preference given to those in the advertising and public relations option who demonstrate a significant interest in African-American culture and/or history and a career in advertising.
Gary Janzen Scholarship
As a young adult, Gary Janzen worked in the field of radio in Northern California. By 23, he started the first creative boutique in Central California. Today, Gary owns a Fresno-based marketing firm called Janzen Brands. The business focuses on strategic branding and marketing consultation; including brand development, marketing plan development and oversight, project management, and "virtual" marketing assignments for a variety of clients or companies. Claudia and Gary have left a lasting legacy from their estate plans for the Department of Media, Communications and Journalism.
George and Desa Belyea Scholarship for Mass Communication
A Fresno native, Desa Belyea was 16 when she embarked on her journey into the field of journalism. She first started writing for the Sanger Herald during her summer vacations. In 1951, she graduated from Fresno State with two majors: Journalism and Political Science. After leaving campus, Desa found public relations work in San Francisco. Desa joined The Fresno Bee as Women's editor, then was appointed Features editor. Desa created a Features section that better reflected the diverse population and changing demographics of the region. Moving up through the ranks, Desa eventually became an assistant managing editor who was responsible for the newsroom's strategic planning.

Desa holds a deep commitment to Fresno State's Department of Media, Communications and Journalism and has been a generous contributor to the field. In September 2012, she was inducted into the MCJ Hall of Fame. Desa has left a lasting legacy for the Department of Media, Communications
and Journalism through her planned gift.
The following scholarship is not awarded through the Fresno State Scholarship Application Process.
Please contact Prof. Betsy Hays at bhays@csufresno.edu for additional information.
Each year, the Fresno Advertising Federation provides scholarships to Fresno State students majoring in advertising, marketing and graphic arts.
To date, the Ad Club has distributed more than $50,000 in scholarships to help train young advertising professionals.
The following scholarships are not available because they are not currently funded:
This scholarship was created in 2003 by Dan Crotty, general manager of KLBN, KGST and KMMM Spanish-language radio stations in Fresno.
This scholarship was created to honor Prof. Jim Tucker, who taught print journalism at Fresno State for 40 years.
He served as chair of the Journalism Department from 1980-90 and was named the Outstanding Journalism Professor of the Year in 1996 by the California Newspaper Publishers Association. For 19 years Tucker moderated and produced Valley Press, a weekly news interview program for Fresno public television station KVPT.
This scholarship was created in 2003 in honor of the retirement of Jim Flanery, the Department's first Roger Tatarian Endowed Chair of Professional Journalism.
Flanery served as Tatarian Chair for five years following a 20+ year journalism career, most of it spent as a reporter and editor for the Omaha World-Herald.
The Tatarian Chair post was Flanery's second stint as a Fresno State professor. He also taught at Fresno State from 1973-1977 before returning to newspaper work.
R. Dale Blair was a copy editor of the Valley Desk of The Fresno Bee during the 1960s and 70s. He died in the late 1970s. This scholarship was established through donations from members of the Fresno Press Club.
Bill Stanford began his career in newspaper journalism and later became one of the leading broadcast journalists in Fresno. He became station manager at KMJ radio in Fresno. The scholarship was established through donations from his friends and colleagues.
William E. Lockwood spent most of his career at The Fresno Bee, eventually becoming the managing editor. He retired in approximately 1960. This scholarship was established by The Fresno Press Club, friends, and colleagues, and is awarded to a student majoring in journalism.