Media, Communications and Journalism
Student Media Outlets, Clubs and Organizations
The Department of Media, Communications and Journalism is host to many campus recognized student organizations.
Alpha Delta Sigma is a college chapter of the American Advertising Federation. It is one of more than 200 college chapters across the United States. Students elect officers and meet bi-monthly.
Industry professionals attend meetings as guest speakers. Speakers cover topics from account services, sales, copywriting, creative direction, graphic design and production, as well as how to get a job upon graduation.
Members attend career fairs in Los Angeles and San Francisco, seminars with the Multicultural Advertising Program in Los Angeles, the regional competition of the AAF's National Student Advertising Competition, as well as the annual PR/Advertising Boot Camp held on the Fresno State campus.
The B# Video Club at Fresno State plays an active role in exhibiting the happenings around Fresno State and also documenting helpful tools for the University.
Some of the projects the club is working on include producing training videos for the Deaf & Communicative Studies Department, recruitment videos for the Geology and Physical Therapy departments, and documenting various lectures and all of the University Lecture Series speakers.
The B# Video Club is open to everyone interested in video, film or television.
CineCulture Club promotes cultural awareness through film and post-screening discussions. For further information about CineCulture, please contact:
Dr. Mary Husain (Instructor & Club Adviser) at mhusain@csufresno.edu
Ruby Saltan (Club President) at rubysul21@mail.fresnostate.edu
CMAC is a membership-based, non-profit corporation created to help local organizations, independent producers, non-profits, schools, public agencies and others better connect with the community through the use of media – primarily television and the web.
CMAC is located in the historic Fresno Met building in downtown Fresno. The Media Center offers a full range of production tools and training at low cost to community users in Fresno and Clovis.
The MCJ Department has partnered with CMAC, allowing students to gain valuable experience working on multi-camera productions in the studio and the field. The CMAC staff works in conjunction with the department's broadcast journalism, multimedia and video production classes, as well as the B# Video Club, to produce content that will be broadcast each week on Comcast Channel 94 and U-verse Channel 99.
The print and online editions of The Collegian are the public showcases of the MCJ department.
Since 1922, The Collegian has covered the Fresno State campus. It is the largest student-run publication on campus and is seen by thousands of students through its website and its weekly newspaper. Collegian staffers have gone on to work at countless publications and websites, including The Fresno Bee, the New York Times, KSEE, the Hanford Sentinel and the Visalia Times-Delta.
The Collegian is committed to providing its readers with complete, fair and accurate journalism. This commitment has been recognized with awards from state, regional and national levels.
All articles are written by students, and paid editorial positions are hired every semester.
For more information on The Collegian, visit its website at http://collegian.csufresno.edu
Fresno State Focus is an award-winning newscast produced by broadcast journalism and multimedia production students in the Department of Media, Communications and Journalism at Fresno State. It airs live on Wednesdays at 4 p.m. on Comcast 94, AT&T U-verse 99, Youtube and Facebook. Stream anytime on YouTube, CMAC.tv and the Fresno State Focus Facebook page.
The national society of Kappa Tau Alpha was established for "the recognition and encouragement of scholarship and good character among students of journalism in American colleges and universities."
The Dayle H. Molen Chapter of Kappa Tau Alpha was established at CSUF in 1987. Nominations to the Fresno State chapter of KTA are made only to those students who have maintained a grade point average of 3.5 or better. Meeting these qualifications places students in the top 10 percent of all journalism majors.
There are over 93 KTA chapters in colleges and universities throughout the country.
KFSR Radio is a non-profit, listener-supported public radio station located on, and licensed to, California State University, Fresno. The station broadcasts at 2600 watts at 90.7 FM and streams online at www.kfsr.org to the entire Fresno/Clovis metro area, operating 24 hour a day, 365 days a year. The broadcast has a potential reach of over 500,000 Valley residents, and the online stream reaches a world-wide audience. KFSR is staffed by broadcast professionals, as well as on air volunteers including Fresno State students, faculty and staff, alumni and community members. Funding for 90.7 KFSR is primarily from the donations of listeners via station pledge drives, donations in support of underwriting announcements, grants from local, regional and national funding agencies, promotional fundraising events and support from the University.
Mission Statement
KFSR is "Fresno State Radio", dedicated to providing an alternative source of music and public affairs to its listeners. KFSR is also a dynamic, educational resource, providing Fresno State students with valuable, real-world experience in radio/media operations.
Vision Statement
KFSR is the radio station that innovative thinkers, creative professionals and those interested in the arts and culture in the San Joaquin Valley turn to for diverse, stimulating and high-quality programming not available through traditional commercial media outlets. KFSR enriches the lives of Valley residents and makes Fresno a better place to live.
KFSR Programming
KFSR reflects the diversity of the community through musical, cultural, educational, and public affairs programming. KFSR is dedicated to providing Fresno area audiences with programming that would otherwise be unavailable in the Valley. The station features major blocks of world-class jazz and blues music programming. KFSR also presents a diverse schedule of specialty music programming featuring Armenian, gospel, American roots, local and more. KFSR also offers news and public affairs programming including the "Commonwealth Club" and locally-produced programs, "Fresno State Focus: Radio Edition" and more.
KFSR History
KFSR can trace its origins back to Fresno State College. Students in the 1940′s took part in live radio theatre productions. When the campus moved to Shaw Avenue in 1958, radio operations were directed by the Radio-TV Department. The radio "station" assumed the call letters KFSR, representing "Fresno State Radio." Until 1982, the station was a closed circuit "carrier current" station, broadcasting only on campus to the dorms and Student Union. On October 31, 1982 KFSR began broadcasting on 90.7 FM at 250 watts. The station's original programming format included jazz, rock and specialty programs. In 1987 KFSR increased its power to 2600 watts. In 2000, the station ventured onto the internet for the first time, launching its website, (now kfsr.org). In September of 2003, KFSR debuted live audio streaming online via www.kfsr.org.
The MCJ Multimedia Production Service at Fresno State provides video and photography services to the Fresno State campus and local government, educational and non-profit organizations. The service utilizes multimedia production students and graduates to produce media for clients under the supervision of professor Candace Egan, the executive producer and production manager of the service.
In 1968, 20 years after its own establishment, the Public Relations Society of America (PRSA) founded the Public Relations Student Society of America. The declared purpose of PRSSA is to cultivate a favorable and mutually advantageous relationship between students and professional public relations practitioners.
The student society aims to foster the following:
Understanding of current theories and procedures of the profession
Appreciation of the highest ethical ideals and principles
Awareness of an appropriate professional attitude
Appreciation of Associate Membership in PRSA and eventually accredited membership
Today The Public Relations Student Society of America has more than 11,000 members in 300 universities across the country.
The Fresno State Paul D. Adams chapter of PRSSA, established in 2001, is a great way to network with other students and professionals in your particular field of interest. PRSSA offers beneficial workshops and insightful guest speakers that help guide you toward your ultimate professional goal.
PRSSA is not only for public relations options. We love to diversify our group by combining all of our valuable knowledge in order to create a team-driven road to success. We are a fun group that's all about making friends and enhancing our futures.
Please visit our website, like us on Facebook and follow us on Twitter.
The Radio and Television Digital News Association (RTDNA) is the world's largest professional organization serving the electronic news profession, consisting of more than 2,000 news directors, news associates, educators and students.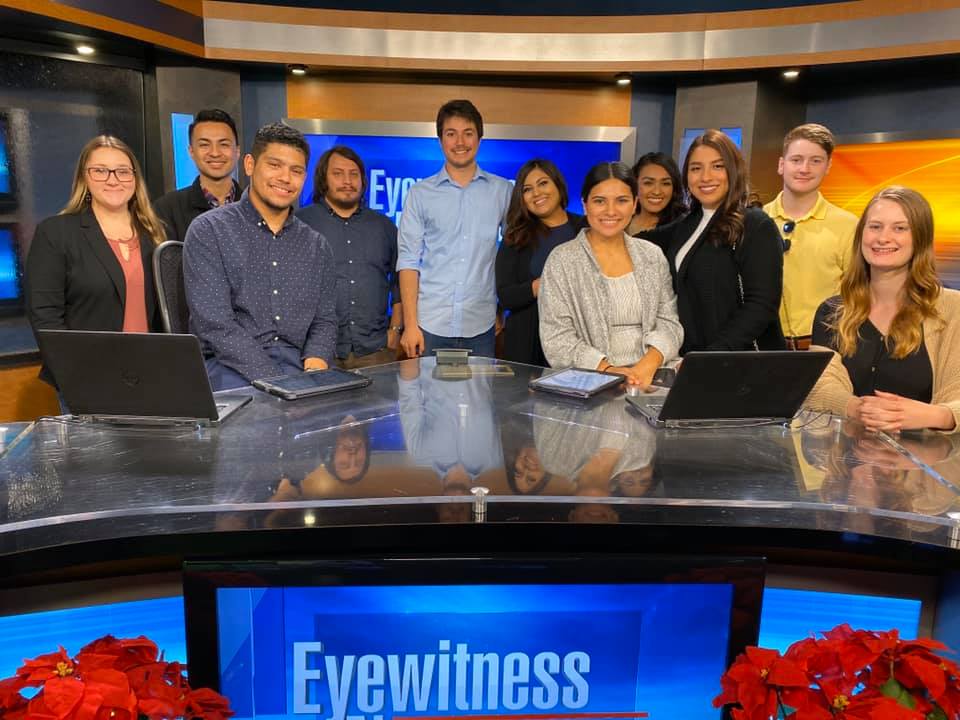 The Fresno State RTDNA chapter was founded in 2012 and is approved by the national RTDNA in Washington, D.C.
Campus officers for the 2021/2022 academic year include Tony Salazar, president; Clarissa Marquez, vice president; Ruby Roque, treasurer; Karina Guevara, secretary; Marc Lopez, multimedia; and Ana Cruz Lopez, outreach. Prof. Faith Sidlow is the faculty adviser.
RTDNA Student Chapters provide extraordinary opportunities to their members including:
instant access to innovative education and resource tools
networking with professionals in radio, television and online news
career and networking workshops
social events
Fresno State students have visited and toured newsrooms and met news professionals in Fresno, San Francisco, Los Angeles, and Sacramento, and they've attended the national Excellence in Journalism (EIJ) conference in Anaheim, Calif.; Nashville, Tenn.; Orlando, Fla.; New Orleans, La.; Baltimore, Maryland; and San Antonio, Texas. SPJ 2021 will be in New Orleans in September 2021.
Visit our Web site at Fresno State RTDNA Club
Follow us on Twitter @FresnoStRTDNA
Follow us on Facebook at FresnoStateRTDNA
Follow us on Instagram @fresnostate_rtdna
If you are interested in joining the chapter, please contact Tony Salazar at:
tonysalazar@mail.fresnostate.edu or fresnostatertdna@gmail.com