Media, Communications and Journalism
Spring 2017 Celebration of Graduates Information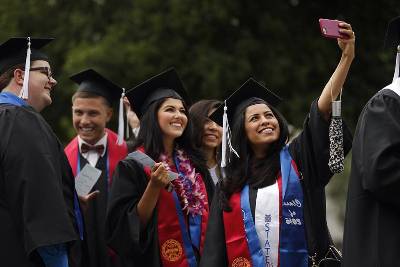 Media, Communications & Journalism Celebration of Graduates
May 19, 2017 | Satellite Student Union | 8:30 arrival time
The Media, Communications and Journalism Department Spring 2017 Celebration of Graduates ceremony will be held Friday, May 19, 2016, at 9:30 a.m. in the Satellite Student Union.
Graduates should arrive at 8:30 a.m.
The processional will begin promptly at 9:30 a.m. Degree candidates' names will be read as they cross the stage to receive personal congratulations from their professors. The ceremony will end at approximately 11 a.m. Special awards will be presented to outstanding student graduates in each academic sequence.
Arts and Humanities Convocation
May 19, 2017 | Save Mart Center | 11:45 a.m. arrival time

The MCJ ceremony will be followed by the Arts and Humanities convocation ceremony in the Save Mart Center. All MCJ graduates are asked to please attend the Arts and Humanities ceremony.