Center for Creativity and the Arts
2020-21 Theme
The 2020-21 academic year theme is "The Power of Culture"
Past Themes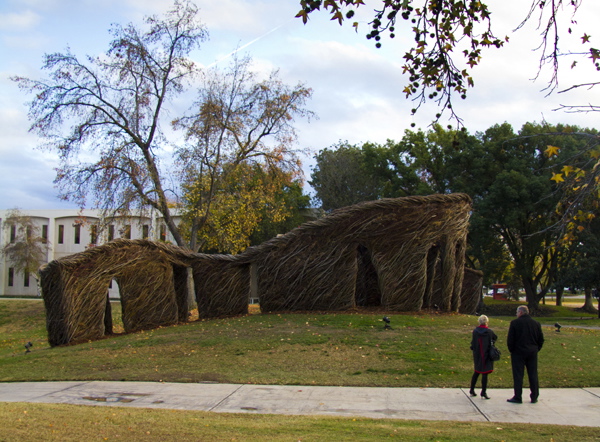 The Central Valley hosts a rich and thriving community that is unique to California's expansive and varied geography. CCA seeks to engage this community in conversations which relate to issues that effect our local region and beyond. As such, CCA's themes are chosen based on modern topics that affect Fresno and its surrounding areas.
We have brought in artists, guest speakers, and creative intellectuals as well as collaborated with other organizations at Fresno State and in Fresno.
The 2018-2019 academic year theme is Crossroads. Crossroads in a literal and metaphorical sense. When CCA's faculty led steering committee selected Crossroads as a theme, the idea was to create dialog in terms social justice, environmentalism and technology. To look at the junctures we are facing as a society in relation to the above, and to discuss which roads we are going to take.

Press Release:
Colloquium explores 'Roads and Routes as Conduits of Culture' in the pre-modern world

Press Release:
Center for Creativity and the Arts 'artist invitational' to feature Luba Lukova

Press Release:
ArtHop exhibition to showcase works by Chicano artist Malaquías Montoya

Press Release:
Artist Jaime Ruiz Otis gives new life to maquiladoras waste products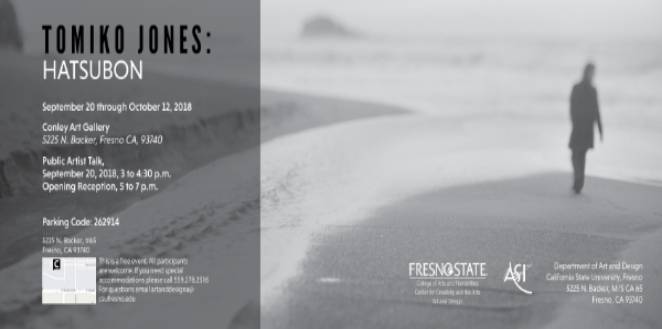 Press Release:

Press Release:
'Business of Regret' ArtHop exhibit examines past and present artists view on war and chaos
The 2017-2018 academic year theme is Voice and Silence: Expressions of the Human Spirit and Community. Voice and Silence is a literal and metaphorical play on the idea of expression in terms of how 'voice' and 'silence' are used, as well as an examination of the ways in which marginalized and often 'silent' or 'voiceless' groups express themselves.

Press Release:
Companion catalog created from 'Insider Art' exhibition
Press Release:
Dr. Robert Levine to lecture on the 'Voices in Our Heads'

Press Release:
'Eyes Forward: Creating Our Narratives' exhibition opens

Press Release:
'Unsung Heroes' exhibition honors African-American veterans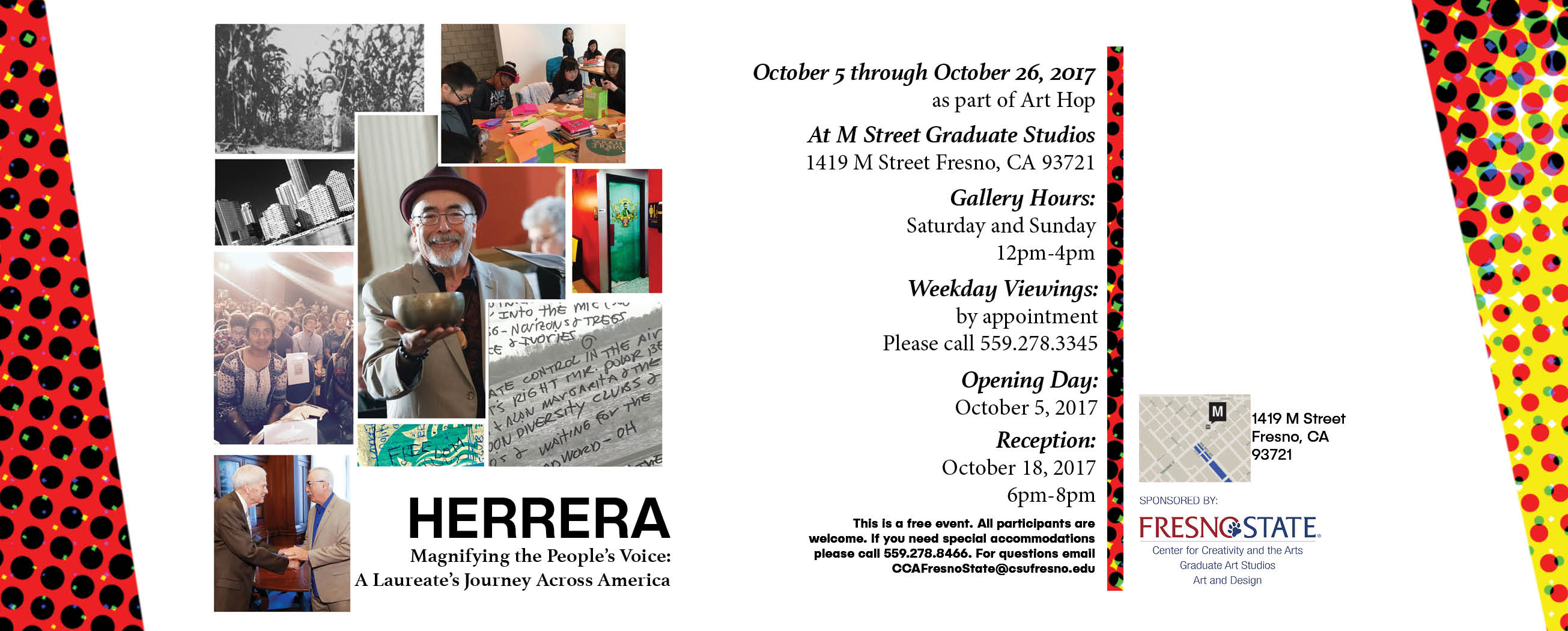 Press Release:

Press Release: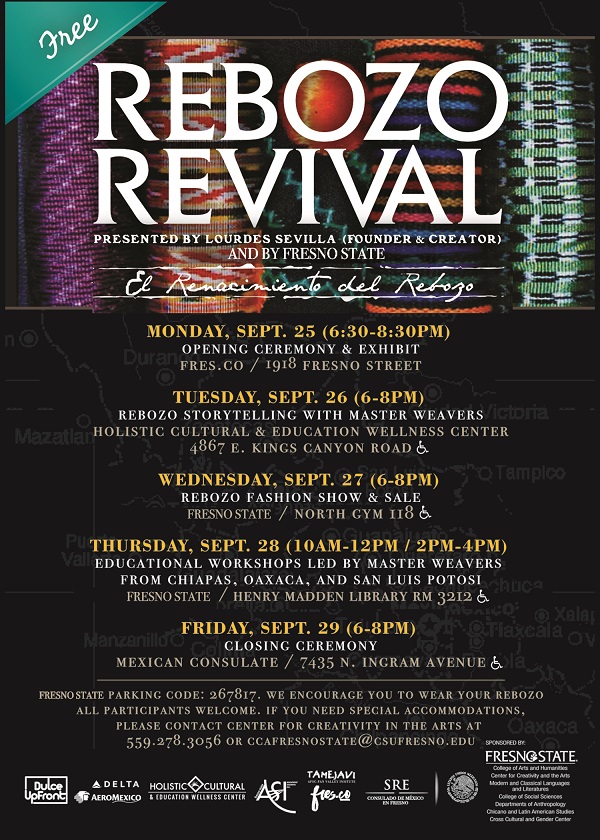 Press Release:
The theme for 2016-17 was Native Communities: Tradition & Innovation. Native Communities: Tradition & Innovation celebrated the rich artistry of Native peoples of California, North America, as well as the indigenous Mexican diaspora of California's Central Valley.
Native Communities: Tradition & Innovation recognized the diversity and complexity of Native peoples, as well as the impossibility of representing multiple cultures under a single classification. For that reason, Native Communities: Tradition & Innovation is not about representation. Instead, Native Communities: Tradition & Innovation sought to create conversations that highlight certain aspects of Native people's arts, and to show the beauty, fluidity and richness of Native artists.
There is a renaissance manifesting around contemporary Native arts. Many of today's leading contemporary Native artists are consciously challenging stereotypes, cultural appropriation, and ascribed popular notions of what constitutes Native arts.
They also remind us that while Native peoples are influenced by specific histories and traditions, they also have a global perspective and are part of an international dialog on hybridity, cultural diversity and creativity. This is the message that nationally and internationally recognized visiting arts to Fresno State Merritt Johnson (Mohawk & Blackfoot) and Cannupa Hanska Luger (Lakota) seek to convey in their art works.
2016-2017 Events: Native Communities: Tradition & Innovation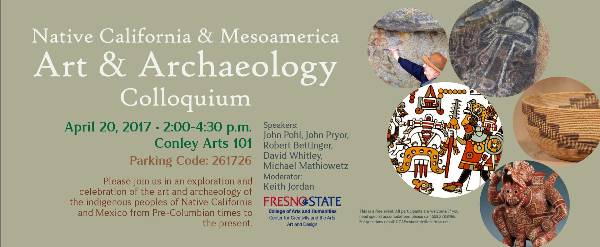 Press Release: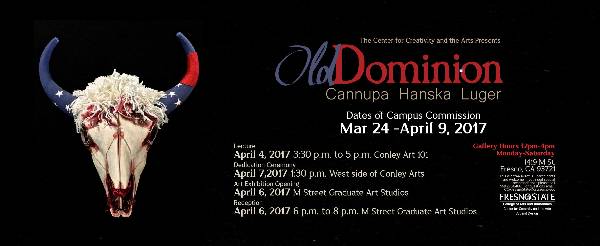 Press Release:
Articles:
Fresno Bee:
American Craft- December/January 2017
College of Arts and Humanities Blog: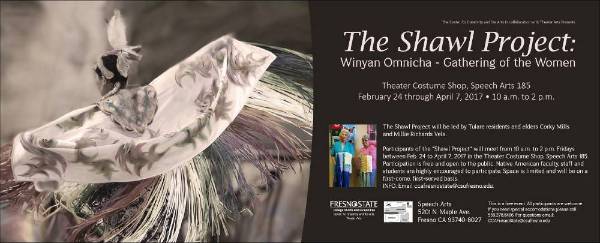 Press Release:
S
Press Release:
Articles:
Smithsonian Magazine Online-
College of Arts and Humanities at Fresno State Blog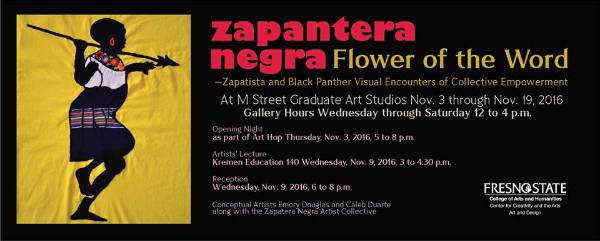 Press Release: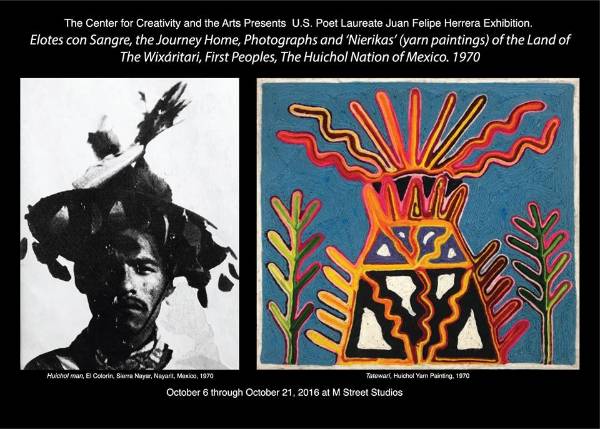 Press Release:
Catalog: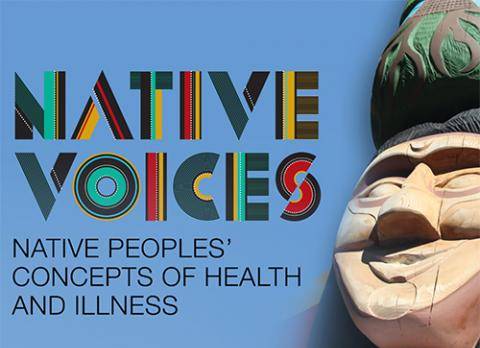 Press Release:
"Native Voices: Native Peoples' Concepts of Health and Illness"
Essential to the ecology, to agriculture, to health, and to culture, water is at the center of concern in a second year of drought in the San Joaquin Valley and California.
Kate Galbraith writes: "In recent years, drought has spread across California like a lengthening shadow, sapping farms and fish, fueling wildfires and forcing towns to scramble for extra water supplies lest taps run dry ... If current models of climate change are borne out, the spring snowpack in the Sierra, a water source for tens of millions of Californians, likely will have dwindled to a shimmering semblance of its former self. Some of the massive aquifers that underline the bountiful Central Valley croplands may falter from continued overuse ... The Golden State, like much of the parched yet booming West, has reached a crossroads."
We have had many interesting themes in the past couples of years that reflect our society today. For the 2013-2014 academic year, CCA has chosen a topic which highlights the leading force of the 21st century, Data & Technology.
We aspire to provoke our community to reflect on how data and technology has affected their lives personally and the ever changing world around them.
Our annual themes reflect the most pressing interests of contemporary society. Evoking conversations about immigration, women labor, sustainability and consumption, data and technology, we are fulfilling our mission to engage our community with thought provoking themes.
For residents of California's Central Valley, the well-being of the natural environment has a direct bearing on our day-to-day living. For example, the Valley's largely agricultural economy relies on an adequate fresh water supply to feed us locally but also to feed the world.
The success of the Central Valley's agricultural production impacts tables home and abroad. Recognizing the importance of environmental sustainability, the Center for Creativity and the Arts chose "Consumption & Sustainability" as its 2012-2013 theme.
In community with our Native American peoples, California is home to immigrants from countries as close as Mexico and as far as Australia and China. For some newcomers, the transition to making a livelihood in California has been easy. For many, it has not. The reasons for this variance are complex. To explore these variances, CCA chose "Immigration, Migration, & Labor" as its inaugural, 2011-2012 theme.