Events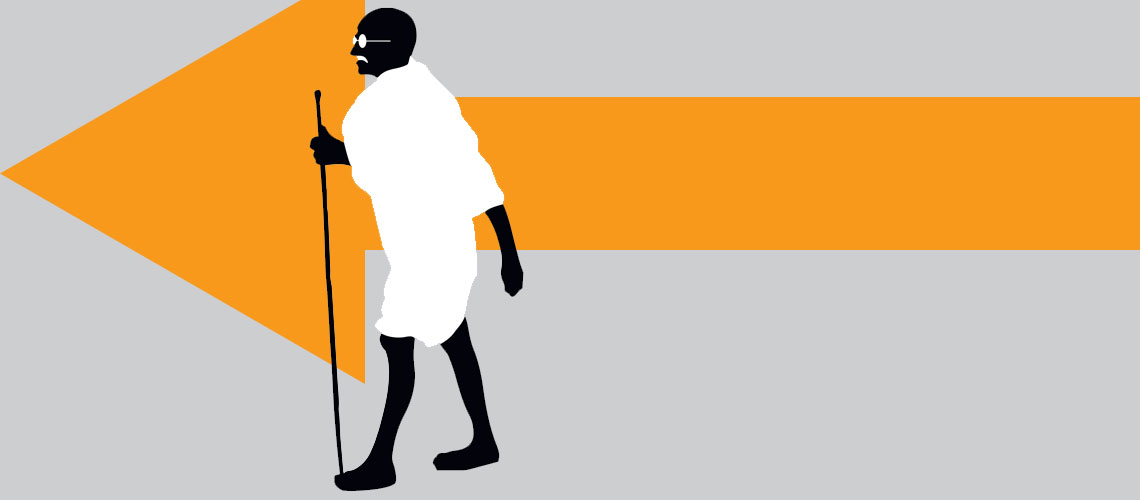 The M.K. Gandhi Center: Sarvodaya and Inner Peace and the Jain/Hindu Dharma Initiative at California State University, Fresno Present:
The Highway to Healing: Understanding the Ocean of Oneness
October 3-4, 2022
The philosophy and teachings of Mahatma Gandhi and Jain/Hindu Dharma traditions offer pathways to find inner and outer peace and harmony. The principle of interconnectedness of all beings (humans, animals, plants, and microorganisms) and the contemplative practices (yoga, shared art/music projects, acts of service, etc.) have the power to cultivate joy, harmony, and good health in turbulent times.
The two-day program at Fresno State focusing on healing "HighWays" combines a keynote lecture on Mahatma Gandhi, a Jain/Hindu symposium, cultural programming, and a classical Indian music concert. The program's main objective is to explore various tools offered by Gandhi and the works of Jain and Hindu thinkers. It also highlights how India's classical music can help deal with suffering caused by stress, trauma, and disconnectedness. Each event showcases specific tools to awaken joy and inner peace in the face of adversity.
Lokah samastah sukhino bhavantu
लोकः समस्ताः सुखिनो भवन्तु
May all people be happy, May all be disease-free, May all attain wellbeing, And let no one be overtaken by sorrow. —A Prayer shared by Jain, Hindu, and Buddhist traditions
Awakening Joy in Turbulent Times
A Public Lecture by Nipun Mehta
SAVE THE DATE: 5 p.m. Monday, Oct. 3
"Negative emotions—the aggregate of stress, sadness, anger, worry and physical pain—reached a record high last year," wrote the head of Gallup in the Economist this month. Yet, in the natural world, we see that some seeds only sprout in the extreme duress of wildfires. Could new capacities be awakening within us as well? Just as a murmuration of starlings self-organizes into the need of the moment, can we also come together to offer each other resiliency? In America today, 46% say they *always* feel alone. What HighWays of healing might lead us back to that innate joy of being in community and in service to the sacred? Nipun Mehta will share stories of yesterday's social change giants, today's everyday heroes, and tomorrow's leaders that might help rekindle our capacity to respond to suffering with profoundly creative acts of compassion.
Nipun Mehta is the founderofservicespace.org, an incubator of projects that support a gift culture. In his mid-twenties, Nipun quit his job to become a "full-time volunteer" and over the last 15 years, his work has reached millions, attracted more than 500 thousand volunteers, and mushroomed into projects like DailyGood, Awaking Circles, and Karma Kitchen. Among his many prestigious accolades, President Obama appointed him on a council for social change and the Dalai Lama recognized him as an "Unsung Hero of Compassion."
For more information, contact Dr. Veena Howard.
---
Jain Hindu Symposium
SAVE THE DATE: 9 a.m. to 4:30 p.m. Tuesday, Oct. 4
Details to be announced.
For more information, contact Dr. Veena Howard.
---

The Healing Power of Music - Classical Indian Ragas
7 p.m. Tuesday, Oct. 4 in the Wahlberg Recital Hall
Internationally renowned artists Pandit Gourisankar, Veena Chandra, and Dr. Lovely Sharma combine for an evening of Indian Classical Music in the Wahlberg Recital Hall, Music Building at CSU Fresno. Veena Chandra is a Sitarist, composer and professor; Dr. Lovely Sharma is a Sitarist, Musicologist and Music Therapist; and Pandit Gourisankar Karmakar is a leading Tabla maestro of the current generation.
The concert is free and open to the public.
For information, contact: Prof. Joan Sharma
---
HIghway to Healing is sponsored by the Uberoi Foundation for Religious Studies, the JP and Renu Sethi Foundation, and the Associated Students, Inc.; and is partnered with the College of Arts and Humanities, the Philosophy Department, and the Asian American Studies Program.
Civil rights leader celebrates new Gandhi Center
Feb. 18, 2022
On Feb. 18, Rev. James Lawson Jr. joined a Zoom gathering with Drs. Ravi and Naina Patel, community members, campus leaders, students and faculty from Fresno State as they announced the creation of the "M.K. Gandhi Center: Inner Peace and Sarvodaya." More...
Gandhi, the Civil Rights Movement, and the Continuing Struggle for Justice and Peace
Sept. 4, 2020