One-on-One Tutoring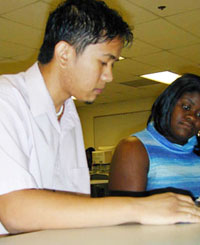 Join us on Zoom for your appointment.
Appointments are 50 minutes long and what you and the tutor do depends on what you bring and what your concerns are. You don't even need to have any writing done— you can talk and write with the tutor as soon as you are given an assignment. The tutor will talk with you a bit and ask you to write about your concerns before you both decide what to work on.
If you already have writing done and are concerned with whether what you're saying in your paper makes sense, the tutor can focus on that, asking you questions and helping you see what your ideas are and how they're organized.
If you'd like to look just at the errors in your paper or focus on formatting, like MLA or APA, the tutor can help you with that. You're welcome to come back several times with the same paper, so you can focus on ideas, clarity, or organization in one session, and then have another session where you focus just on the grammar and language errors in your paper or a specific kind of formatting you need.
This semester, all tutoring is happening digitally on Zoom. Read below for how to create an account and make an appointment.
Create an Account
Go to https://csufresno.mywconline.com and then click on "First visit? Register for an account."
Follow the directions using your mail.fresnostate.edu email address
Make an Appointment
Once you have an account, make an appointment by doing this:
Login to your account at https://csufresno.mywconline.com
Click on a white space to make an appointment on a day and time that works for you.
Then come prepared at the time of your appointment to the Writing Center Virtual Office: https://fresnostate.zoom.us/j/91831029261
Cancel an Appointment
Login to your account at https://csufresno.mywconline.com
Click on your appointment and scroll down to select "Cancel Appointment"