Welcome to the Single Subject English Teaching Credential Program
Do you want to teach middle or high school English in California?
This is a state-approved subject matter preparation program for the Single Subject Teaching Credential. Co-coordinated by the English Department and the Kremen School of Education and Human Development, the credential authorizes students to teach English in grades 7-12.
Program coordinator: Dr. Alison Mandaville (email)
A Path to the Classroom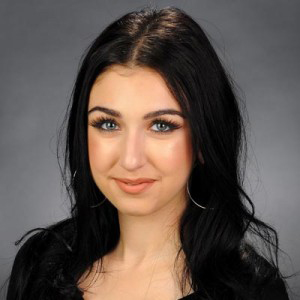 Breanna Aivazian
English teacher, Clovis East HS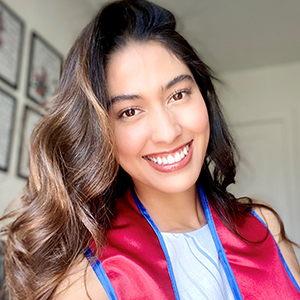 Byanca Leyva
English teacher, McLane HS
For Breanna Aivazian, a chance to save money on college by living at home felt like a gift to her future self. For Byanca Leyva, a meaningful job at her high school alma mater felt too good to pass up.
Ms. Aivazian and Ms. Leyva are just two among dozens of Fresno State alumni who, as of Fall 2020, have landed new jobs teaching English and language arts at area high schools.
They are among a steady stream of newly minted Fresno State graduates each year who earn a single subject teaching credential in English, and then within a year find themselves immersed in the day-to-day life of a high school classroom, doing the job they've trained for.
Read more about their paths to the classroom on Fresno State News.
Apply to the Credential Program
For general questions about the application and admissions process, contact Ivy Fitzpatrick and Jessica McVay in the Kremen School of Education and Human Development's advising center. Location: Ed 100. Phone: 559.278.0300.
For credential advising or to schedule an application interview, first read the information below, and then email Dr. Alison Mandaville, the Credential Program coordinator, for an appointment.
Program Eligibility
First, to prepare for applying, you must complete all parts of program eligibility:
Earn a bachelor's degree (B.A. or B.S.) with a minimum overall GPA of 2.67. A GPA of 3.0 is preferred.
Complete the course EHD 50: Introduction to Teaching OR obtain a pre-program field experience waiver.
Complete the course CI 149: Curriculum, Instruction, and Technology.
Demonstrate basic skills by passing the CBEST exam OR another approved college level exam method.
Steps to Apply
After all parts of program eligibility are completed, you may continue to the application process:
Attend an orientation with the Kremen School of Education and Human Development's advising center.
Complete all parts of the Credential Program application, including:
answering the 10 questions on page 2 (make two copies);
obtaining medical and fingerprinting (security) clearances;
completing mandatory reporter training.
Submit all program application materials to the Kremen advising center, room Ed 100.
Apply to the University through Cal State Apply for post-baccalaureate graduate study. There is a nonrefundable $70 application fee.
Schedule an interview and advising appointment with Dr. Alison Mandaville, the Credential Program coordinator in the English Department.
Bring a paper copy of your completed application, including typed application essay and interview form. The interview will take 40 minutes.
Interviews are scheduled only during fall and spring semesters.
You may apply to the Credential Program in your final year of undergraduate study while completing subject matter competency requirements.
However, you will not be fully admitted nor able to start student teaching until you have demonstrated subject matter competency.
Subject Matter Competency in English
To teach secondary English in the state of California, grades 7-12, a Single Subject English Teaching Credential is required. All credential programs, including the program at Fresno State, require Subject Matter Competency (SMC) to be established first, before admission.

SMC in English can be established in either of two ways.
Method 1: Verification by Accredited Institutions
SMC can be granted by college and university programs that have been accredited by the California Commission on Teacher Credentialing (CTC).
Fresno State's B.A. program in English Studies is CTC accredited. Completion of the University's undergraduate program in English Education (including G.E. and core courses) — with ALL of the following requirements — will establish SMC:
Minimum 3.0 GPA in subject matter coursework ("major" GPA);
Grades of "A" or "B" in three core courses: Engl 105, Introduction to Literary Analysis; Engl 131, Literacy Studies; Engl 193T/194T: Topics Seminar;
Satisfactory completion of a reflective

portfolio process,

which includes construction of an electronic portfolio demonstrating competency in four key

outcome areas

and an interview with English faculty members.
NOTE: If you have already completed a B.A., M.A., or Ph.D. (including but not limited to a degree in English) you may establish SMC by completing the coursework required for the English Education major (not including general education courses) and items 1-3 above. This ensures you have a strong understanding of the field of English Education.
Method 2: Verification by Examination
Students who already have a B.A and do not want to take any more classes can establish SMC in English by passing the California Subject Examination for Teachers (English CSET).
Quick Links