Williams-Inada Writing Contest

Mission Statement
The Williams-Inada Writing Contest honors two renowned American writers — Sherley Anne Williams and Lawson Fusao Inada — who graduated from Edison High School in southwest Fresno in the mid-20th century and went on to receive their bachelor's degrees from Fresno State.
The contest, a collaborative endeavor among Edison High, Fresno State, and The kNOw Youth Media, has a dual focus: it celebrates the contributions of writers of color to the body of American literature, and it supports the aspirations of young writers and artists at Edison High with the potential to contribute to this tradition. The winning entries are published by The kNOw Youth Media.
Judged by faculty in the English Department and sponsored by the College of Arts and Humanities, the writing contest builds on, and seeks to strengthen, the literary, artistic, and academic connections between Edison High and Fresno State, as represented in the careers of Williams and Inada.
Contest History
Calling all Edison High School Students!
We invite submissions in the following categories:
Creative writing (poetry, fiction, creative nonfiction, play, or graphic narrative) that relates meaningfully to some aspect of the experience, history, culture, or perspective of underrepresented groups. Word limit: 1200
Critical or expository writing: analysis of a literary work (poetry, fiction, creative nonfiction, play, or graphic narrative) by an American writer of color, or an essay that engages with social justice. Word limit: 1200
Cultural production: visual art, music, film, performance, etc.--any creative work that engages with social justice. Submit image, or video of no more than 3 minutes.
Limited to one entry per student.
Cash Prizes
We will award a total of 18 cash prizes. For each of the above categories:
1st, 2nd, and 3rd place on the freshman/sophomore level
1st, 2nd, and 3rd place on the junior/senior level
Publication
The winning entries will be published in The kNOw Youth Media.
They will also have print publication in Fresno State's 559 Journal.
Deadline to submit: Friday, March 26, 2021
How to Submit
Email your submission in Word, PDF, or Youtube format to williamsinadacontest@gmail.com
In the body of the email provide a cover letter that includes the following information: your name, your address, your grade, the name of the teacher from whom you heard about the contest and their class (include P, Honors, AP), and the best way to reach you.
Also in the cover letter, tell us where your inspiration for the piece came from.
Please follow these instructions closely. If you have any questions, feel free to contact Professor Samina Najmi at snajmi@csufresno.edu
Virtual Awards Ceremony
When: Friday, June 4, 2021, 6 to 7:30 p.m. (confirmation pending)
Family and friends welcome on Zoom!
Canceled due to the Covid-19 pandemic.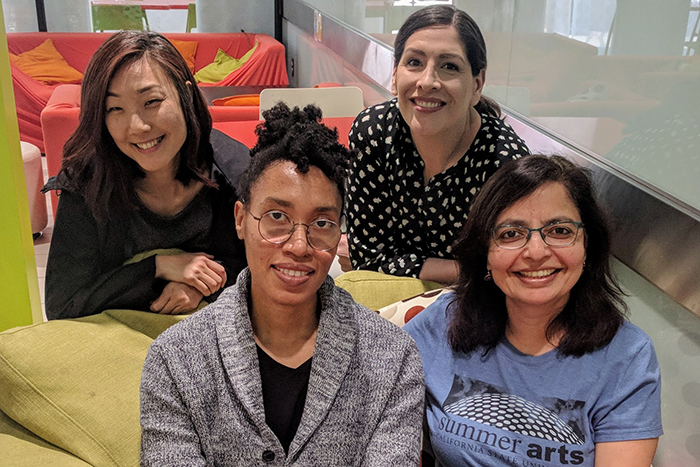 The Williams-Inada Writing Contest is a labor of love on the part of four professors in the English Department: Dr. Samina Najmi, Dr. Melanie Hernandez, Venita Blackburn, and Brynn Saito.
We are creative writers and scholars, raised in the Central Valley and in other parts of California and the globe. We believe in the power of writing and the arts to call forth our best selves and reshape society. We believe in our communities. We believe in our youth.