Featured Events
.
M Street Arts Complex
Photo: Granville Commercial Realty
M Street Graduate Student Exhibition
Evening, Thursday, June 6, 2024
The M Street Graduate Student Exhibition is a multimodal exhibition that includes artworks from the dept of Art, Design and Art History students, student Digital Humanities projects, and augmented reality art installations that speak to the theme of Modernist Technologies, to run during the International Conference on Virgnia Woolf and to be featured at Art Hop. Students from Art & Design and students from the Department of English will exhibit paintings alongside digital humanities projects and augmented reality art installations. This exhibition will feature a collection of graduate art students paintings, a video projection of the digital humanities projects, four video monitors attached to ipads for students to display their digital humanities projects, and artworks from graduate students and Laura Huisingna's and Glenn Terpstra's augmented reality installations.
Thursday, June 6 buses will leave from Fresno State at 5:15 p.m. and we will make our way over to the M Street Gallery. The bus will leave at 9:00 p.m., giving plenty of time to enjoy the Grad student Exhibition and experience Fresno's iconic Art Hop.
---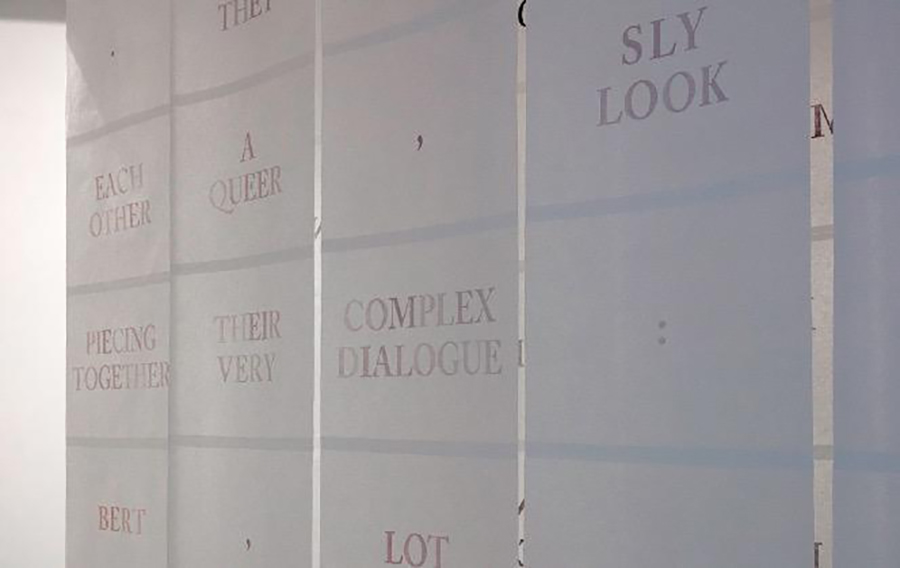 Poetics of Technê by Ane Thon Knutsen
Poetics of Technê
Evening, Friday, June 7, 2024
The Poetics of Technê reception will take place from 6:00-9:30 p.m. in the Fresno State Library on June 7, 2024. The Poetics of Technê will display the work of Dr. Ane Thon Knutsen (1984). Dr. Ane Thon Knutsen is a Norwegian artist and designer specialized in letterpress. Knutsen will exhibit an adaptation of the short story "Kew Gardens", typeset, hand printed and published by Virginia Woolf in 1919. The installation follows the story, word by word, color by colors through 1512 individual sheets of 18 gsm Japanese Kozo paper, typeset and printed with moveable type, taking Thon Knutsen 3 months of working in solitude in her private letterpress print shop, using the same technology as Virginia Woolf did when she first typeset and printed Kew Gardens at The Hogarth Press.
Reception includes keynote address by Jane Goldman, international Virginia Woolf Scholar from University of Glasgow, artist talk by Ane Thon Knutsen, and poetry reading with Mai Der Vang, Assistant Professor of Poetry at Fresno State and Brynn Saito, Associate Professor of Poetry at Fresno State.
---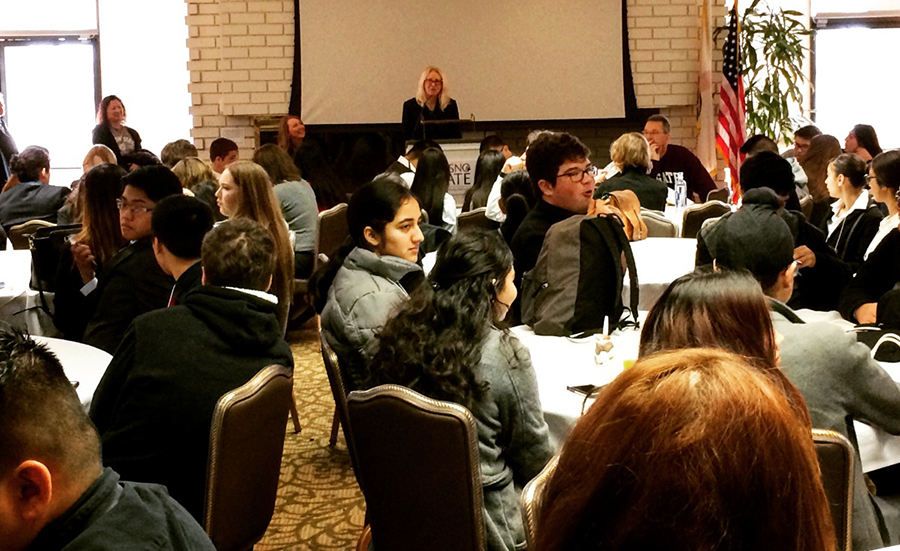 Fresno State East Dining Hall
Photo: Benjamin Kirk/Fresno State
Saturday Night Banquet
Evening, Friday, June 8, 2024
E.M. Forster once suggested to readers to look out for passages about eating in Virginia Woolf's works, "food with her was not a literary device put in to make the book seem real. She put it in because she tasted it." Our hope for the 33rd Annual International Conference on Virginia Woolf is to host a banquet that will serve a meal worthy of Virginia Woolf's praise. Afterall, "one cannot think well, love well, sleep well, if one has not dined well," (Woolf, A Room of One's Own). Saturday night starting at 7:30 p.m. the Woolf Society will join together for the annual banquet that follows the conference. Members of the society will gather to enjoy dinner in the spirit of camaraderie.
The dinner will be held in the East Dining Hall following the Saturday keynote address from Paul Saint Amour, and will feature a performance by Woolf Society Players. Banquet will conclude at 10:30 p.m.
.