Department of Theatre and Dance
Theatre for Young Audiences
About the program:
Each spring, Fresno State students enroll in a course to bring children's theatre productions to elementary and middle schools throughout the San Joaquin Valley. This touring company of student actors has been a tradition at Fresno State for over 50 years, and have toured more than 40 schools and over 16,000 children in a single season.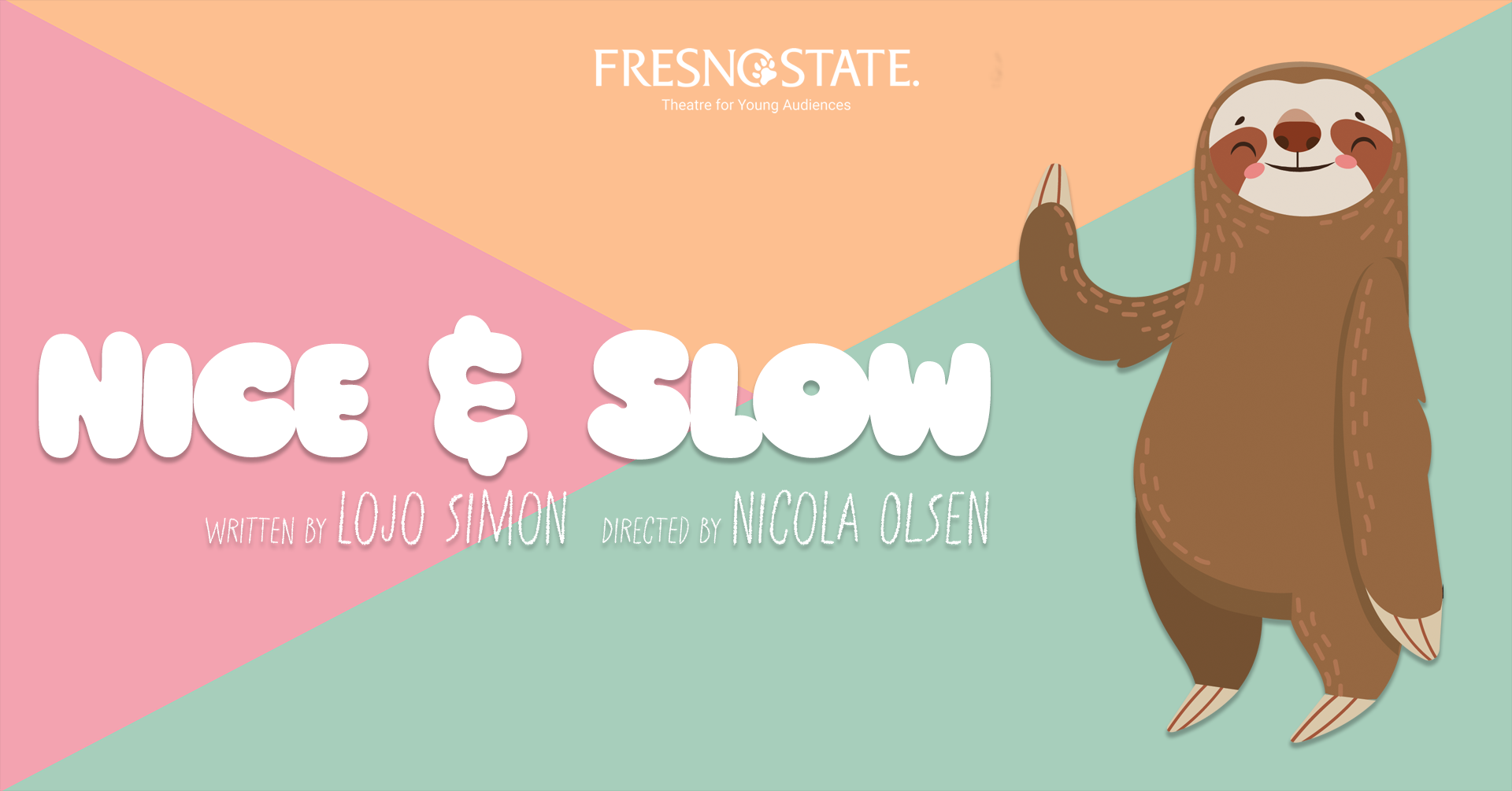 Nice & Slow
Written by Lojo Simon | Directed by Nicola Olsen
About The Play
Sam is slow getting ready this morning. The grown-ups in the house expect their kid to share their hurried lifestyle, and they're not pleased. Just as Sam prepares to hop to it, the sloth living in Sam's upper bunk tickles the child's nose and triggers a sneeze. Sam goes from rushing to get ready for school to having the day off...and going on fantastical adventures with Sloth! As the pair zip from adventure to adventure inside Sam's bedroom, Sam learns that there is indeed a time to go fast, but even more important in our fast-paced, hurried world, a time to go Nice & Slow.
---
Dates

Our performances are available Tuesday and Thursday mornings starting March 5th with our final performances on May 7th. Not available March 26, 28, and April 18, 2024.
How to bring Theatre for Young Audiences to your school

Please fill out the Theatre for Young Audiences Tour Request Form to begin the process of having our Spring 2024 tour visit your campus.
On-Campus (Fresno State) Performances
We are pleased to offer on campus performances of "Nice & Slow" Perfromance dates are Thursday, April 18 and Friday, April 19, 2024 with performance times at 10:00 a.m. & 11:30 a.m. on both days. The capacity for Each performance is 145. Reservations can be made by filling our Theatre for Young Audiences On-Campus Performance Request Form.
Performance Costs
Tour Cost:
$300.00 for 1 performance.
$200 for each additional performance on the same day.
Maximum audience size for a performance is 300 people. If the maximum number is exceeded, the school will be billed for additional performances.

On-capmus Performance Cost:
$3 per attending student.
$5 per attending adult.
Adopt-A-School Program (Financial Assistance)

The Adopt-A-School Program offers $300 and $150 awards to bring this year's touring production to your school. A $300 award funds one performance for up to 300 students. A $150 award will require matching funds of $150 from your school for one performance for up to 300 students.
The Adopt-A-School Theatre Arts Committee will award performances based on free and reduced lunch percentages as well as on a first-come, first-served basis.
Funding is limited. Award recipients will be notified at the start of the Spring 2023 semester.
FREE Public Performances
The Theatre and Dance Depeartment is pleased to offer two FREE public performances of "Nice & Slow" during Vintage Days on the campus of Fresno State.

April 20, 2023 | Performance Times TBD | Dennis and Cheryl Woods Theatre | Speech Arts Building | Fresno State