Department of Art, Design and Art History
About Us
The Department of Art, Design & Art History provides the skills and understanding, humanistic values and cultural awareness that form the foundation of knowledge in the visual arts. The department offers programs in fine and applied areas of visual art that engage students in inquiry and discovery. These programs help prepare students to be artists, historians of art, designers, educators, and informed and thoughtful citizens in the community and in a global society.
In alignment with the university and College of Arts and Humanities mission and vision statements, the Department of Art, Design & Art History strives to prepare students for lifelong learning by implementing bold, focused strategies designed to maximize access and success for our diverse student body. In collaboration with our community partners, we provide a transformative educational experience that prepares students to serve and to lead in the Central Valley, the state, and beyond. Our programs are structured to provide students the knowledge and experience to succeed in careers in the field of Art and Design. We strive to enhance teaching and learning through best practices, innovative programming, and high impact experiences.
Excellent Facilities
The Art, Design and Art History department is housed in the Phebe Conley Art Building: an award winning contemporary building complex. Facilities include:
State-of-the-Art Computer Labs
Digital facilities
Studio Classrooms with North Lighting
Photographic darkroom
Printmaking, Painting, Drawing, Ceramics, Crafts, Sculpture and Glass Studios
The Phebe Conley Art Gallery, the Dean's Gallery, the President's Gallery
Art & Design Slide Library
Interior Design Resource Room
Smart Classroom Lecture Hall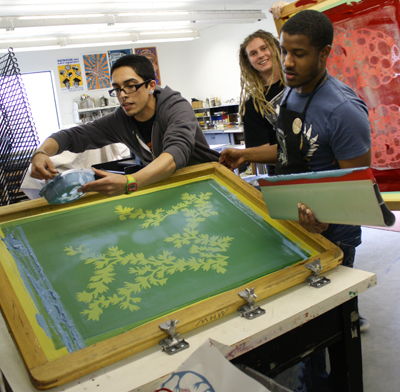 Printmaking area at Fresno State.
Mission
The Department of Art and Design offers exciting and creative opportunities for students to nurture and expand their artistic and design senses by providing a broad range of experiences that prepare its graduates for art and design-related opportunities and artistic endeavors.
Art, Design and Art History Career Opportunities
Completion of the art or interior design major enables graduates to pursue advanced study leading to careers in fields such as:
3D Modeler
3D Texture Artist
3D Animator
2D Storyboard Artist
2D Animator
Art Education
Art History
CAD Design
Computer Art
Fine Arts
Gallery Work
Graphic Design
Illustrator
Interior Architecture
Interior Design
Intermedia Design
Museum Work
Photographer
Public Artist
Studio Production
Prospective students should contact faculty in their area of interest to further explore specific career opportunities. Students may also choose to pursue advanced degree work toward the M.A. in Art.
Our Areas of Study
Studio Art offers courses in drawing, painting, ceramics, sculpture, photography, animation, new media, printmaking, design, glass blowing, glass casting and foundry.
Art Education leads towards a single subject teaching credential.
Art History presents a platform for students to examine, identify, and appreciate the visual arts.
Graphic Design BFA offers a state-of-the-art program that prepares students for careers in graphic design, illustration, advertising, publishing, and Web design.
Interior Design uses the most advanced CAD and animation programs as well as traditional methods to train its students for success in the professions of retail, office, restaurant, healthcare, historic preservation, and residential design.
The M.A. in Art offers in depth advanced studies in Art History, Studio Art, Art Education and Interior Design.
Department Information
Department Chair
Dr. Holly Sowles
email
Administrative Support Coordinator
Melissa Peters
email
Phone
(559) 278-2516
Office Hours
Monday - Friday
8:00 a.m. - 5:00 p.m.
Location
Conley Art Building
Room 105
Address
5225 N. Backer Ave
M/S CA65
Fresno, CA 93740