Department of Art, Design and Art History
The Graduate Art Studios at M Street Presents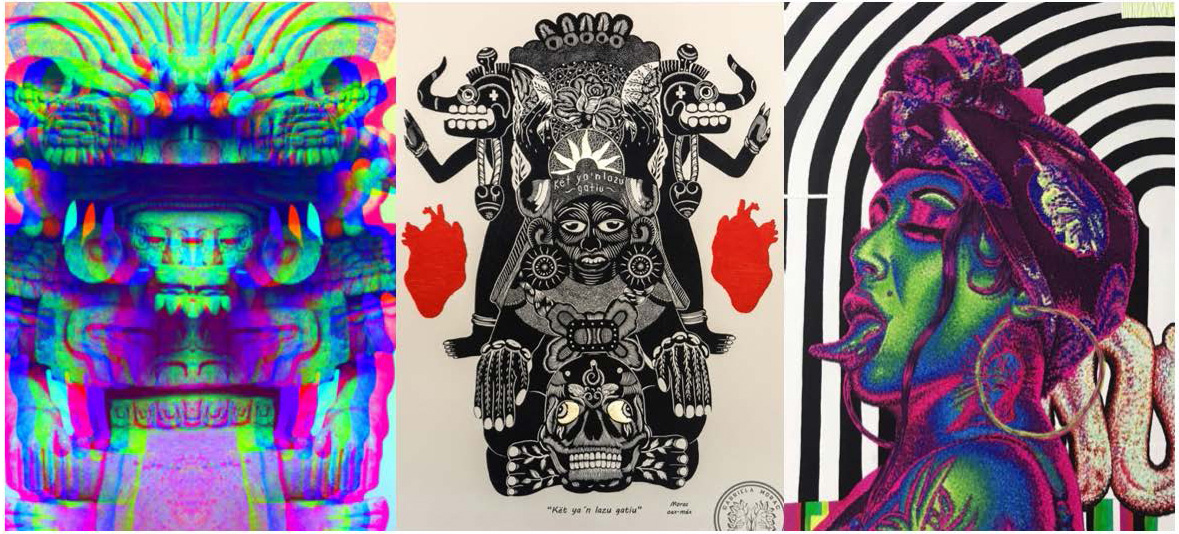 Mexibulous - Children of the Maguey
This exhibition expands the knowledge of Mexican artists utilizing pre-hispanic mythology, iconography, theology and art to interplay with their contemporary life experience, some urban, some rural. By using neopop and neoexpressionism visual techniques, these works deepen the discourse, sometimes personal, others inclusively, through satire and a play on word-imagery.
All three professional artists are successfully exhibiting through the Republic of Mexico, as well as internationally.
Alberto Mendiola
Gabriela Morac
Hugo Gutierrez
November 3- 19, 2022
Hours: Saturdays, 12-3 p.m.
Graduate Studios at M St
Opening Reception, Thursday, November 3rd, 2022 / 5-8pm
1419 M Street (at Toulumne)
Downtown Fresno
---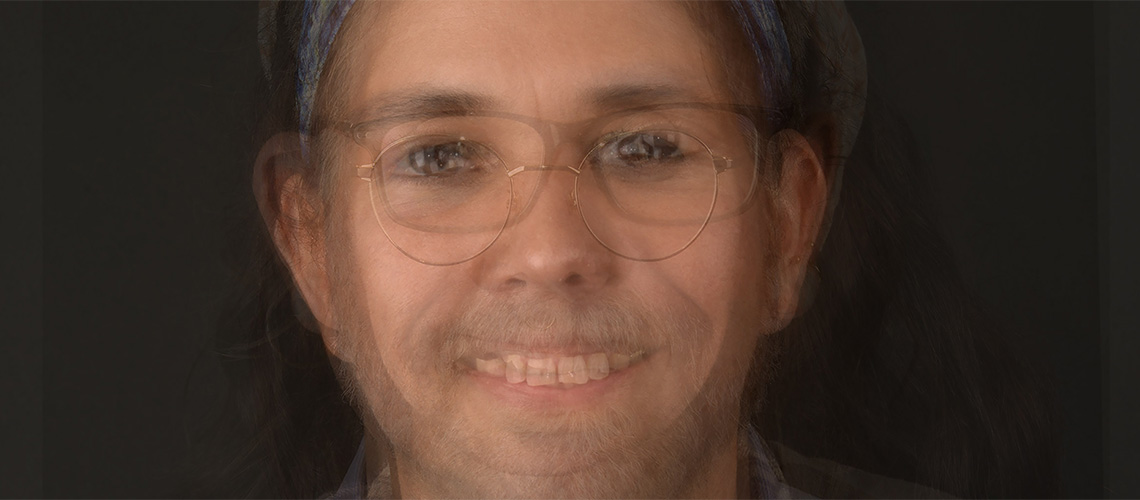 Various responses to the idea of the human condition from graduate students in the Department of Art, Design and Art History.
Opening reception is at 5 p.m. Thursday, Dec. 1.

Readings by students from the MFA Program in Creative Writing begins at 6:30 p.m.

Gallery also open from 12-4 p.m. Saturday, Dec. 3 and 10.

Closing reception at 5 p.m. Jan. 5.
1419 M Street (at Tuolumne) in Downtown Fresno
For special accommodation, please contact Chris Lopez at chris_lopez@csufresno.edu or 559.278.2121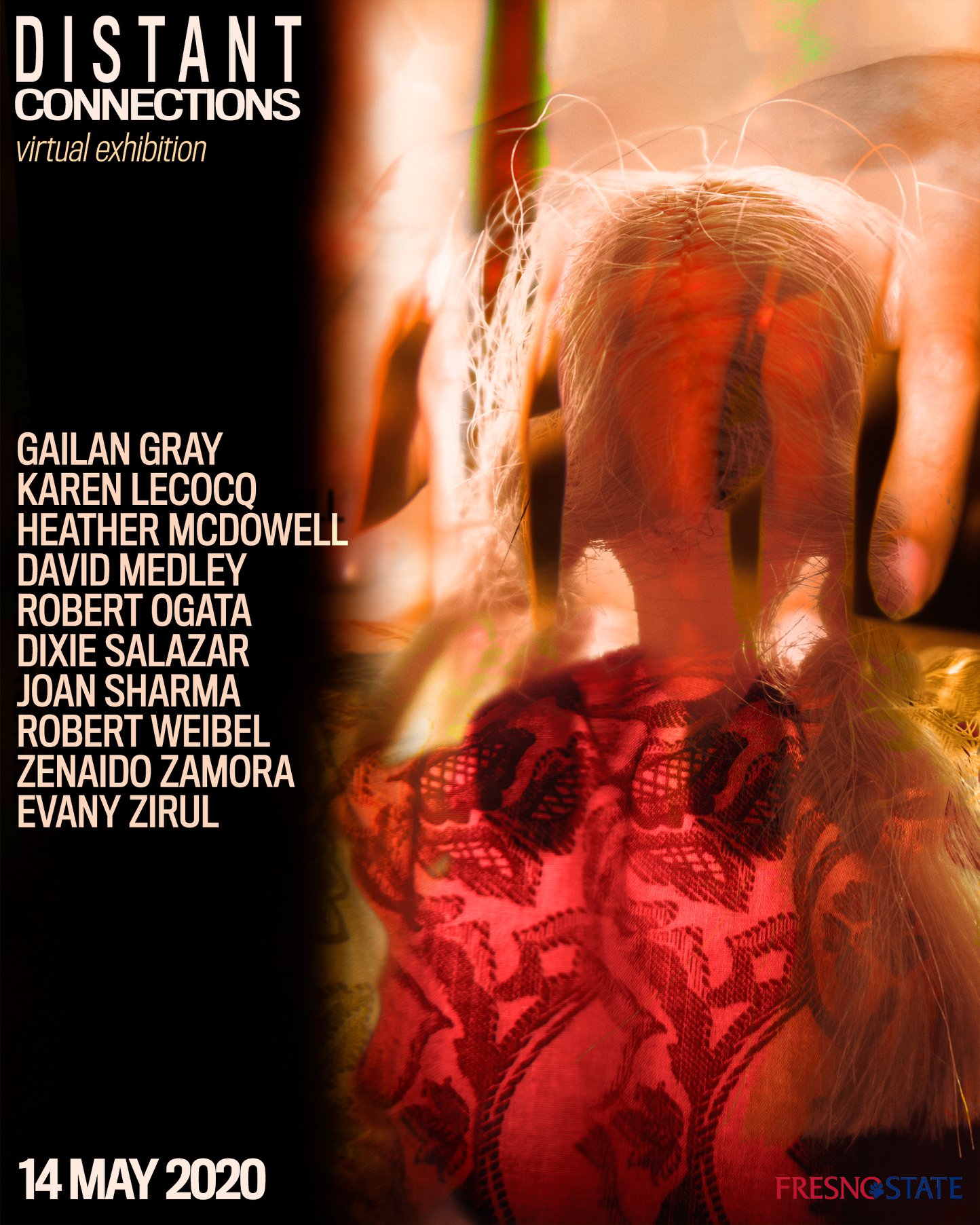 Distant Connections is a virtual exhibition created by students during the Spring 2020 semester in ART 240: Graduate Seminar in Studio at Fresno State. It features the work of students, faculty, area artists, and Fresno State alumni who generously shared their work with students during seminar presentations or in-studio visits.
Initially an exhibition was planned to open on Art Hop at the M Street Gallery. Due to COVID 19, we are obliged to present the work through a virtual space. Please enter our virtual gallery, where we offer a glimpse into the creative work of these artists.
https://distantconnections.cargo.site/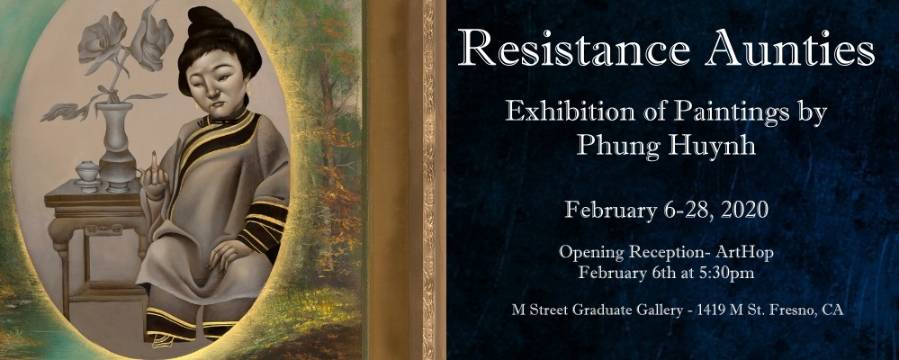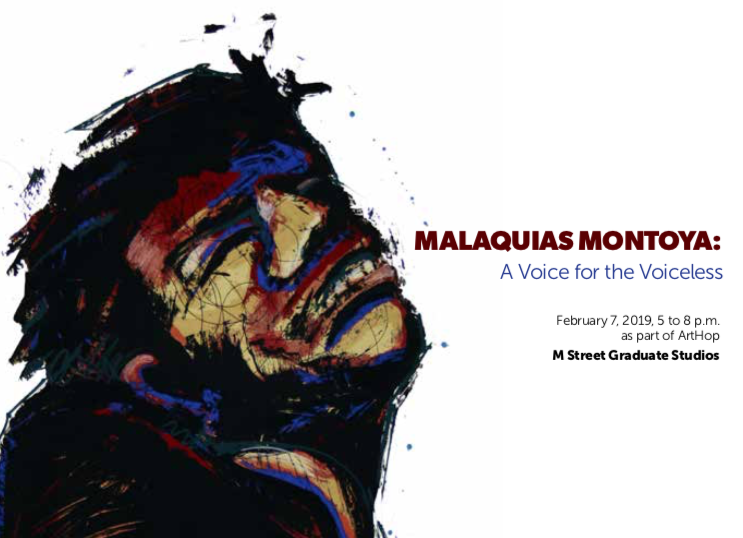 The Business of Regret
October 2018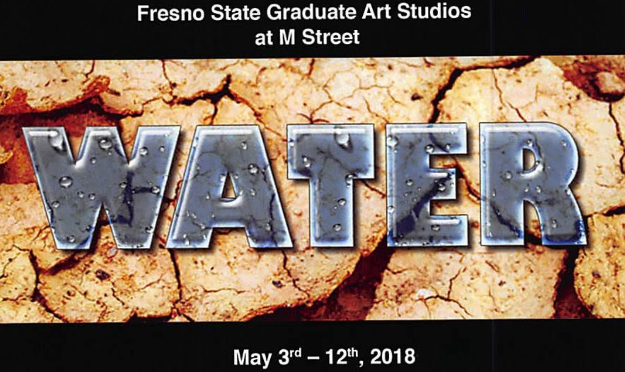 A Faculty and Graduate Exhibit
May 3rd-May 12th, 2018
ArtHop Reception: May 3rd from 5 - 8 p.m.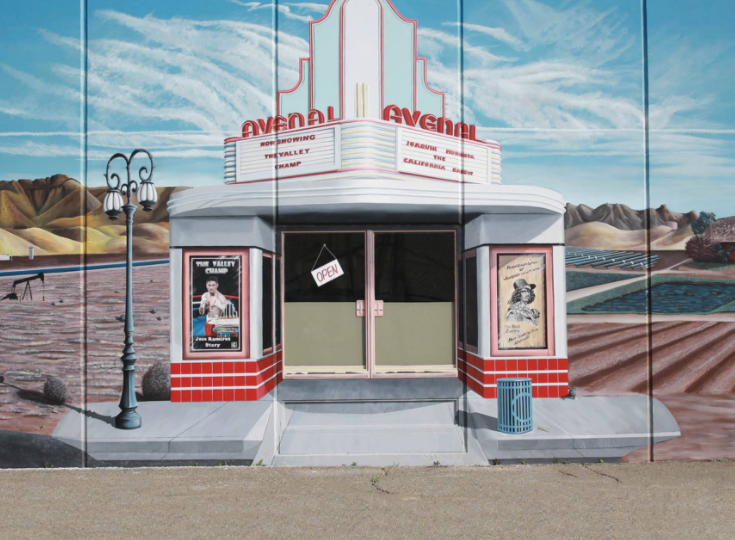 Insider Art: Exploring the Arts Within Prison Environments
An exhibition of work from Avenal State Prison
In Collaboration with the Center for Creaivity and the Arts
April 5-22, 2018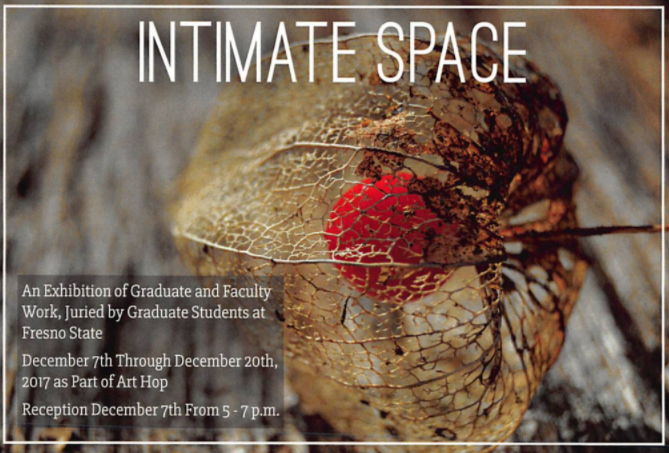 Intimate Space
December 7-20, 2017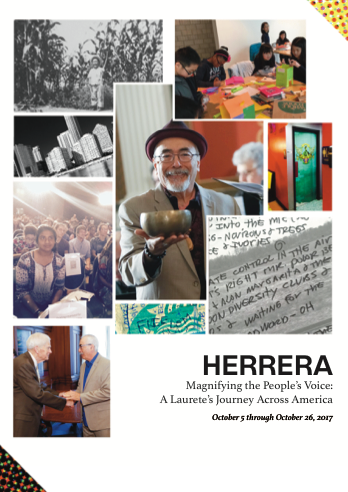 HERRERA
Magnifying the People's Voice:
A Laurete's Journey Across America

In Collaboration with the Center for Creaivity and the Arts
Oct. 5-25, 2017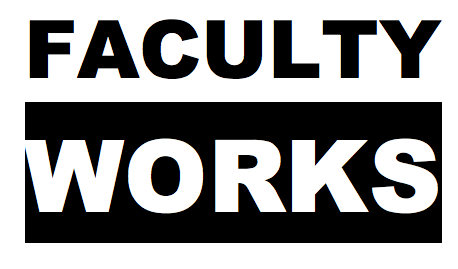 Faculty Works
The Fresno State Art and Design Department is proud to present Faculty Works, an exhibition of artwork from their faculty and staff. For the first time this event will be held in the gallery at the M Street Graduate Studios in downtown Fresno. This exhibition showcases the diversity and talents of these established artists, many of whom have exhibited extensively in Fresno including other prestigious galleries and museums throughout the U.S. and abroad. Students, colleagues and visitors will have the opportunity to observe a collection of professionally produced work that is representative of the department's longtime developed and seasoned art programs.
September 1 and 10, 2016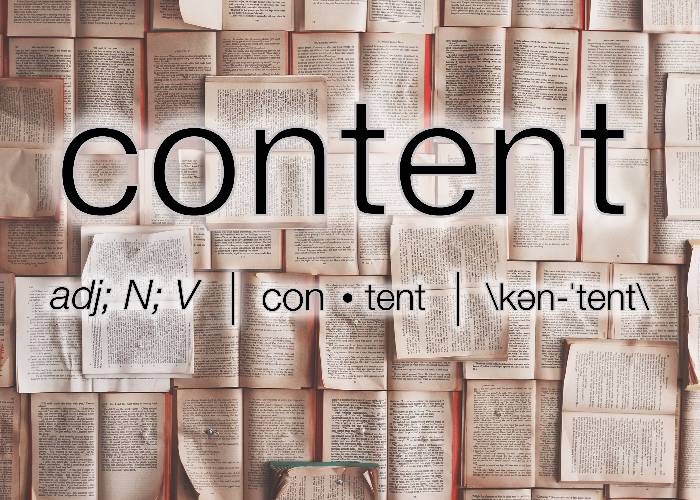 Content
Fresno State Celebrates First Anniversary of the Graduate Art Studios in Downtown Fresno
May 5-14, 2016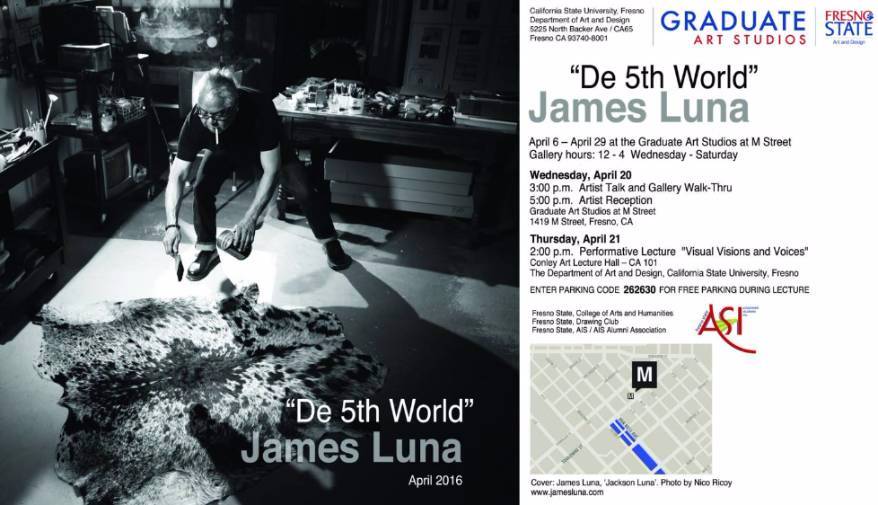 "De 5th World"
James Luna
April 20-21, 2016
"De 5th World" reflects Luna's reference to a new era of consciousness when humanity relearns its responsibility to the land after witnessing the destruction created by humanity's greed. According to a Hopi prophecy, in the Fifth World a choice must be made between destruction and reconnection.
Luna's work is a continuation of the conversation renowned First Nations artist Wanda Nanibush began with her recent exhibition, "The Fifth World." Nanibush granted Luna permission to reference her exhibition. "De 5th World" is Luna's response to aspects of our world that cannot yet be seen. Luna's views have been informed by his personal social, political and cultural struggles.
Luna is a Pooyukitchum (Luiseno) California Indian who resides on the La Jolla Indian Reservation in North County, California. Luna is internationally recognized as a performance and installation artist. His works utilize found objects, audio, video and photography.
Luna became known with his exhibition "The Artifact Piece," in which he portrayed himself as a living human artifact who questioned the institutional practice of objectifying Indigenous people as extinct artifacts and compared Indian representation to the exhibition of dinosaurs' bones. By addressing misrepresentation, Luna reminds the viewer that Native American communities are vibrant, living and evolving.
"In my work I am not just criticizing a condition, I am in the condition," Luna said. With "De 5th World," Luna poses a new set of questions and critiques regarding humanity's disharmony and destruction.
Luna's exhibitions have appeared throughout the continental United States, Canada, Brazil and Europe. He was commissioned by the Smithsonian Institution to represent the newly opened National Museum of the American Indian at the notable Venice Biennale in 2005.
Luna has received numerous awards, including the coveted Joan Mitchell Award for Sculpture in 2010. His works are often described as a whirling mass of pop culture icons and visions falling between Miles Davis, Abstract Impressionism, Jimi Hendrix, Tom Waits, Lucinda Williams and D'Angelo.