Department of Art, Design and Art History
Bachelor of Art Degree in Animation/Intermedia Option
The Animation/Intermedia program has three areas of emphasis: 2D Animation, 3D Animation, and Intermedia. Each area focuses on its media through a fine arts perspective. Students learnhigh-end technological processes while developing strong critical awareness skills. All areas focus on students developing an individual voice and personal style to their work, as well as developing an understanding of how their work affects the world around them. Our program prepares students for both art and industry careers.
The 2D animation emphasis covers a wide variety of techniques in animation. Students will learn both traditional and digital processes for creating animations. Some of the processes we cover include cutouts, compositing, and frame-by-frame.
The 3D animation emphasis begins with a strong foundation in modeling, lighting, rendering and animating. From there, students will focus on a particular skillset, such as environments or character animation.
The Intermedia emphasis encourages students to engage with a variety of media to develop artwork that communicates complex ideas within a theoretical framework. Examples of media include digital photography, video, installations and animation.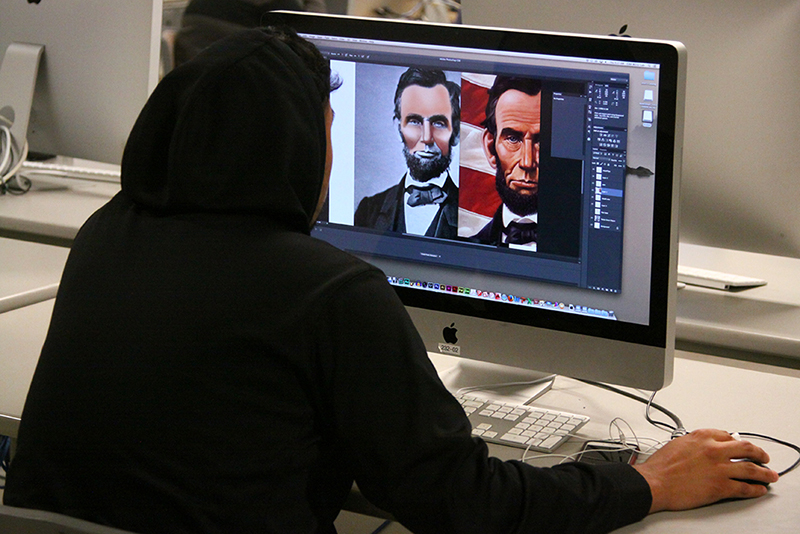 Course Descriptions and Degree Requirements
Courses
The list below includes a selection of courses in the program and does not reflect all the required courses. See the General Catalog for the full list of requirements for the program. All courses are not offered every semester. See the Schedule of Courses for the current offering.
ART 13. Design
Exploration of basic art concepts through two- and three-dimensional design problems. Field trips may be required. G.E. Breadth E1. (6 lecture-lab hours)
ART 14. 3 Dimensional Design
The course introduces students to the basic elements and principles of 3D design (6 lecture-lab hours). Students will develop the ability tp apply these elements and principles to their own design or artwork within the context of a given project. Pre-requisite: ART 13.
ART 20. Drawing
Introductory experiences in drawing using observation, imagination, and expressive means. Fundamentals of form, space, techniques, and composition will be studied. G.E. Breadth C1. (6 lecture-lab hours).
ART 30. Introduction to Photography
Introductory course in photography. Basic theoretical and practical aspects of the photographic process as an art form. Introduction to historical and contemporary photographic practices in art. Digital camera with adjustable aperture and shutter speed controls required. (6 lecture-lab
hours) (Course fee $25). FS
ART 37. Introduction to Computer Art
Prerequisites: ART 13. Introduction to the practice of creating art through the use of the computer. Integrates concepts from painting, drawing, design, and computer-specific processes. (6 lecture-lab hours) (Course fee: $35)
ART 80. Beginning 3D Digital Art - Modeling
Prerequisite: ART 37 or GD 37 or permission of the instructor. Recommended ART 14 or ID 112. Introduction to three-dimensional digital modeling, texturing, lighting, and rendering in a fine arts context using Autodesk Maya. Intermediate rendering topics are included. (6 lecture-lab
hours)
ART 133. Alternative Approaches to Digital Imagery
Prerequisite: ART 30 & ART 37 or equivalent. Approaches to non-traditional photography and the manipulated image in digital photography with an emphasis on producing personal imagery. (6 lecture-lab hours) (Class fee, $50).
ART 181. 2-D Animation 1
Prerequisites: ART 37 or GD 37 or permission of instructor. An introduction to the process of creating animation in a fine arts context. Students will learn the fundamentals of creating animations with traditional, camera-based and digital processes. (6 lab hours) (Formerly ART 107)
ART 184. 2D Animation 2
Prerequisites: ART 101, 181 or permission of instructor. Building upon ART 181 this course explores intermediate concepts in 2D animation and compositing within a fine arts context. Both
traditional and digital animation processes are explored. (6 lecture-lab hours)
ART 186. Intermediate 3D Digital Art - Animation
Prerequisites: ART 80 and ART 181. This course explores 3D digital animation in a fine arts context. The course focuses on 3D keyframe techniques, hierarchies and an introduction to particles. (6 lab hours) (Formerly ART 180)
ART 187A. Advanced 3D Digital Art - Environment
Prerequisite: ART 101, 186 or permission of the instructor. Building upon ART 186 this course explores advanced techniques used in creating complex 3D environments. Both realistic and virtual spaces will be explored with an emphasis on conceptual and historical aspects. (6 lab hours)
ART 187B. Advanced 3D Digital Art - Indirect Animation
Prerequisite: ART 101, 186 or permission of the instructor. Building upon ART 186 this course explores animation techniques beyond keyframing. Topics include advanced dynamics, advanced particles, external influences, and scripting. There will be a special focus on non-narrative works. (6 lab hours)
RT 187C. Advanced 3D Digital Art - Character
Prerequisite: ART 101, 186 or permission of the instructor. Advanced concepts in character creation and animation. Techniques explored include character modeling, texturing, rigging, and animation. Pre-rigged characters will be utilized to fully explore animation techniques. (6 lab hours)
ART 188. Digital Video Art
Introduction to the medium of video art. Students will examine video concepts and forms through production, readings, and discussions, as well as by viewing students' and artists' works. (6 lecture/lab hours) (Formerly ART 109T)