Armenian Genocide Centennial (2015)
The Armenian Genocide Centennial activities in the Fresno area were organized in 2015.
Armenian Genocide Monument Unveiled at Historic Ceremony

4,000 plus attended on Thursday, April 23, 2015
Maple Mall, Fresno State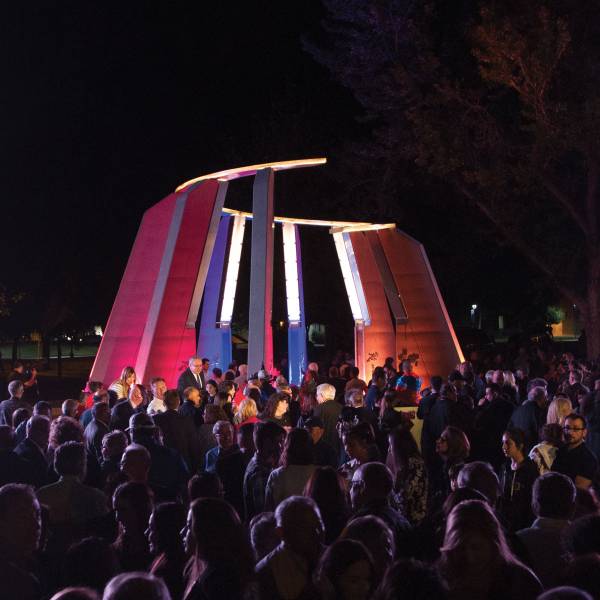 Armenian Genocide Monument to be Built on Fresno State Campus
-Groundbreaking Held on Sunday, November 2, 2014
Fresno—On Sunday, November 2, the Armenian Community of the San Joaquin Valley broke ground on a Monument dedicated to the 100th Anniversary of the Armenian Genocide. The event began at 2:30 p.m. and took place at the Fresno State Maple Mall, located south of the Satellite Student Union.
For more information, go to the Armenian Genocide Centennial Committee-Fresno website.
News Coverage
Fresno State Unveils Armenian Genocide Monument
(VPR © 04/27/2015)
On Thursday, the Maple Mall at Fresno State became the center of remembrance of one of the most tragic tales of the 20th century, as the university unveiled its new Armenian Genocide Monument.
http://kvpr.org/post/fresno-state-unveils-armenian-genocide-monument
Fresno Armenians reflect and remember on 100th anniversary of genocide
(KFSN ABC 30 Fresno © 04/25/2015)
This July, Karina Khachatourian will celebrate 20 years since opening the doors of her Northwest Fresno clothing store, A. Feliche. But Friday was a much bigger day for her and her son, a Fresno State student.
http://abc30.com/society/100-years-later-fresno-armenians-remember-genocide-at-various-events/681103/
Fresno Remembers the Armenian Genocide
(KSEE 24 News (Fresno) © 04/25/2015)
From City Hall, to the streets of downtown, to Fresno State and a packed Armenian church, Fresnans remembered the victims and survivors of the Armenian Genocide. Friday, April 24th marked 100 years since the genocide began in 1915. In every event, people honored the lives lost while calling for recognition.
Armenian Genocide Monument Unveiled at Fresno State
(4/24/2015 © ABC 30)
Thursday night was a historic one for Fresno State and the entire Armenian community in the Valley, as the Armenian genocide monument was officially unveiled.
http://abc30.com/society/armenian-genocide-monument-unveiled-at-fresno-state/679449/

Fresno State's Armenian Genocide Monument: first of its kind in the nation
(4/24/2015 © Cenclilife 30)
"Armenians have been involved in virtually every aspect of Fresno's development," says Barlow Der Mugrdechian, coordinator of the Armenian Studies Program at Fresno State, of their strong local presence.
http://www.cencalilife.com/2015/04/20/6 ... the-nation

Armenian Genocide Monument Unveiled At Fresno State
(4/24/2015 © KMPH Fox 26)
A monument at Fresno State is marking 100-years since the Armenian Genocide. The monument was unveiled during a ceremony on Thursday evening.
http://www.kmph.com/story/28887424/armenian-genocide-monument-unveiled-at-fresno-state
Fresno Armenians call Presidents decision not to say genocide laughable
(KFSN ABC 30 Fresno © 04/23/2015)
Fresno State will unveil an Armenian Genocide monument tomorrow night, starting at 7:30 at Maple Mall.
http://abc30.com/politics/close-to-100th-anniversary-of-genocide-a-letdown-for-local-armenian-community/677204/
Armenian Genocide Centennial Monument unveiled at Fresno State
(Fresno Bee © 04/23/2015)
VIDEO - The Armenian Genocide Centennial Monument was unveiled before thousands of guests during a ceremony commemorating the struggle of the Armenian people, their contributions to Fresno and the 100th anniversary of the Armenian Genocide. (Video: Craig Kohlruss) (thefresnobee)