Journal of the Society for Armenian Studies
Call for Papers for the Journal of the Society for Armenian Studies, v.22.
The JSAS editorship is now accepting submissions for volume 22 of the Journal of the Society for Armenian Studies.
Submissions should be sent in by September 2, 2013, in order to be considered for this volume.
Please insure that your submission is formatted in accordance with the guidelines of the JSAS that is available here: Journal of SAS Style Guide.
All submissions must be electronically submitted in .doc or .docx format and in .pdf formats to the following address: slaporta@csufresno.edu
Submissions may concern any field within Armenian or related subjects; each submission will be judged according to the academic quality of the work. All submissions will undergo a peer review process.
Dr. Sergio La Porta
JSAS Editor
Haig and Isabel Berberian Professor of Armenian Studies
California State University, Fresno
Just Released-JSAS Vol. 21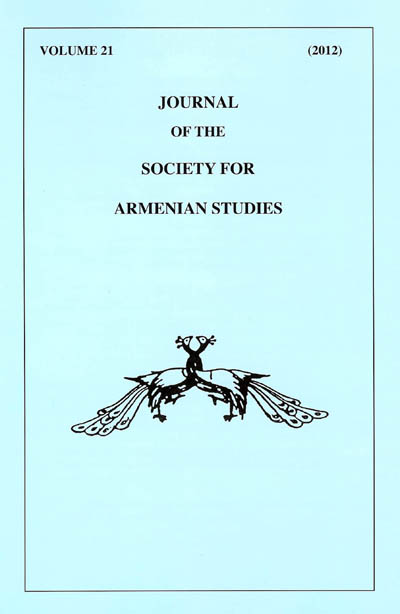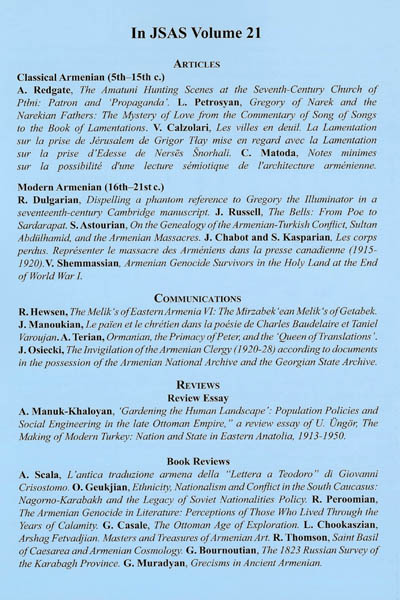 9 Articles. 4 Communications. 1 Review Essay. 8 Book Reviews
Ordering information:
To order a copy of JSAS please contact the Armenian Studies Program at 559-278-2669 or by email: Barlow Der Mugrdechian
$20 per copy. Shipping and Handling: $5 in the U.S., $7.00 in Canada; and $20 overseas.