String Faculty Concert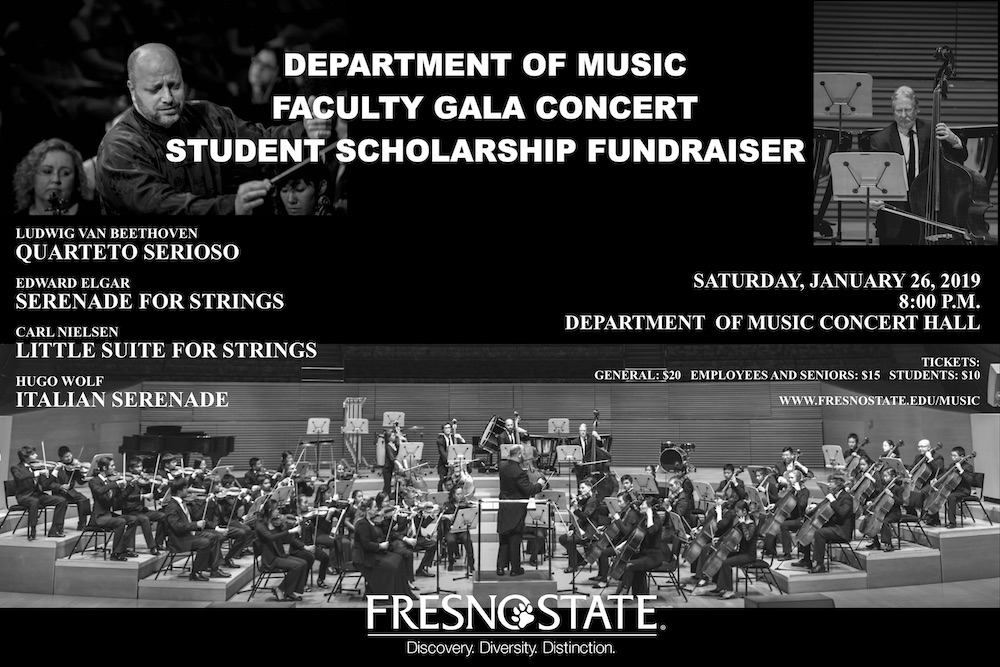 Fresno State's Department of Music will present its Annual Faculty Concert on Saturday, January 26th, 2019, at 8:00 PM in the Department's Concert Hall. This year's concert will present a String Chamber Orchestra comprised of faculty members as principal players alongside selected students and alumni that will perform side by side. The concert will include Beethoven's Quarteto Serioso, Elgar's String Serenade, Nielsen's Little Suite, and Hugo Wolf's Italian Serenade.
Beethoven's Op. 95 quartet, subtitled "Serioso," is one of the best known of all Beethoven's quartets. It is the only one he supplied with a subtitle, an obvious reference to the prevailingly somber mood of the piece. The work is a compressed, concentrated composition, highly integrated movement to movement, with an emotional range that far exceeds its limited size, ending in an abrupt change of mood with a happy conclusion that attests to the strength of the human spirit.
Known primarily as a composer of choral and orchestral works, Sir Edward Elgar was one of the leading English composers of his time, and his background as a violinist allowed him to write particularly effective and idiomatic music for strings. The Serenade for Strings is in three movements, beginning with wistful music marked Allegro piacevole. The long central Larghetto introduces a sublime Romantic theme that is developed in a similar way as in his more famous "Nimrod" movement from the Enigma Variations. The brief closing movement returns to the Serenade's opening movement, but in a more dancelike character.
Denmark's leading composer during the first part of the 20th century, Carl Nielsen's Little Suite for Strings began its life as a string quintet for 2 violins, viola, cello and bass. Because of the density of his writing, his teacher suggested that it would be more effective for a larger ensemble such as an octet or nonet. Nielsen later reworked the quintet and added divided parts for the four upper voices so that it became a nonet. It was completed and published in 1888 as his Op.1, although he had already published a number of other works by this time.
Hugo Wolf is known primarily as a composer of nearly 350 art songs. The Italian Serenade was composed in May 1887, in the midst of a larger creative surge during which he was immersed in setting poems by Eichendorff. The one-movement work relates thematically to the first of the Eichendorff songs "Der Soldat I," of which the text concerns a soldier's love for a lady who lives in a castle. The same subject matter appears in Eichendorff's novella Aus dem Leben eines Taugenichts (Memoirs of a good-for-nothing) in which an Italian serenade figures prominently in the plot. The hero, who leaves home to seek his fortune, is a violinist, which might explain the importance of the solo violin in the quartet version of Wolf's Serenade. At one point in the novella an orchestra plays a serenade, which may have inspired Wolf's eventual arrangement for small orchestra in 1892.
This exciting concert serves as the Department of Music's annual gala, and is sponsored by the College of Arts and Humanities. All the proceeds from this concert will go to the Department of Music Scholarship fund. Tickets are: $20 General, $15 Seniors and Fresno State Employees, and $10 Students.