College of Arts and Humanities
Barry Falke
American Red Cross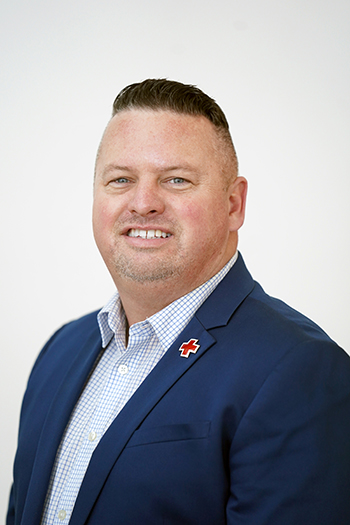 Barry Falke remembers growing up in a family dedicated to serving the community. "[My grandfather] would go to Rotary once a week and he would participate in service projects. My parents were also very involved with United Cerebral Palsy, both locally and nationally," Falke said. "It was ingrained in me pretty early on that you can be selfish with your time, you can be selfish with your resources, or you can choose to help others and give much away. I think that really stuck with me."
Today, Falke is chief operating officer of the Pacific Division of American Red Cross.
He graduated from Fresno State in 2001 with a degree in communications, started his career in ministry, and went on to earn a master's degree in theology from Fresno Pacific University in 2004. But Falke's career path took a turn in 2006, when he became the CEO of Storyland and Playland in Fresno.
"I was 26, and recall sitting with my board of directors. I was two weeks on the job and learned we were in significant debt. I paused there and asked, 'What would we like this organization to look like five years from now?' If you're only focused on the problems, you lose sight of the vision, and I think that vision is what is so transformative and inspiring."
Falke stayed with Storyland and Playland for six years before following in the work of his parents, becoming the director of Corporate Giving and Mission Driven Business with United Cerebral Palsy of Central California in 2012. Two years later, he was recognized as a United Cerebral Palsy Emerging Leader by the national organization.
In 2015, Falke joined the American Red Cross as executive director across seven counties in the Central Valley. He has supported disaster operations related to Hurricane Harvey, Hurricane Irma and California wildfires in 2017 and 2018.
"People think about the American Red Cross and they think of big disasters, but what they don't typically think about is how we impact other areas, like the military, or the fact that we respond to every home fire. One of the biggest challenges I had in coming to the Red Cross was learning how to tell that story and crafting a narrative that was attracting both donors and volunteers -- almost 90% of our work is executed by volunteers."
Falke has been in his current role since 2018. He oversees all operations in California, Idaho, Montana, Oregon, Washington, Alaska, Hawaii and a handful of U.S. territories in the South Pacific.
In 2018, Falke also earned his Master of Business Administration from the University of Warwick.
He has also volunteered extensively with organizations in the Fresno community, including Leadership Fresno, Fresno/Clovis Convention and Visitors Bureau, the Rotary Club of Fresno and the Housing and Community Development Commission for the City of Fresno.
He was honored as the 2019 Executive of the Year by the Public Relations Society of America, Central Valley chapter.
When asked about what drives his work, Falke says he thinks of his teenage children. "I want to be an example for my family and ensure that they are not only good citizens but committed to putting service above self. I'm confident everyone has the opportunity to make a difference, everyone has the opportunity to leave the world a better place than they found it, and I'm committed to that."