College of Arts and Humanities
About the College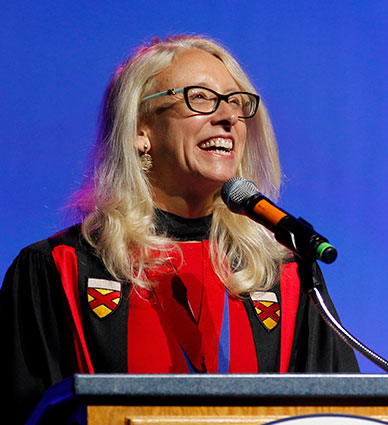 The College of Arts and Humanities is home for highly diverse students and faculty engaged in the widest variety of artistic and humanistic disciplines in the San Joaquín Valley.
As the heart of Fresno State, we study the artistic expression, communication skills, humanistic values, and cultural awareness that form the foundation of scholarship and creative activities. Our nine departments plus the Armenian Studies Program are central to the University's General Education program and offer dozens of fascinating majors and minors.
Have a wonderful time finding your inspiration for life!
~ Dean Honora Chapman
Mission
The College of Arts and Humanities provides a diverse student population with the communication skills, humanistic values, and cultural awareness that form the foundation of scholarship. The College offers intellectual and artistic programs that engage students and faculty and the community in collaboration, dialogue, and discovery. These programs help preserve, illuminate, and nourish the arts and humanities for the campus and for the wider community.
Vision
The College of Arts and Humanities shall be known for the strength of its undergraduate and graduate degrees, for the excellence of its support to other majors throughout the university, and for its contributions to the quality of life in the region.
To realize this vision, the college will adopt the following priorities:
Provide for our students an outstanding faculty and excellent facilities. The college sees itself fundamentally as part of a teaching institution and values, above all else, the individual intellectual exchange between student and teacher in the best educational environment possible.
Encourage the continuous development of faculty through support of scholarly and creative activities. The college recognizes that a challenging and thoughtful education can best be provided by faculty who are themselves engaged in innovative scholarly and creative activities.
Provide a learning environment which encourages the exploration of diverse ideas with academic rigor. The college accepts the responsibility for serving its region by educating citizens who are cognizant and respectful of cultural and ethnic diversity, and who are able to adapt to a changing environment wherever they are.
Ensure access to our programs for all qualified students. To better serve the needs of the community and the university, as well as those of its own programs, the college intends to expand and improve its student recruitment.
Provide programs that are rigorous and timely. The college recognizes the benefits of establishing ongoing processes to measure the impact of its academic programs on student learning, and to facilitate new degrees and improvements, when needed, in curricula.
Story Ideas/Media Inquiries
If you have a suggestion for a story involving the College of Arts and Humanities, or if you are a member of the media, please contact Communications Specialist Benjamin Kirk, details below:
Follow us!
Follow us on Facebook or Twitter, or read the latest College of Arts and Humanities news on our blog.
Related Links
See Also