College of Arts and Humanities
Honor's Program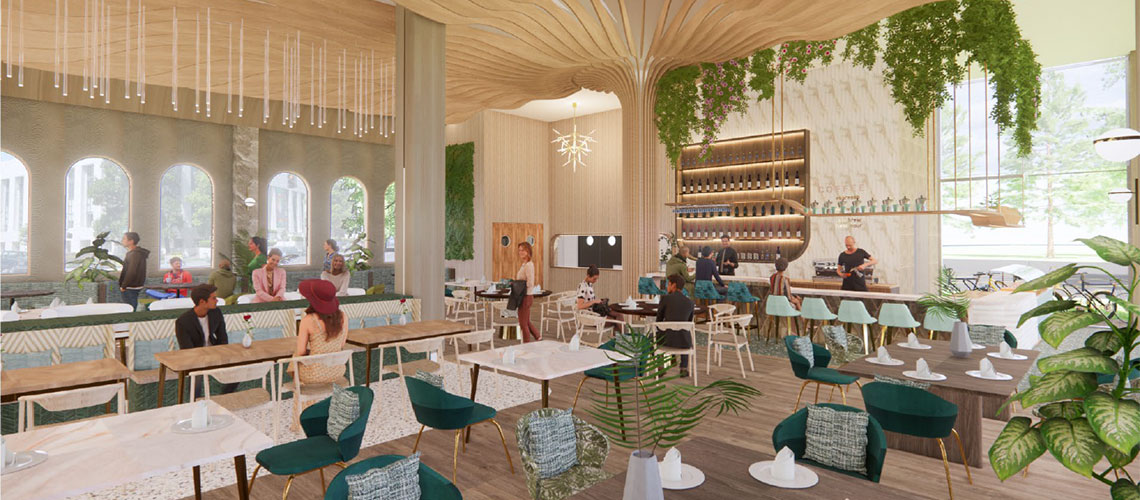 (Image: Interior Design student Shu Yee Chin's rendering of the Urban Cultural Oasis Arts and Cultural Center capstone project for the 2021 College of Arts and Humanities Honors Program.)

The College of Arts and Humanities Honors Program is designed to provide the opportunity for advanced interdisciplinary studies to upper-division students with outstanding scholarly and creative achievements.
The program also provides interaction with a community of intellectual peers in arts and humanities and related disciplines.
Students are notified by the Dean's Office of their eligibility to apply for the Honors Program at the beginning of the Spring Semester. To be eligible to apply students must have a cumulative G.P.A. of 3.6 or higher, have completed at least 60 units towards a B.A. degree, and completed at least one semester at California State University, Fresno.
The program consists of a two-course commitment (six units), beginning with the 3-unit Honors Seminar (AH 100H) taken in the Fall semester of the senior year based on a theme.
A three-unit Honors Colloquium (AH 101H) serves as a culmination experience for students to finalize and present their research/creative projects. This program will encourage students to cross traditional disciplinary boundaries through discussion with faculty and fellow students in different departments and to work closely with faculty mentors toward the completion of a research or creative project of the student's choice.
In addition to the requirements noted above, students who are eligible to apply will be asked to submit the following materials:
The application form that is emailed to eligible students
A maximum 1,000 word typed personal statement of purpose explaining your project, its methodology, and your motivation for participating in the Honors program
A substantial sample of your writing and/or creative work
A recommendation/nomination from a Fresno State faculty member willing to serve as your mentor who can speak to your ability to successfully complete the honors program and assist you with the successful completion of the honors thesis/project
Copy of your current unofficial transcript
Applications are accepted in February for the following Fall semester.
Criteria for Continuance and Completion of the Honors Program
Maintain a minimum 3.6 cumulative G.P.A.
Grade of A in AH100 H
Grade of A in AH101 H
Completion of Honors Project/Thesis
Students who have been accepted into the Honors Program receive priority registration for the year they are enrolled in the Program. Students who complete the Honors Program are officially recognized with a special honor cord and medallion.
Benefits to the Students in the Arts and Humanities Honors Program
Graduate with Honors Cord and Medallion
Recognition during the Arts and Humanities Convocation
Designation of graduating with Honors in Arts and Humanities on the diploma
Free admission to Arts and Humanities performances
Welcome to attend the Smittcamp Family Honors Colloquium
Priority Registration