College of Arts and Humanities
Leslie Bassett - Composer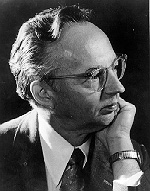 Leslie Bassett is an American composer of orchestral, chamber, choral, vocal, piano, and organ works that have been performed in the Americas, Asia and Europe.
Leslie had training in cello, piano, trombone, and other instruments as a child. After earning his BA degree in Music in 1947 he went on to study composition with Ross Lee Finney at the University of Michigan from 1947-49 and 1952-56. He also studied composition with Arthur Honegger at the École Normale de Musique de Paris and analysis privately with Nadia Boulanger in Paris in 1950-51, both on a Fulbright Scholarship. He later had private studies in composition with Roberto Gerhard in Ann Arbor in 1960 and in electronic music with Mario Davidovsky in Ann Arbor in 1964.
His honors include the Prix de Rome (1961-63), the Pulitzer Prize (1966, for Variations for Orchestra), two Guggenheim fellowships (1973-74, 1980-81), and the Naumburg Foundation Recording Award (1974, for Sextet [piano, strings]). He has been a member of the American Academy of Arts and Letters since 1976 and has earned grants from the Koussevitzky Foundation, the National Endowment for the Arts and the Rockefeller Foundation.
Leslie is also active in other positions. He worked as an arranger and trombonist in the 13th Armored Division during World War II.
He taught composition at the University of Michigan from 1952-91, where he was chair of the composition department from 1970-88 and the Albert A. Stanley Distinguished University Professor of Music from 1977-91, now emeritus. He was also a co-founder of its electronic music studio in 1964 and of its Contemporary Directions Performance Ensemble in 1966.
Edition Peters publishes most of his music.
Related Links