College of Arts and Humanities
Roy Christopher - Production Designer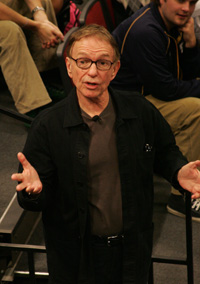 One of the most respected and honored production designers working in the industry today, Roy Christopher again created the look of this year's Academy Awards. Airing on the ABC network, coming from Hollywood's Kodak Theatre and beamed by satellite across the globe, the show will bear Christopher's mark of excellence integrated into to every project he tackles. It's Christopher's 16th Oscarcast, an all-time record for any designer, and his work in this arena has brought him eight Emmy Awards, Five Art Directors Guild Awards, plus a Lifetime Achievement Award from the Art Directors Guild (February, 2003) for distinguishing himself in every area of television production. Christopher moves easily from designing major award telecasts to TV series; dramatic and musical specials and theatrical productions. His skills have won him the respect of those in the entertainment industry and his peers.
Considered to be among the top production designers working in Hollywood today, Christopher's award show credits include the design of nine Emmy Awards, even Tony Awards and such special television events as last year's "CBS at 75." "AFI's Tribute to Barbra Streisand," "An American Celebration at Ford's Theatre," "The Kennedy Center Salutes the Performing Arts," "the Newsweek American Achievement Awards," "Christopher Reeve: A Celebration of Hope" and six "Television Academy Hall of Fame" spectaculars. All were prestigious television presentations and all were enhanced by Christopher's quality design work.
Christopher has received 33 Emmy nominations, to date, for outstanding design of his TV work including such long running hit series as "Frasier," "Becker," "Wings," and "Murphy Brown," plus countless other primetime telecoms, awards shows and specials. TV producers request his work again and again because Christopher's always in sync with what's exactly right for any project he tackles. Among the many dramatic specials he has been associated with are "The Last Of Mrs. Lincoln," starring Julie Harris; "Our Town," with Hal Holbrook; "The Chinese Prime Minister," with the late Judith Anderson; and "Actor," with the incomparable Walter Matthau. Christopher did ten dramatic televents for The American Playhouse on PBS highlighted by "I Never Sang for My Father" and "Paper Angels," plus three live NBV Theatre productions, "The Member of the Wedding," "All the Way Home" and "Mister Roberts." Most recently, Christopher created the sets for "Collected Stories," written by Donald Margulies and starring Linda Lavin. The second in a new series of adapted theatrical dramas for PBS, it was produced and directed by Gil Cates.
In the musical comedy/variety TV arena, Christopher has worked with such legendary figures as Carol Burnett, Lily Tomlin, Mary Tyler Moore, Shirley MacLaine, and Mikhail Baryshnikov, among others. His designs brought an added dimension to each of these multi-talented performers' television events. He won one of his eight Emmys for a Richard Pryor comedy special. His other seven Emmys were a tribute to his Academy Award designs. Christopher's many Oscarcasts include the 76th, 75th, 73rd, 71st, 70th, 69th, 67th, 66th, 64th, 62nd, 59th, 58th, 56th, 53rd, and 51st.
In spite of his constant ongoing involvement in so many television projects, Christopher has never lost his enthusiasm for the theatre. He taught, directed and produced at California State University, Fresno. He followed his stint by coming to Hollywood, where he again worked in theatre and later, transferred his gifts to television. Today, he successfully walks between two worlds…the theatrical one and the TV arena. He's able to link one world to another, often using expertise garnered in television to enhance his skills in theatrical work and vice versa.
Christopher was associated with two plays at the Geffen playhouse in L.A., "Six Dance Lessons in Six Weeks" (starring Uta Hagen and David Hyde Pierce) and the world premiere of Neil Simon's "Oscar and Felix." Both shows were produced by Gil Cates, with whom Christopher often works on television projects. He has also designed many shows for the Pasadena Playhouse, most recently "110 In the Shade" and "As Bees in Honey Drown," which starred Peri Gilpin of "Frasier." Christopher won a Drama Critics Circle Award and Garland Award for his imaginative design of "Light Up The Sky" and a second Garland Award and Ovation Award nomination for the artful look of "Do I Hear A Waltz" (both done at the Pasadena Playhouse and both directed by David Lee, creator of "Frasier" and "Wings"). Christopher, who is on the Artisan Support Group of the Pasadena Playhouse, as is his wife Dorothy, shares his intense enthusiasm for theatre with her.
Both Christopher and his wife, Dorothy (a gifted set decorator) graduated from California State University, Fresno. The duo sometimes shares projects and their work on the Academy Awards Green Room for celebrities was profiled in Architectural Digest in 2003 and 2004, and they will again design the Green Room this year. In 1993 Christopher won Cal State's "Alumni of the Year Award," given annually to the graduate who has achieved the highest recognition in his chosen profession. It paid tribute to Christopher's lecturing activities at schools, colleges, universities and design conferences in the U.S. and abroad, plus his ongoing support of those striving to make their way in the entertainment field. In 1996, Roy and Dorothy Christopher inaugurated a theatre scholarship at the University for students with promise and in need of financial assistance to complete their Theatre Arts degrees. It was a way for Christopher to give back, attest to the consummate love of his work and to help others to achieve their highest personal goals.
Another major salute to Christopher's success in his field is the fact that his plans, renderings, slides, sketches and working drawings for previous Oscarcasts he designed now reside in the Margaret Herrick Library of the Center for Motion Picture Study in Beverly Hills. They will be kept there and preserved for future generations' reference and review. It's a well deserved tribute to Christopher's extraordinary work of excellence, merit and diversity.
Christopher died of natural causes on Feb. 2, 2021 at his home in West Hollywood. He was 85.
Related Links