College of Arts and Humanities
Dr. Janice M. Emerzian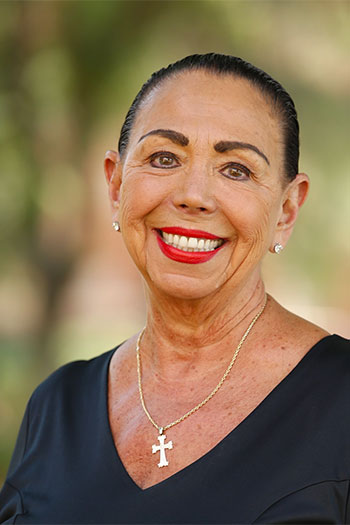 Dr. Janice M. Emerzian B.A. 1969, '73 (a lifetime member of the Alumni Association) is the 2016 Outstanding Alumna for the College of Arts and Humanities.
Following the tragic loss of her younger brother as a result of his disability, Dr. Janice Emerzian, a first-generation college student who grew up speaking only Armenian, was inspired to dedicate her career to educating and advocating for people with disabilities.
She currently serves as the State Center Community College District director for Disabled Students Programs and Services, a resource she has grown from serving 300 to more than 5,000 students. Her career also includes positions as an administrator of educational services and planning for State Center Community College District and director of Fresno's Welfare-to-Work Neighborhood Centers.
She travels the nation speaking, teaching and advocating for people with disabilities. Dr. Emerzian has taught at Fresno State, Fresno Pacific University and UCLA, received numerous distinctions in her field, consulted various educational groups and served on multiple boards including the National Council on Vocational Education, California School of Professional Psychology, Council on Exceptional Children, Chamber of Commerce Ambassadors, the Fresno Housing Authority, the Central California Cancer Board and Leadership Fresno.
Dr. Emerzian received her bachelor's in English and Biology, as well as her master's in Special Education and Vocational Education from Fresno State. While a student she was named National Raisin Queen and runner up for Ms. Tulare County.
She earned a doctorate in Educational Leadership from the University of La Verne.
She had held leadership positions with the Governor's Committee on Employment of Persons with Disabilities, Lt. Governor's One California Commission, Governor's School-to-Career Commission, Governor's Commission for Employment, the California Advisory Commission on Special Education, Presidents Committee on Disability, and the California Commission on Athletics Appeals. Dr. Emerzian founded the California Governor's Youth Leadership Forum, the Guild for Handicapped Citizens and The Forum, a women's leadership organization.
Her involvement with Fresno State includes work with the Bulldog Foundation and supporting the construction of both Bulldog Stadium and the Save Mart Center.
Dr. Emerzian has been married to a farmer and retired school administrator Les Emerzian for 47 years. The couple met on the Fresno State campus and their sons David and Aaron Emerzian are both Fresno State alumni. In her free time, Dr. Emerzian enjoys playing a baby grand piano.