College of Arts and Humanities
Dr. Diana Meehan - Distinguished Alumna Speaker 2006
"Founding a School, Learning My Lesson"
Presented Jan. 31, 2006 in the Alice Peters Auditorium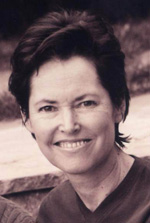 Dr. Diana Meehan is a 1966 graduate of California State University, Fresno with a B.A. degree in English Literature. She has an M.S. in Mass Communication from San Diego State University, and a Ph.D. in Communication from USC. Her contributions in education, gender issues and leadership development, international and political communication, Women's Studies and policy development, and global leadership have tried to shape the world in which we live.
Dr. Meehan is a co-founder of the Archer School for Girls in Los Angeles, the first women's educational institution founded in the last thirty years and the first ever based on social science research about the way girls learn. She is also a founding partner for VU Productions, Paramount Studios, the non-fiction arm of UBU Productions dedicated to creating documentary and reality-based programming for television on social issues regarding women, children, and families. Award-winning productions that have impacted public policy and legislation include Women in War (A&E Network), Danger: Kids at Work and Shattered Lullabies (Lifetime Network), Revolution at Work (ABC Special).
She is a founding director for the Institute for the Study of Women and Men at USC and taught courses at USC in Communication Studies specializing in mass communication and political communication, with an emphasis on political and fictional media heroes. She is also a founding board member of the Children's Action Network, the Communications Consortium, and the Hollywood Policy Center. Dr. Meehan has held important advisory roles to two Presidential Economic Conferences, the National Commission on Children, and the Women's International Summit in Dublin, Ireland.
Her publications include "Women and Power," a guest editorial for The World Paper, (Spring 1992), "The Strong-soft Woman: Manifestations of the Androgyne in Popular Media" in Applied Social Psychology Annual, (1986), and Ladies of the Evening: Women in Characters of Prime Time Television (Scarecrow Press, 1983). Dr. Meehan's latest book, Learning Like a Girl: Educating Our Daughters in Schools of Their Own is currently available through Public Affairs (2007).
Related Links