College of Arts and Humanities
Patrick C. Ogle - Bulldog Foundation Director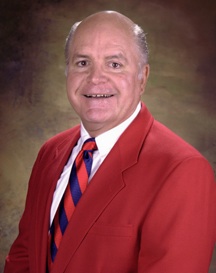 Patrick Ogle served as Executive Director of The Bulldog Foundation's (BDF) Annual Fund from January 1982 to July 2009. Under his direction the fund grow from a few hundred thousand dollars to a multimillion dollar foundation. The year 2000 marked the 50th Anniversary of BDF incorporation, and in the same year the organization was awarded a Central California Excellence in Business Award for all non-profits.
In 2009 he was awarded the Bulldog Foundation's Lifetime Achievement Award. The National Association of Athletic Development Directors (NAADD) in 2007 recognized Ogle with a Lifetime Achievement Award. Fresno State recognized him in 2006 as Top Dog alum from the College of Arts & Humanities. NAADD named Ogle Fund Raiser of the Year in 1986, the same year in which he was inducted into the College of Sequoias-Visalia Hall of Fame. He was NAADD Charter President in 1993. He was Co-Founder and Director of the National Athletic Fund Raisers Workshop from 1990 to 1993. The California Valley Chapter of the National Society of Fund Raising Executives recognized him as Executive of the Year in 1990. In 1989 the National Conference for Athletic Fund Raisers named him Fund Raiser of the Year.
After 28 years as Executive Director of The Bulldog Foundation, in 2009 Ogle transitioned to part-time employment with The Bulldog Foundation as a Development Officer.
After graduating from Fresno State in 1965, Patrick Ogle worked in television broadcasting for 17 years. He and his wife Kathy have been married 41 years and have three children (Christopher, Michele & Megan), and five grandchildren (Miles, Myla, Camron, Katrina and Nathaniel).
Related Links