College of Arts and Humanities
Al Radka - Broadcasting Journalist and Advertising Executive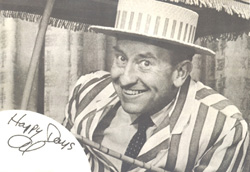 Al Radka was a Far Western Conference guard for the Bulldog Gridders, under Jimmie Bradshaw, for three consecutive seasons in 1937, 1938, and 1939. He spent so much of his time in his opponents' backfields that he was given the moniker "Raider Al" and was named as one the guards on the FSC all-time football team.
Serving his apprenticeship in the line at the Alhambra High School, first as a center, later as a guard, Radka prepared himself for a career which continued under the coaching of Bob McNeish, who coached at Pasadena City college. Then he moved to Fresno State College where Bradshaw's line coach Roy Niswander initiated the Red-Haired Radka in the aches and pains of college blocking.
Radka graduated from Fresno State in 1941. He was Student Body President in 1940-1941; member of Blue Key, National Men's Honorary Fraternity; member of Alpha Phi Gamma, National Journalism Fraternity; Varsity :F: Society and the Sigma Epsilon Fraternity.

He wrote college sports for The Fresno Bee under Ed Orman. He also wrote, produced, directed and appeared in three annual Fresno State College's Spring Swing Musicals, during 1939 through 1941.
Radka is a past president of the Fresno Junior Chamber of Commerce, past chairman of the Raisin Bowl game, past chairman of the Fresno Junior Chamber of Commerce State Convention, winner of the Junior Chamber of Commerce Distinguished Service Key and the Kenneth L. Hampton Award. He was named California State University's Fresno Outstanding Alumnus of the Year in 1963.
The Fresno Hot Stove League grew under Radka's guidance to one of the largest vital organizations of Fresno. He was married to the former Alma May Dutton, a native daughter of Fresno.
Radka enlisted in the Air Corps in 1942 as a Private, discharged as a Captain in 1946 and was a reserve Major for many years.
He was employed with KFRE and KFSN-TV for many years as well. After retiring from Channel 30 in 1981, he along with Alma started their own advertising agency, "Al Radka Productions", with headquarters at Lamoure's Cleaners & Laundry, creating radio, TV, and newspaper ads for Lamoure's, Oberti Olives (who they represented continuously since 1957), Bargain Party Rent-All & Sales, Central Radio & TV, Dick's Menswear and Shoes, The Flower Basket, Whitie's Pet Shops, & The Old Fresno Hofbrau.
Related Links