College of Arts and Humanities
Gary Soto - Author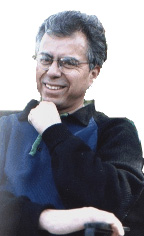 Gary Soto is a native of Fresno. He began writing when he was 20 and discovered an array of contemporary American Poets. He majored in English and graduated from Fresno State in 1974.
Gary is the author of ten poetry collections for adults, most notably New and Selected Poems, a 1995 finalist for both The Los Angeles Times Award and the National Book Award. His poems have appeared in Ploughshares, The Iowa Review, Ontario Review and most frequently, Poetry.
In 1999, Gary was honored with Human and Civil Right Award from the American Education Association, the Literature Award from the Hispanic Heritage Foundation, and the PEN Center West Book Award from his young-adult short story collection Petty Crimes.
Gary and his wife Carolyn have been married for 29 years. Together they have one daughter Mariko. In his free time Gary enjoys reading, tennis, basketball and traveling.
Related Links