College of Arts and Humanities
Ray Steele, Jr. - President and Publisher of The Fresno Bee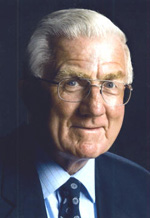 Steele joined McClatchy in 1967 as a reporter at The Fresno Bee and held a variety of key positions in Fresno, at The Sacramento Bee and with McClatchy's corporate staff. Steele was born just south of Fresno in Selma, Calif., and grew up in nearby Fowler. He graduated in 1968 from California State University, Fresno, with a bachelor's degree in journalism and joined The Fresno Bee full time. He eventually rose from reporter to become metro editor.
In 1982, Steele was named administrative director at The Sacramento Bee and two years later became publisher of its "Neighbors" operation.
Steele's corporate responsibilities have included planning, budgeting, capital spending and newsprint purchases. He retired in 2008.
In 2016, Ray Steele Jr. recived the President's Medal of Distinction from Fresno State President Joseph Castro.
Steele and his wife, Mary Lou, who also grew up in the Fowler area, have two daughters, both of whom live in Fresno with their husbands and the Steele's four grandchildren.
Related Links