College of Arts and Humanities
Jan Yanehiro - Media and Marketing Strategic Planner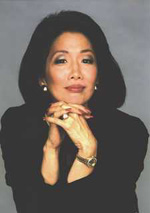 Born and raised in Hawaii, Jan graduated from California State University, Fresno in 1970 with a degree in Journalism. For more than 14 years, Jan Yanehiro says she had "the best job in the world." From 1976 to 1990, Jan hosted "Evening Magazine," a pioneering nightly program on KPIX TV in San Francisco. With this program the magazine format for television was born. As the founding co-host, Jan traveled the world in search of extraordinary people and places in Japan, Russia, China, Australia, Europe, Mexico and all over California and the U.S.
Her most memorable adventures on the show? Bungee jumping! And sky diving with the Army's Gold Knights!
For her work on "Evening Magazine," Jan is grateful for the Emmys and awards she received in entertainment programming. Other honors include:
Eleanor Roosevelt Humanitarian Award from the United Nations of San Francisco
Induction into the Academy of Television and Radio Hall of Fame, New York City
Silver Circle Inductee, 2003, National Academy of Television Arts and Sciences
Woman of Distinction, Girl Scouts, USA
Outstanding Alumnus, California State University, Fresno
Currently in Media:
Co-Host of "Appraise It!" Home and Garden National Cable TV
Host, "Forced Out," documentary on the Japanese American experience during WWII
Executive Producer and Correspondent, "Pacific Fusion," Television magazine airing in San Francisco and Hawaii. Highlights Asia Pacific people, trends, food and fashion.
Currently in Business:
President, Jan Yanehiro, Inc., (Media and Marketing Strategic Planning)
Partner, Fair Advantage (college and career seminars for young women)
Director, Bank of Marin
Jan maintains an active interest in the community:
Board Member, Kristi Yamaguchi's Always Dream Foundation
Board Member, Center for the Pacific Rim, University of San Francisco
Board Member, National Board of Visitors, California State University, Fresno
Member, Asian American Journalists Association, National Academy of Television Arts and Sciences.
In 2019, Fresno State President Joseph I. Castro highlighted Yanehiro's the lifetime accomplishments and confered an honorary Doctor of Humane Letters degree.
She is married to Robert Eves, President of Venture Corporation, a real estate and investment firm. Jan and Rob have five children-Jaclyn, Jenna, J.B., Meredith and Christopher. She has co-authored two books: Having a Baby (1984) and After Having a Baby (1988) and is currently working on a third book on women and leadership.
Related Links