College of Arts and Humanities
Highlights from Dean's Annual Report on Arts and Humanities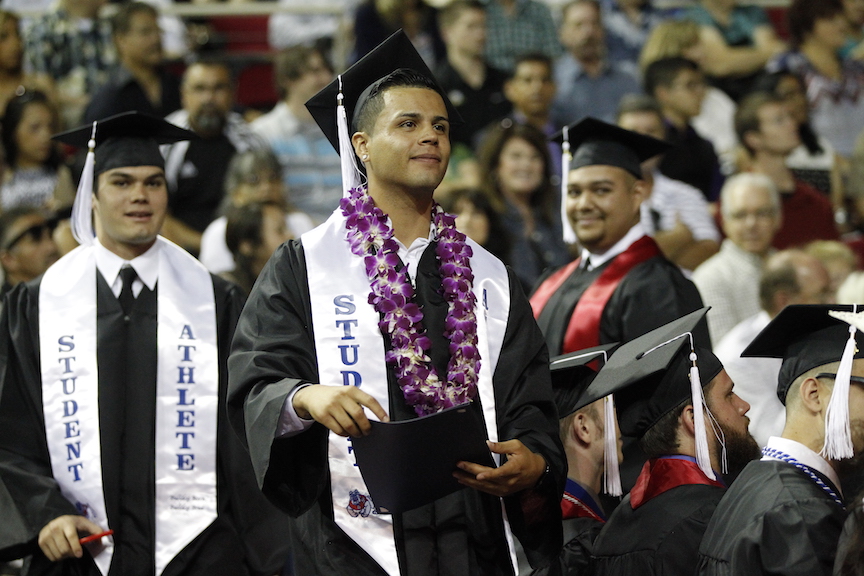 In a year of transition to a new dean and associate dean, the College of Arts and Humanities has made great strides in reconnecting with alumni, emeriti, and community members and expanding the circle of people engaged with the College of Arts and Humanities and our academic programs. The support and vision of our University President and Provost, Dr. Joseph I. Castro and Dr. Lynnette Zelezny, guide our direction and our efforts to make the College a recognizable household name in the Valley – synonymous with great art and transformational ideas.
GRADUATION RATE SUCCESS
Our College's success in this area is directly in line with the No. 1 priority of the University's strategic plan: "Enhance teaching and learning through best practices, innovative programs, and high-impact experiences that attract talented and diverse students and contribute to retention, extraordinary learning, the development of the whole student, and lifelong success." The College's 66% 6-year graduation rate exceeds the University's rate, which is 56.8%. Even better is our 70% 6-year graduation rate for students from underrepresented groups, which is higher than that of the rest in the College and 16% higher than the University's 54% graduation rate for underrepresented students. This number is already at the desired goal for 2025.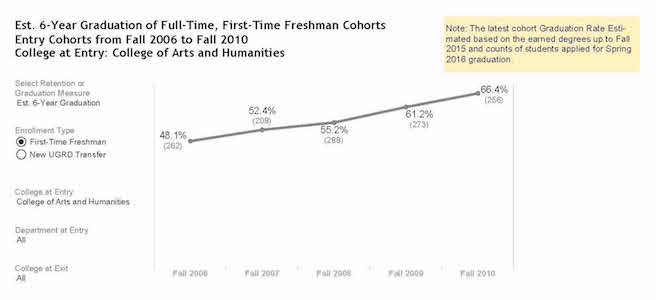 HOW HAVE WE ACHIEVED THIS?
A concerted effort on the part of the College's Chairs, an investment of one course release for Department Major Advisors for large departments (Art & Design, English, and Communication), and the creation of the College of Arts and Humanities Advising and Support Center have all ensured this remarkable improvement. Ongoing data also exists corroborating the significance of the Writing Center.
SUPER SENIORS
75% of all super seniors in Arts and Humanities graduated in Spring 2015, while an additional 10% will graduate by Fall 2016. This alone constitutes an impressive graduation rate of 85% of all Super Seniors by December 2016. The Advising and Support Center tracks these students and reaches out to them repeatedly, following up to ensure that most follow through on their graduation plans.
HIRING THE BEST ARTISTS AND HUMANISTS
The College of Arts and Humanities carried out 7 searches – all in critical areas that will promote and enhance the curricular needs of the College's disciplines — and hired 14 professors, all of whom constitute the top choices in each of the searches. We express our gratitude to Provost Zelezny for her visionary leadership and support for Arts and Humanities. These new professors bring their innovative research, diverse disciplines, and technical expertise to our college, strengthening our programs in the following areas:
English: Composition and Rhetoric. The three professors hired will help us further define ourselves as a College and University that embrace ethnic literatures of the Anglophone world. Indeed, Dr. Rubén Casas, a specialist in Latino and Chicano literatures, will help us expand our offerings in these areas and promote research that benefits the University as a whole. Furthermore, Dr. Reva Sias, with her unique and groundbreaking research on the educational history of African-American women, will quickly establish herself as an authority in the field of Antebellum Rhetorical Education. Dr. Thomas McNamara specializes in writing studies. Dr. McNamara's research interests include basic and multilingual writers, linguistic diversity, critical race theory, writing centers, and campus internationalization. At Fresno State, he will be coordinating Writing Across the Curriculum efforts.
Interior Design: A long-time vacancy in the section has been filled with two promising faculty who will revitalize the program, Silvana Polgar and Holly Sowles. With an MA in Architecture from Palermo University in Italy, and an MA in Interior Design from Fresno State, Professor Polgar also has extensive Experience working as an architect, and is the owner of an Interior Design Firm. Professor Sowles brings 25 years of experience to the classroom, and is a professional member of ASID and IDEC. She also has experience has the owner of own Interior Design Firm, and as Director and Curator of museums and galleries. Her research is in emerging theories in intelligent interiors and cyber-technologies. Graphic Design: Laura Huisinga has researched interaction design and augmented reality, and is currently working on finishing her doctoral dissertation in human computer interaction, using augmented reality for struggling readers.
Philosophy: Philosophy of Law professors Dr. Tina Botts and Dr. James Rocha will become the architects of a vibrant pre-law program that will capitalize on our potential to become the premier institution in the Valley that prepares students for law school. Dr. Botts is working on two books: "The Concept of Race, Aristotle's Proportional Equality, and the Equal Protection Clause," which deals with concepts of race on equal protection law; and she is the co-author with Rosemarie Tong, on the 5th edition of "Feminist Thought." Dr. Rocha teaches ethics, political philosophy, philosophy of law, and philosophy of race. He has published in various venues, including Journal of Applied Philosophy, Ethical Theory & Moral Practice, and Kennedy Institute of Ethics Journal.
Spanish: Three new professors – Dr. Daniel Calleros, Dr. Rafael Lemus, and Dr. María Dolores Morillo – will strengthen our program with their perspectives on Mexican literature, literary theory, and Golden Age Peninsular literature. Dr. Calleros grew up in the Valley, is an alumnus of MCJ and Spanish, and has very strong connections to Univision, and Dr. Rafael Lemus is a celebrated author and critic. Dr. María Dolores Morillo is a Spanish Golden Age scholar who specializes in Cervantes.
Communication: Dr. Amin Makkawy comes to us with a specialty in organizational communication. Dr. Makkawy is interested in how interactions between people with disabilities and those who are able-bodied in organizational contexts shape and are shaped by communicative acts.
Music has hired two new professors. Dr. Cari Earnhart has a Doctor of Musical Arts degree from the University of North Texas and comes to Fresno State from the American University of Sharjah, United Arab Emirates. Her areas of research include Arabic Choral Music and Vocal Epidemiology, and she maintains an active conducting and singing career in the US and abroad. Dr. Maria Briggs, an operatic soprano, has sung with Opera Australia, Pacific Opera, Lyric Opera Weimar and Glyndebourne Opera Festival, UK. She is a recipient of many Australian operatic awards and scholarships, including MIETTA award for best Australian vocal recital performance, and she has recorded numerous recitals and appeared in live broadcasts for Australian Broadcast Corporation.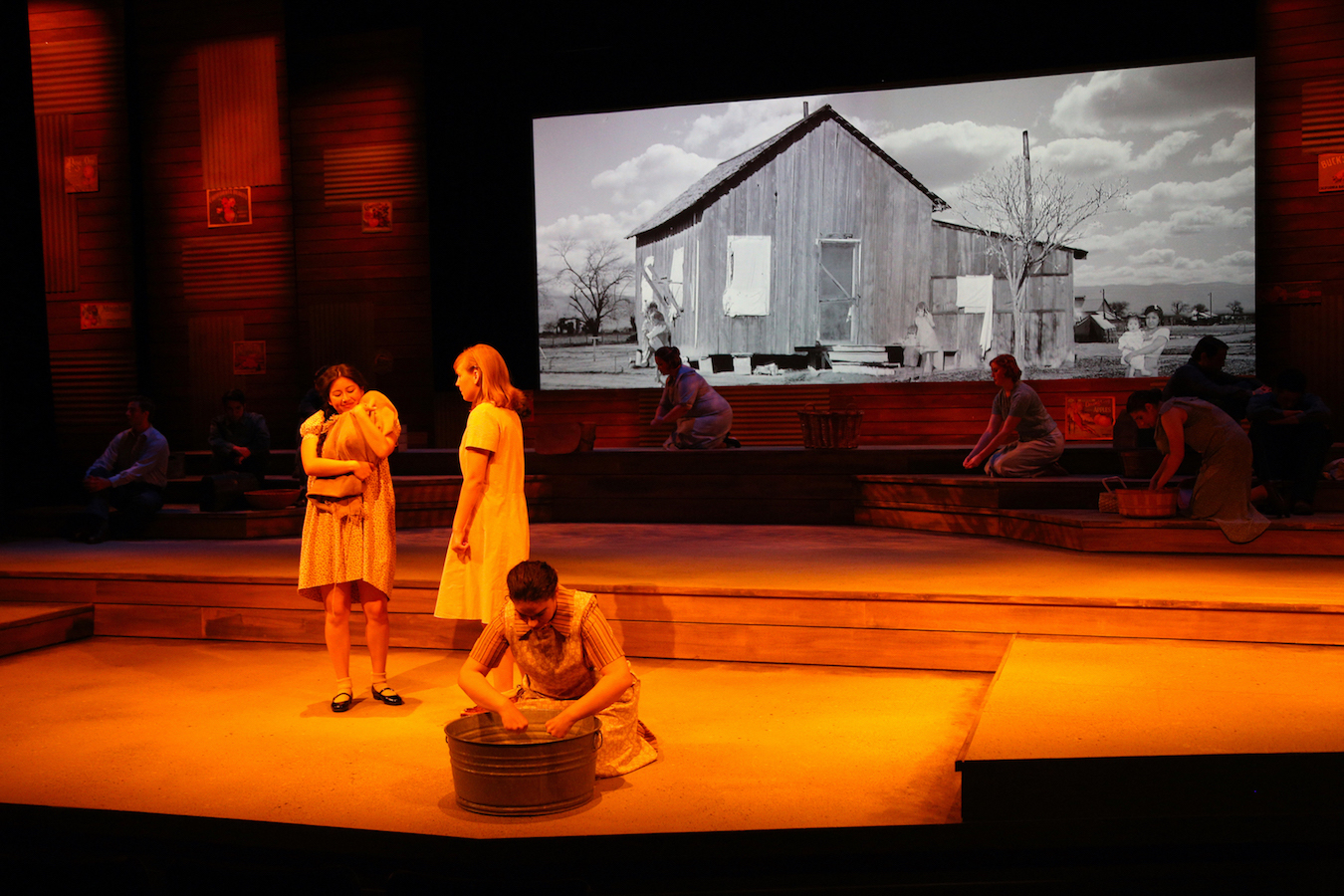 THE ARTS AND HUMANITIES ACROSS THE UNIVERSITY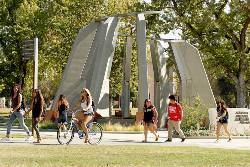 The College has taken on several collaborative projects involving other colleges on campus:
Event with President's Office and Armenian Studies recognizing the generous donors who made the Armenian Genocide Monument a reality on the Fresno State campus.
Event recognizing Juan Felipe Herrera as U.S. Poet Laureate with the College of Social Sciences and the Fresno community.
Collaboration between Jordan College of Ag, President's Office and the College of Arts and Humanities to host the world premiere of "Blue Willow."
Collaboration with the English Department, College of Social Sciences, Lyles College of Engineering, and College of Science and Mathematics in bringing award-winning journalist and author Steve Levine here to discuss his book "Powerhouse: America, China and the Great Battery War."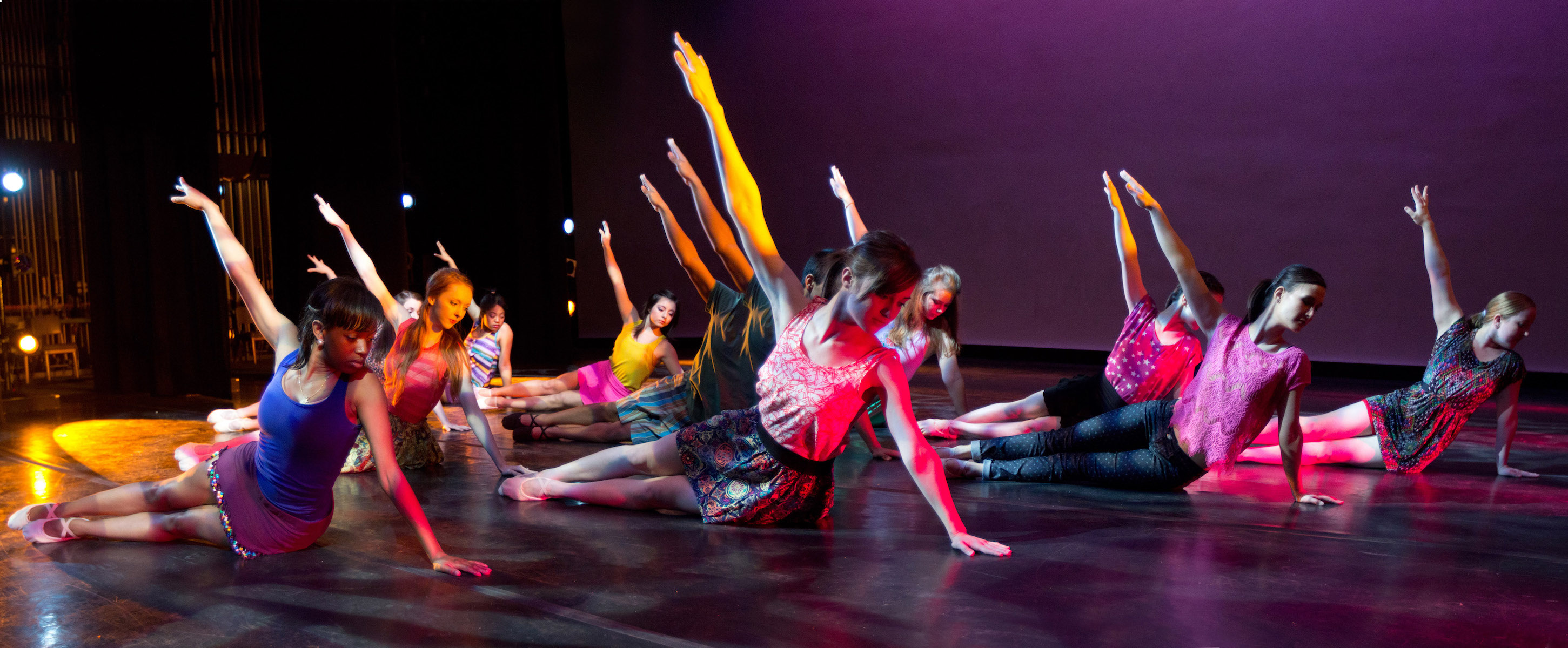 SUMMER ARTS RETURNING
The return of Summer Arts will represent a golden opportunity to fully engage the community and bring a large sector of the population into contact with the College of Arts and Humanities. Fresno State won the bid to host Summer Arts because with chamber music halls, a professional-quality theatre, and a costume shop, Fresno State's facilities are well-equipped to support Summer Arts' highly intensive program. In addition, Fresno had a great track record of success during the previous years it hosted the program (1999-2011). President Castro, Provost Zelezny, and Associate Vice President for Auxiliary Services Deborah Adishian-Astone all met with the Summer Arts committee. In addition, the community forum was brimming with Summer Arts supporters from the community, faculty, and staff.
DEVELOPMENT
Each department has provided a representative to the newly created CAH Development Committee. We have begun to build a culture of fundraising for the College, in which all of its professors are fully involved and invested. In addition, the creation of a CAH Grant Writing Committee will foster the exchange of information and knowledge among the faculty of the College.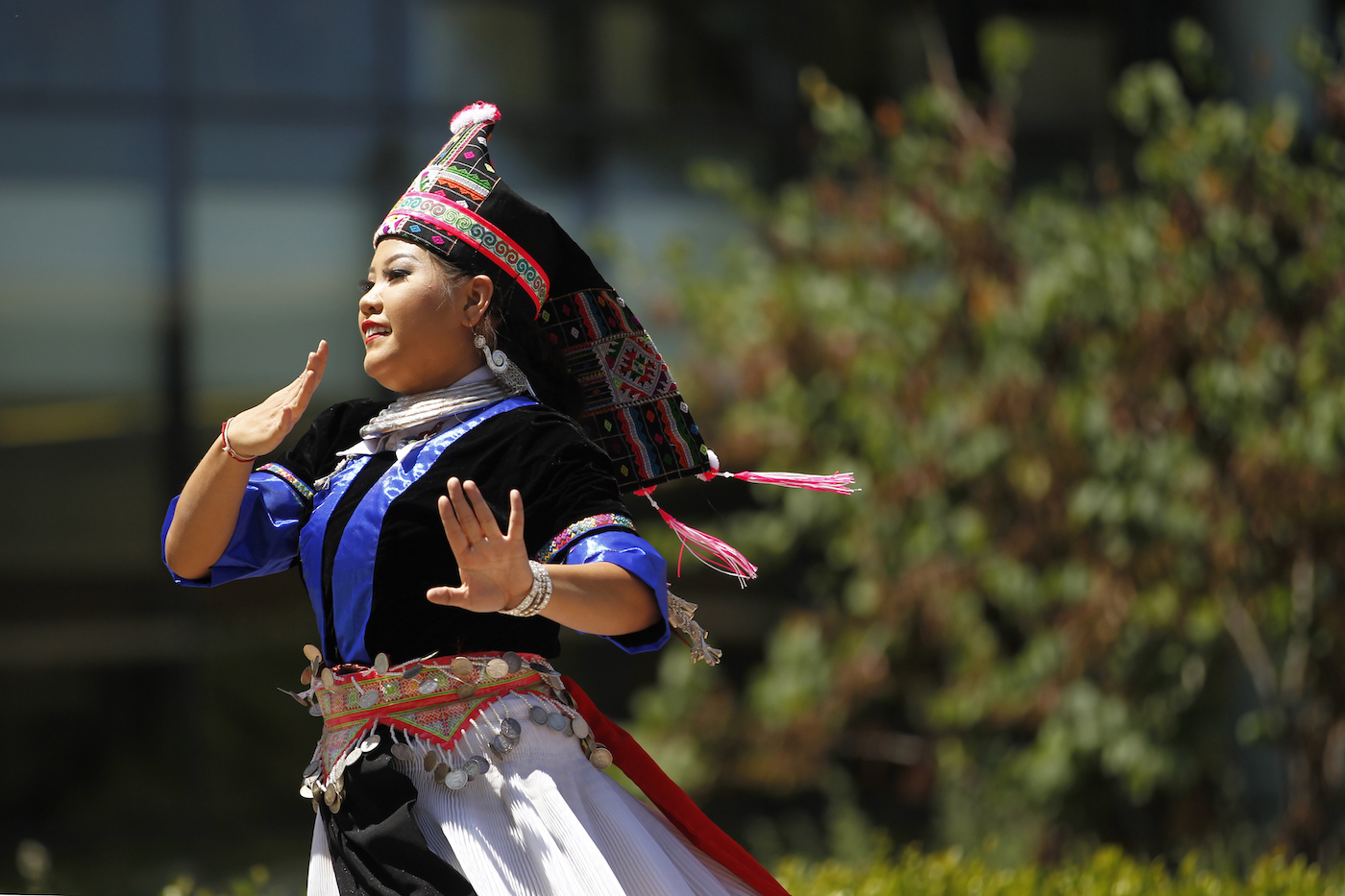 NEW HMONG MINOR
For the first time, students at Fresno State can earn a minor in Hmong language studies through the Linguistics Department in the College of Arts and Humanities. Over 100 students are enrolled in Hmong minor courses for fall 2016. The new Hmong minor at Fresno State is the first in the western United States and fifth in the nation.
WHAT'S AHEAD?
As our team continues to coalesce around our vision and the greater University strategic plan, our efforts will continue to gain traction, specifically in the following areas:
Through strategic efforts, we will continue to raise the visibility of the College of Arts and Humanities in the Central Valley, leveraging multiple communication channels for maximum effective reach of our message.
We will increase the number of tenure-track professors within our College, strengthening our academic offerings with rich and diverse specialists across our varied disciplines.
We will increase our endowed chairs, as such positions afford us opportunities to expand our offerings on highly specialized subjects and approaches and represent an opportunity to enrich our curriculum with specialized fields that will enhance our vitality and diversity.
DOUBLE YOUR SUPPORT TO EXCELLENCE!
President Castro has committed up to $150,000 toward a challenge match for the Dean's Council. We plan to work vigorously to exceed that amount, amplifying the potential reach of gifts to our college.
Join the Dean's Council and double the impact of your gift to help professors further their research and students achieve their goal of graduating with a degree that will allow them to critically engage and solve the challenges of our modern world.
Click the button below, then click "Other," and enter "CAH Dean's Council" to make your gift.