College of Arts and Humanities
Study Abroad in London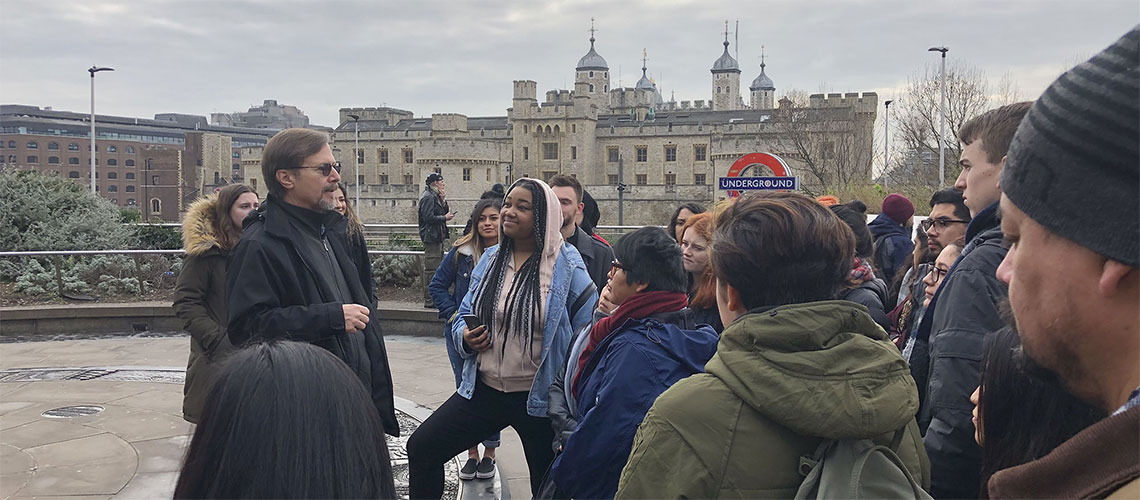 Art History, Architecture, and Artistic Exchange in Tudor, Stuart, Georgian Britain
3-Week Winter Session - Dec. 27, 2023 – Jan. 17, 2024
Course credit earned will be applied to your Spring 2024 semester at California State University, Fresno. This means that you do not pay additional tuition for this course if you are enrolled as a full-time student in Spring 2024.
The 2024 London Program is offering a three-week session before the beginning of Spring semester. Join us for an authentic British experience and earn 3 units of course credit, with two sections of AH 105T offered satisfying Area IC.
Spend three weeks in the heart of London with Profs Luis Gordo Pelaez and Nick Potter. Tour London's museums and galleries and see the best of British theatre as part of your experience. Visit Hampton Court, the National Gallery, Westminster Abbey, the British Museum, the Victoria and Albert Museum, and more. Experience New Year's Eve in London! Visit the Tower of London and other historical sites, and a long weekend to explore either more the UK or Europe.
Day trips to such places as Bath/Stonehenge, and Oxford.
Earn 3 units of course credit for AH 105 (GE Area IC)
AH 105T Study Abroad Experience: Art History, Architecture, and Artistic Exchange in Tudor, Stuart, and Georgian Britain
This course explores the art history of Britain through the architecture, historic sites, and museum collections of London while examining the building of the British empire and its historical and artistic relations with other contemporary European empires of the Atlantic world, particularly with Spain. The histories of Britain and Spain intersected several times throughout the 1400-1800s, through royal marriages, through wars and alliances, and through their colonial endeavors in the Americas where they built empires "on the ruins of the civilizations they encountered and destroyed in North and South America," as British historian John H. Elliott has argued. The city of London is filled with historical sites and museum collections that speak to the ancient Roman history of Britannia, the formation of the medieval English kingdom, the making of Tudor England, the splendor of the Baroque courts, and the imperialism of Britain overseas. But London is also paramount to understand the relationships (historic, political, and cultural) of
England with other European peoples and lands, including Italy and the Iberian Peninsula.
*Estimated Cost: $3,200
*Partial funding for those who qualify
Mandatory Orientation/Class Meetings
10:00 - 11:00am, Thursday, May 11, CA 101
11:00am - 1:00pm, Saturday, September 16, CA 101
11:00am - 1:00pm, Saturday, September 30, CA 101
Enrollment is limited to 18 students per section. Must be enrolled in the Spring 2024 semester and in good standing. Permission numbers will be distributed to students on the program. Participating students cannot be on accademic probation and must have a 2.5 or better GPA.
For more information contact:
Brenna Barks
College of Arts and Humanities
MB 186
559.278.3056
See Also: