College of Arts and Humanities
Study Abroad in London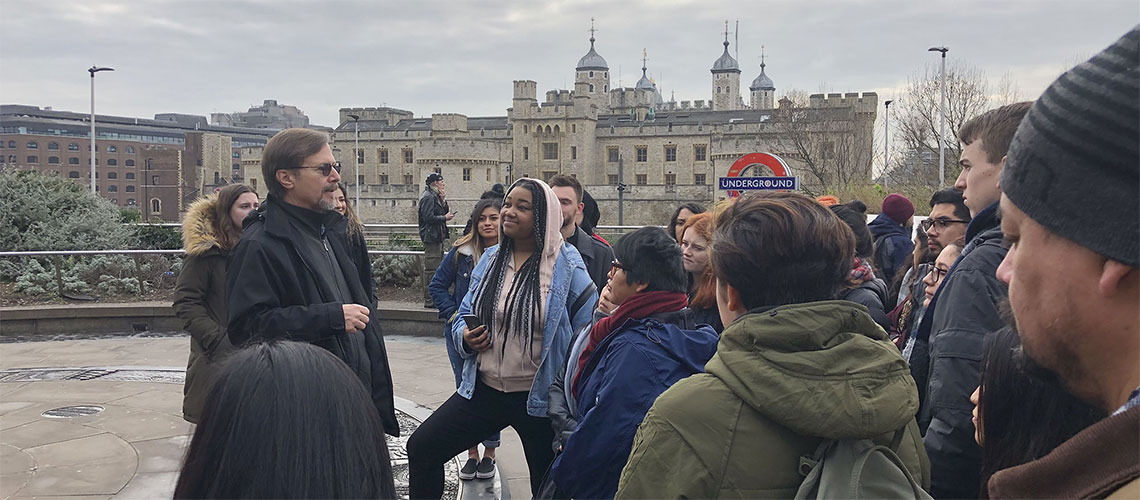 "London: Life and Lore"
3-Week Winter Session - December 27, 2019 – January 16, 2020
Course credit earned will be applied to your Spring 2020 semester at California State University, Fresno. This means that you do not pay additional tuition for this course if you are enrolled as a full-time student in Spring 2020.
The 2020 London Program is offering a three-week session before the beginning of spring semester. Join us for an authentic British experience and earn 3 units of course credit, with two courses offered satisfying Area IC or Art 109T.
Spend three weeks in the heart of London with Profs Nick Potter and Robert Maldonado. Tour London's museums and galleries and see the best of British theatre as part of your experience. Visit the National Gallery, the Tate Modern, Tate Britain, the British Museum and the Victoria and Albert Museum. Experience New Year's Eve in London! Visit the Tower of London, Westminster Abbey, and other historical sites.
Day trips to such places as Bath/Stonehenge, Oxford and St. Albans.
Earn 3 units of course credit choosing from one of the courses below:
AH105 Arts & Humanities (IC GE)
Study Abroad Experience: London Art and Empire
AH109T (upper division Art elective)
Study Abroad Experience: London Art and Empire
*Estimated Cost: $3235
*For those who qualify, $1000 in IRA funding will be deducted from the cost.
Orientation/Class Meetings:
1-3 p.m. Sundays – CA 216
Sept. 22

(orientation)

Oct. 6 (orientation/class)
Oct 27, Nov 17, Dec 8 (classes)
Upon completing the course in Area IC (integration — Arts and Humanities), a student will be able to:
Recognize and explain, subjectively or objectively the content and interpretation of creative works of culture (artistic, literary, and intellectual).
Explain relationships among the humanities, arts and the self.
Upon completing the course Art 109T a student will be able to:
Develop skills in visual analysis, synthesis and application of art and design.
Demonstrate research, reflection and evaluation skills of art.
Enrollment is limited. Must be enrolled in the Spring 2020 semester and in good standing. There are mandatory orientations and class meetings in the Fall and a culminating assignment in the Spring, however the bulk of the course happens in London between semesters. Permission numbers required.
For more information contact:
Lisa Galvez
College of Arts and Humanities
MB 186
559.278.3056
Related Links:
See Also: