About Us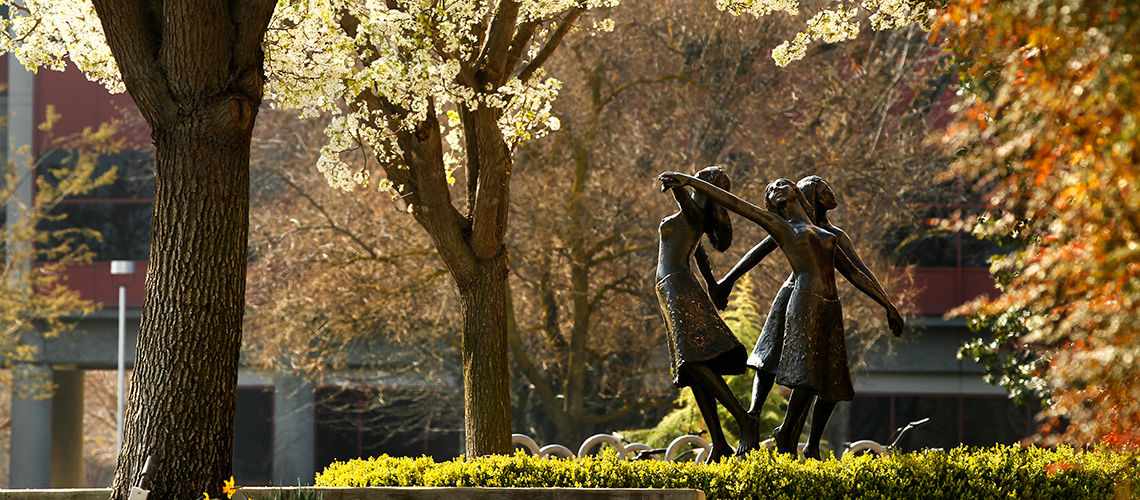 Photo: Clement Renzi's "The Three Graces" is a bronze piece outside the main entrance to the Music Building's Concert Hall. It was cast in 1972 in Verona, Italy. The sculpture was donated to the university in 1995 by real estate executive Helen Smades, a longtime supporter of Fresno State and a member of its Foundation Board of Governors. His wife, Dorothy, is an emerita professor of music at Fresno State. She was on the faculty from 1968-84.
The Department of Music provides
Undergraduate instruction in music for those planning professional careers as performers, composers, and studio teachers, as well as those preparing for advanced degrees in performance and composition.
State-approved subject matter preparation required for a California teaching credential in music. Graduate instruction for students planning professional and academic careers or seeking professional growth as K-12 teachers or junior college instructors.
A broad acquaintance with music for the community and nonmusic major.
Our Facilities
Fresno State is home to one of the most modern and extensive music facilities in the 23 campus CSU system. The new 65,000 square foot expansion Music Building, completed in 1991, combined with an extensive remodeling of the existing facility ensures students enjoy all the advantages a modern facility enjoys. The building houses the 320 seat Concert Hall, the 200 seat Wahlberg Recital Hall, a 220 seat Rehearsal Hall, as well as over 30 practice rooms, classrooms, a large dance studio, faculty office space, a conference room, student lounge, and 700 student lockers. The building also contains two digital recording studios, computer labs, MIDI and electronic music labs, and a tracker-action organ.
For more information about our facilities, visit our History page.