Concerts, News and Tickets
Audience members attending Department of Music events inside our building are highly recommended to wear a mask.
As of Fall 2023, ticket sales for events held in the Fresno State Music Buildings are no longer accepting cash or checks.
---
NOTE: All live concerts and events will follow the Fresno State COVID-19 protocols.
Read the latest blog Music Department news on the Arts and Humanities
Virtual Events
All virtual events will be hosted on the Music Department's YouTube page. We encourage you to subscribe so you don't miss any live recitals and masterclasses!
Ticket and Parking information
PRINT YOUR OWN TICKETS (E-Ticket)
Many of our patrons have enjoyed the opportunity to buy tickets online, and we are pleased to continue the option to print your own tickets (E-Ticket). You can purchase and print tickets from your own computer up through the starting time of the event. We hope you are pleased with this opportunity to avoid lines at the box office and guarantee your entry into events. You also have the option to select Will Call and pick up your tickets at the box office prior to the event.
Box Office
For large orchestra, wind orchestra, opera, jazz band, and choral concerts: The box office is open one hour prior to performances. As of Fall 2023, ticket sales for events held in the Fresno State Music Buildings are no longer accepting cash or checks.
For small ensemble concerts: Tickets will be sold online only. Patrons may purchase tickets online at https://www.ticketsource.us/california-state-university-fresno or use QR codes posted outside of our hall.
Event Locations
The Fresno State campus is currently undergoing construction for its Central Utility Plant Replacement. Please consult the attached map for directions from Parking Lot 1 to our music department facilities.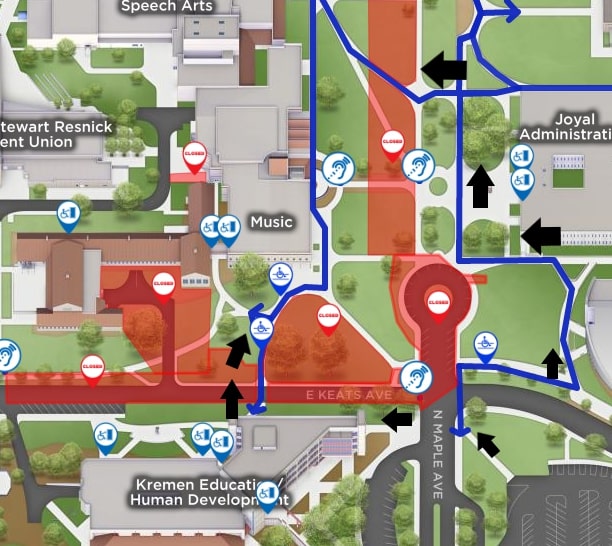 Visitor Parking
All vehicles parked on Fresno State campus are required to display a valid parking permit.
One day parking permits may be purchased with a credit/debit card from a Parking Permit Dispenser (cash not accepted).
Parking Permit Dispenser Locations
Parking dispensers are located in various parking lots around the campus (see campus map).
Cost: $5.00/day
Parking meters are available for short term parking (see campus map).
Coupon Code
If invited to campus, an office or department may provide you with a "coupon code" for daily parking at no charge. A "coupon code" is a six (6) digit number that will allow invited visitors to receive a daily parking permit from one of the 16 parking permit dispensers located throughout the campus (see campus map).