College of Arts and Humanities
2012 Department Nominees and Awardees
Undergraduate Nominees
Art and Design
Jackie Aldern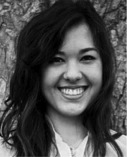 Jackie Aldern will graduate with a Bachelor of Arts degree in Art with an emphasis in Drawing and Painting. A Smittcamp Family Honors College Scholar and participant in the College of Arts and Humanities Honors Program, Jackie has been twice awarded
an Ina Greg Thomas Memorial Scholarship in Art. She has participated in Fresno State's South Pacific Semester in New Zealand and Australia, and with the CSU Summer Arts Program. Jackie taught dance through programs at Buchanan High School and
Northwest Studio for Ballet, and helped expose at-risk youth to the arts through the San Joaquin River Parkway's River Camp at Owl Hollow. She currently is a member of the dance troupe for the Fresno Dance Collective (NOCO) and serves as its visual art collaborator and design consultant. After graduation
Jackie plans to continue her work as a visual and performing artist.
Communication
Elizabeth Drione

Known by family, friends, and professors as someone who does not take the easy route, Elizabeth has worked to bring success to all students. Her goal is to give back to
the communities and schools that have helped her achieve a 4.0 GPA, multiple honor society memberships, and the first of many conference presentations. Elizabeth is President
of the Professional Communication Association and through her leadership she has worked to build a floundering club to its full potential and contribute to the education of all communication majors by hosting faculty forums.
Elizabeth has received a tuition waiver and full funding for teaching in the Communication Department at
the University of Colorado, Boulder while working on her master's degree. She also plans to earn her Ph.D.
English
Grant Dempsey
Grant Dempsey has pursued interdisciplinary studies in literature, philosophy, and the Sanskrit language. He has represented Fresno State at several conferences, including an international graduate conference at Columbia University in which he was the only
undergraduate presenter. As a participant in the College of Arts and Humanities Honors Program, Grant is developing a thesis primarily on the subject of narrative, in which he responds and contributes to important conversations in humanistic scholarship, and the ethics of reading. Grant articulates fascinating and productive questions about literature, and in response to these questions, constructs theoretical frameworks that yield evocative analysis and open further possibilities for interpretation. He has the rare capacity to discuss complex matters with clarity, seriousness,
and grace. In the future, Grant plans to do doctoral work in Comparative Literature.
Linguistics
Jessica Harmon

Jessica Harmon will graduate with a Bachelor of Arts degree in Linguistics with an option
in Interdisciplinary Language Studies. She will have completed minors in Classical Studies and Anthropology. Jessica is a Smittcamp Family Honors College Scholar and is
a participant of the College of Art and Humanities Honors Program. As a participant in the Linguistics department's research project to document and revitalize the Chukchansi language, Jessica's College Honors thesis is based on her original research about conjunctions in the Chukchansi language. She is an active volunteer with the Bulldog Pantry and the Chaffee Zoo. Jessica has been accepted into three Ph.D. programs in Linguistics - Ohio State, USC,
and Stanford!
Media, Communications and Journalism
Lucerito Salgado

Lucerito Salgado is a first-generation Latina student who will graduate with a Bachelor of Arts degree in Media, Communications and Journalism with options in Broadcast Journalism and Public Relations and a minor in Spanish. Lucerito's College of Arts and Humanities Honors Program project included the founding of ¡Motívate! Society of Latino Motivators Club that, under her leadership, produced a highly acclaimed motivational conference for underrepresented high school, junior college, and university Undergraduate Students of Distinction students titled, "¡Motívate! Discover Your Passion for Success." Lucerito holds the title of Nuestra Belleza Oaxaqueña 2011 and has earned a Certificate in Co-Curriculum Leadership through her strong commitment to serve the community. She completed several internships, has written articles for newspapers and television, has recorded many oral histories, and volunteered for several non-profit organizations. Lucerito has been guided by Gandhi's famous philosophy: "YOU must be the change YOU want to see in the world."
Modern and Classical Languages and Literatures
Melinda Leigh Murray

Melinda Leigh Murray will graduate with two Bachelor of Arts degrees; one in French and the other in Music. She also completed the College of Arts and Humanities Honors Program. She manages her own recording studio, and has participated in more than forty local dinner theatre productions and operas, has acted in several industrial films, and has voiced thousands of commercials. So important was completing her education, Melinda
managed to finish both B.A. degrees with honors while being a wife and a mother of three teenage girls, working one full-time job, six part-time jobs, and taking care of her mother. Leigh speaks French flawlessly, hosts Sunday Baroque for Valley Public Radio, enjoys performing at the Rogue Festival, plays the flute and the viola de gamba, and has produced and recorded a CD of American Carols titled Appalachian
Christmas with her three daughters.
Music
Bradley Rutledge

Bradley Rutledge will graduate with a Bachelor of Arts degree in Music with an option in Music Education: Instrumental Music Education Emphasis. He is the President
and Co-Founder of Fresno State's Phi Mu Alpha Sinfonia, senior class representative for the Smittcamp Family Honors College's Honors Council, and a member of the Board
of Directors for the Fresno State Wind Orchestra. Bradley is the French Hornist for the President's Quintet and performs with the Fresno State Wind Orchestra and the Fresno State Symphony Orchestra. He also performs frequently with the Kings County Symphony
Orchestra and the Tulare County Symphony. Bradley is also an active volunteer in the community,
currently focusing his efforts in bringing music to schools, convalescent homes, and children's hospitals.
Philosophy
Joshua Stein

Joshua will graduate with a Bachelor of Arts degree in Philosophy. Joshua was part of the effort to start the Jewish Studies Association and become its first President. He also serves as President of Fresno State's Brain Trust, the current incarnation of the Fresno State Brain Trust, the current incarnation of the Fresno State College Bowl Team, and is Vice President of the Philosophy Club and is a member of the College of Arts and Humanities Honors Program. He has organized a
number of events, including two student panels. Over the course of three years, Joshua has distinguished himself in having presented six different papers at undergraduate conferences - an extraordinary academic achievement! Joshua plans to pursue an M.A. and a Ph.D. in philosophy researching neuroscience and philosophy of mind.
Theatre Arts
Fumihiro Kikuchi

Fumihiro Kikuchi is an international student who took his first ballet and modern dance class when he arrived from Japan in 2008. Fumihiro will graduate with a Bachelor
of Arts degree in Theatre Arts with an option in Dance. In addition to performing with the University Dance Theatre, he has performed at the Rogue Festival, Art-Hop, and in professional performances of Central Valley Dance Festival's productions of the Jungle Book and Sleeping Beauty. Fumihiro has choreographed solo and duet pieces for the University Dance Theatre and an ensemble piece for the Contemporary Dance Ensemble.
He volunteers at Traver Elementary School where he teaches dance and creative movement to children
as his way of making a positive social contribution. Fumihiro plans to pursue a Master of Fine Arts degree in Dance to further his career goals as performer, educator, choreographer, and artistic director.
Graduate Nominees
Art and Design
Hazel Antaramian-Hofman

Hazel Antaramian-Hofman will graduate with a Master of Arts degree in Art with an emphasis in Art History. She is the recipient of numerous grants and scholarships including
the Adolf Odorfer Art Scholarship, the Ina Greg Thomas Memorial Scholarship, a Graduate Student Research Merit Award, and a scholarship from the Armenian Studies Program. Hazel interned at the Getty Museum where she contributed to the documentation of a medieval manuscript. Hazel has presented papers at many state and national conferences, including the College Art Association (CAA) and the Middle East Studies
Association and has published two scholarly articles on her research. She was selected to CAA's Students and
Emerging Professionals Committee. Her master's thesis examines the iconography of a medieval Armenian
miniature painting that involved extensive research of textiles and the socio-political position of women in
the Near East. Hazel plans to pursue doctoral studies in art history as well as continuing to make art in her
studio.
Communication
Leticia D. Williams

Leticia D. Williams will graduate with a Master of Arts degree in Communication.
She is a California State University McNair Scholar, a Fresno State Center for Scholarly Advancement of Learning and Teaching (CSALT) Graduate Research Fellow, a Graduate Equity Fellow, a Teaching Associate for the department of Communication, and
was elected a member of the Phi Kappa Phi Honor Society. Leticia's master's thesis is an analysis of media portrayals of First Lady Michelle Obama. As a female student of color, an interest in culture and communication has always driven Leticia's education, and plans to enroll in a doctoral program in Communication.
English
Andre Yang

Andre Yang will graduate with a Master of Fine Arts in Creative Writing. The eldest child of Hmong refugee immigrants, Andre grew up struggling with the English language
and was the first in his family to attend a university. He is a Philip Levine Scholar, a Kundman Fellow, was awarded a Ucross Residency, and has attended various national writing conferences. Andre co-founded the Hmong American Writers' Circle, which
aims to develop a Hmong literary culture. His poetry is published in journals such as Beltway Poetry Quarterly and Lantern Review, and he aspires to an academic career teaching comparative literature at a university.
Linguistics
Huda Ahmed A. Al Taisan

Huda Ahmed Al Taisan will graduate with a Master of Arts in Linguistics. She has actively engaged in volunteer work and is scheduled for a research presentation at the linguistics colloquium in May 2012. She is an elected member of Phi Kappa Phi Honor Society. Since she was 16 years old, Huda dreamed of making a difference and changing the misconceptions about Saudi women. She has faced many challenges as a Saudi married woman, a mother, and a Muslim, and attributes who she is today to her studies at
Fresno State. Huda plans to further her studies in a Ph.D. program.
Modern and Classical Languages and Literatures
Abélica Durán

Abélica Durán completed her Master of Arts degree in Spanish and is currently pursuing
doctoral studies in Spanish Literature at the University of California, Davis. While at Fresno State, Abélica was a member of the Spanish Student Association and elected to membership in the Golden Key International Honor Society and Phi Kappa Phi.
While at Fresno State, she volunteered with the Student Support Services Program, and continues to volunteer for the Anynesworth Preschool Program and the Head Start Home Base Program. Abélica's master's thesis explores various genres of Spanish poetry
and Spanish-American narrative through critical theory, feminist theory, and post-colonial theories.
Music
Michael Downing

Michael Downing will graduate with a Master of Arts in Music with an option in Instrumental Performance. Michael is a regular member of the percussion sections of the Sacramento Philharmonic and the Stockton Symphony. He is also the Director of Percussion at University High School. This Spring, Michael was featured as a soloist with the Stockton Symphony in the world premiere of Avner Dorman's double percussion concerto Uzu and Muzu from Kakaruzu. He is an active member of the Percussive Arts Society, and participates in many of the California chapter events.