College of Arts and Humanities
Arts and Humanities Dean's Medalists

Congratulations to the 2019 Dean's Medalists!
The most prestigious award given to a graduating student in the College of Arts and Humanities is the Dean's Medal.
The Undergraduate and Graduate Dean's Medalists are recognized for their outstanding academic and/or artistic achievements and accomplishments and contributions to the campus and community. Nominees for the Dean's Medal are the most accomplished and promising students in the College.
Department nominees and Dean's Medalists are recognized during the College's annual Arts in Motion banquet sponsored by the College of Arts and Humanities Advisory Board. The Arts in Motion banquet celebrates student excellence by spotlighting Dean's Medalists, department nominees, student publication and student performances and exhibits.
The College's Undergraduate Dean's Medalist becomes a contender for the 2019 President's Medal that is awarded at Commencement. The President's Medal is the highest honor the University bestows on a graduate.
The College's Graduate Dean's Medalist becomes a contender for the University Graduate Medal, the highest honor the university bestows on a graduate student at Commencement.
Undergraduate level:
Runners-up, who will be the Standard Bearers at this year's University Commencement, on May 18: George Garnica, from MCJ, and Theresa Lopes, from Music.
Primavera Leal Martinez, B.A. - President's Medalist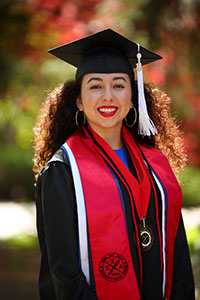 Primavera's accomplishments in the realm of university and community service are staggering in both scope and consistency. Her impressive four-page, tightly bulleted resume does not include them all. A very brief list of her student leadership roles and university service includes ASI Vice President of External Affairs, student voting member on the Academic Senate, student representative on the Student Success Summit Planning Committee, and College Ambassador for the College of Arts and Humanities. Some highlights of her community service include counselor for Camp Kesem, debate coach for children in underrepresented neighborhoods, and Lead Volunteer at Artes Americas. More about Primavera...
Graduate level:
Mason M. Lamb, M.A.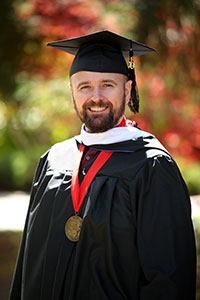 When asked what accomplishment he is most proud of, Mason Lamb didn't look his many music premieres — including his orchestral concert overture which was played by FOOSA at the Walt Disney Concert Hall — instead, he looked to his daughter.
"I'm proud of the example I've set for my Daughter," Lamb said. "I have this little six-year-old girl seeing her dad, even at this point in his life, getting his master's degree and she is falling in love with learning."
Related Links:
Future Students
Off-Campus Student Housing