College of Arts and Humanities
Arts and Humanities Dean's Medalists

Congratulations to the 2020 Dean's Medalists!
The most prestigious award given to a graduating student in the College of Arts and Humanities is the Dean's Medal.
The Undergraduate and Graduate Dean's Medalists are recognized for their outstanding academic and/or artistic achievements and accomplishments and contributions to the campus and community. Nominees for the Dean's Medal are the most accomplished and promising students in the College.
Department nominees and Dean's Medalists are recognized during the College's annual Arts in Motion event, which was virtual for 2020, sponsored by the College of Arts and Humanities Advisory Board. Arts in Motion celebrates student excellence by spotlighting Dean's Medalists, department nominees, student publication and student performances and exhibits.
The College's Undergraduate Dean's Medalist becomes a contender for the 2020 President's Medal that is awarded at Commencement. The President's Medal is the highest honor the University bestows on a graduate.
The College's Graduate Dean's Medalist becomes a contender for the University Graduate Medal, the highest honor the university bestows on a graduate student at Commencement.
Undergraduate level:
Greyson Donald Canterbury |
Modern and Classical Languages and Literatures, B.A.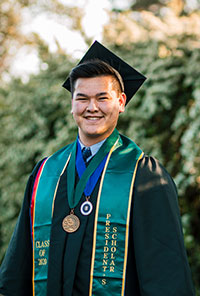 With a major in Spanish and a minor in music, Greyson Canterbury is a Smittcamp Scholar, received numerous academic honors and awards, and has engaged the community through his leadership and service.
"Greyson embodies the true spirit of the College of Arts and Humanities, as he embraces his passion for language, literature, and critical thinking with the transformative power of music," said María Dolores Morillo, assistant professor.
Graduate level:
Douglas Anthony Cody, M.F.A.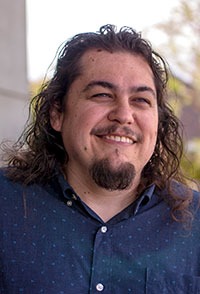 Students in the MFA Creative Writing Program are expected to write a book-length thesis throughout the three-year degree program. In that time, Anthony Cody has written two manuscripts–one of which, Borderland Apocrypha, won the prestigious Omnidawn Open Book Award in 2018 and was published in March 2020.
"Not only has Anthony demonstrated academic and creative excellence; his work is being recognized as creating new possibilities within the field of contemporary U.S. poetry," said Brynn Saito, assistant professor.
Related Links:
Future Students
Off-Campus Student Housing